Choral group combines voices to heal souls

by Cindy A. Abole, Public Relations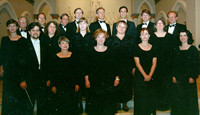 Charleston's dynamic chorale group, Vox Aeterna, is composed of several talented MUSC staffers. Their work features 20th century chorale music sung a capella.
Poet Henry Wadsworth Longfellow wrote "the human voice is the organ of the soul." Members of the local choral ensemble Vox Aeterna are inclined to agree.
Founded in 1997, Vox Aeterna, or "voice eternal" has graced the Charleston scene with its 22-voice ensemble specializing in 20th century a cappela music.
"It's unusual to find a group that specializes in this type of music," said Darlene H. Moak, M.D., Department of Psychiatry and member of Vox Aeterna's Board of Advisors. "The music represents a natural progression of styles that draws upon the traditions of Renaissance and Baroque music."
Artistic director and founder, Scott Atwood recruits professional-caliber singers, each of whom must withstand the rigor of auditions, rehearsals, and comprehensive note-screening sessions. All of this is necessary to achieve the intimate sound Atwood strives for a sound reminiscent of England's renowned Tallis Scholars or the Cambridge Singers.
"I like to sing," said Schumann, mezzo soprano and data analyst for the Department of Pediatrics. "This is a chance for me to sing with a really talented group. It's been really good for me because I have learned more about singing in the past year."
In local and regional circles alike, Vox Aeterna has been lauded for the quality of its work and the integrity of its sound. Concerts have drawn from a variety of styles, genres and composers. Featured works include Maurice Durufle's Requiem for chorus and orchestra and Jeffrey Van's "A Procession Winding Around Me," an adaptation of four Civil War poems by Walt Whitman. The success of the group's recent concerts prompted them to record a CD, entitled, "Longing for Redemption." The recording was dedicated to the memory of deceased friends and relatives of the group's benefactors.
Vox Aeterna is an annual participant in First Night Charleston, a member of the South Carolina Arts Commission's Roster of Performing Artists and a participant in the Carolinas Performing Arts Showcase at the Dock Street Theater. The group recently completed a performance with Hospice of Charleston's Tenth Anniversary Candlelight Vigil.
"In the year that I've been singing with Vox Aeterna and working with Scott Atwood, I've grown not only in my singing ability but also in my understanding and appreciation of choral music," Moak said. "I feel we're (Vox Aeterna) going to be around for a long while."
Vox Aeterna's professional domain extends well beyond the musical realm. Although some members possess advanced degrees in music and extensive choral experience, more than half of the group is affiliated with the healthcare industry.
"It's interesting to know that a lot of our choral members work in the health professions," Moak said. "It's comforting to discover a connection between our work as healers with music."
MUSC employees who are members of Vox Aeterna include: Darlene Moak, M.D., Department of Psychiatry; Kathy Stinson, executive assistant to the administrator/controller at UMA; Jan Schumann, data analyst, Department of Pediatrics; Candace Enockson, research specialist, Hollings Cancer Center; Jay T. Crawford, Radiology; Mike Wilson, research specialist, Department of Surgery; Cindy L. Hylton, student, College of Dental Medicine; and Steve Kabalok, Ph.D., Department of Cell Biology. Others who work in medicine are: Laura D'Eugenio, medical music therapist; Lee Wylie, nurse, St. Francis Hospital; Doug Hylton, administrative analyst for Roper CareAlliance and Bill Gudger, Ph.D., College of Charleston and coordinator of the St. Luke's Chapel Organ series on the MUSC campus.
The group will participate in the MUSC Children's Hospital Christmas caroling and perform "Virgin Mother, Infant King," a concert of Advent and Christmas selections which will be held 3 p.m., Dec. 6 at the Church of the Holy Communion, 218 Ashley Ave. The concert is free to the public.