MUSC Mail Services to customize addresses

For anyone visiting MUSC—maybe looking for a clinic module in the Clinical Sciences Building, or Human Resources in Harborview Tower on Hagood Avenue—171 Ashley Ave., is too general an address to find a specific destination.

It's too general for MUSC mail services personnel as well.

"The U.S. Postal Service has given MUSC the opportunity to customize its address system," the newly appointed director of Business Services, John Runyon, announced recently.

Runyon said that the present, all inclusive 171 Ashley Ave. address, makes training a new campus mail employee a two- to three-week process, and even then locating some addressees is nearly impossible. "Eartha Bonneau's mailroom team does a fantastic job with this antiquated system. Assigning discrete addresses, tied to real locations, will allow her team to reach even higher levels of efficiency," Runyon said.

Crediting administrative services manager, Bob Worsham, for conceiving and negotiating adoption of the system, Runyon said that existing individual mail drops would be given an address, thereby taking much of the experience and guesswork out of the mail distribution.

Mail to the Office of Public Relations, for example, would no longer be addressed with the generic "171 Ashley Ave.," but "400 MUSC Complex, Suite 106, Charleston, SC 29425."

The address system will be phased in, beginning immediately with the Rutledge Tower, recently acquired from St. Francis Hospital and now under renovation. All addresses will be in use by the end of the current fiscal year— June 30. Runyon did say however, that mail addressed under the current system would continue to be delivered.

Runyon appointed director of business services

MUSC controller Howard Lundy has announced the appointment of John Runyon as director of Business Services.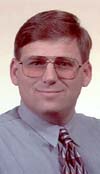 Runyon, who comes to MUSC following retirement Nov. 30 from the United States Navy, is a 1980 graduate of the Virginia Military Institute, and holds a masters in business administration from Charleston Southern University. He had achieved the rank of lieutenant commander and was serving as executive officer of Naval Reserve Center, Charleston, at the time of his retirement.
As director of Business Services, Runyon is responsible for the operations of MUSC's campus mail services, records center (microfilm, warehousing, reproduction, and destruction of hospital and university records), media services (graphic arts, photography and television), transportation (shuttle buses and vehicles), Medair (fixed wing aircraft, excluding MEDUCARE), and several contractual areas (copiers, external food services and vending machines).
"Each of these services does an outstanding job," Runyon said. After a month of meeting with the directors and many of the customers of each of his units, Runyon said he is impressed with their operations, but recognizes a need to better promote the benefits of their use throughout the university.
"These services operate on a cost recovery basis," Runyon said, "and therefore must generate revenue to cover salaries, equipment and operating supplies." He explained that they often must compete with off-campus services for business. Departments throughout the university can choose an MUSC photographer, for example, or a photographer in the community.
"I believe our services are as good or better than the private sector and our prices are very competitive," Runyon said. One of his primary goals will be to let the campus know about the benefits of these valuable resources through promotion and demonstrated excellence. "My vision for the Business Services Department is for it to become the service of choice in our operational areas," Runyon said.