Program challenges time, talent

by Cindy A. Abole, Public Relations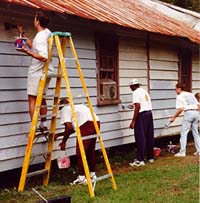 With brush in hand, several MUSC Gives Back program students apply a fresh coat of paint to a John's Island house as part of the Neighborly Assistance in Living Safely (NAILS) project sponsored through Our Lady of Mercy Community Outreach Services.
There's no end to the talents exhibited by MUSC students. Besides juggling a full schedule of academics, private time or even work, students still find enough time to invest their interests and talents through volunteer work with MUSC Gives Back.
Proposed by a fourth-year medical student in 1993, MUSC Gives Back has provided health care professionals-in-training with valuable learning opportunities designed to enhance their education by donating time and skills to local, non-profit service agencies. The program, which originated in the College of Medicine, now includes students attending all MUSC colleges. To date, students have provided more than 11,000 hours of volunteer support to more than 300 projects.
"My vision is to see more volunteer participation with MUSC students," said Liz Sheridan, MUSC Gives Back director. The program's mission is to increase the value of a students'education earned at MUSC by integrating classroom learning with community-related volunteer experiences that allow them to observe and address actual health care problems in the communities they ultimately will serve.
In addition, the MUSC Gives Back program is instrumental in helping to recognize community health concerns and cultivate important relationships. It supports students through volunteer activity by meeting curriculum requirements in a specific field of study. In 1997, students volunteered more than 5,000 total hours. The program has developed an extensive network of volunteer sites in the Charleston area with more than 140 volunteer agencies.
MUSC Gives Back works like this: The program receives a request from the community regarding their need for MUSC student volunteers. Often, requests can be coordinated through community-related events such as the Good Samartin Mission's Thanksgiving dinner for the homeless or City of Charleston's Clean City Sweep. Students are introduced to the program's student volunteer opportunities catalog, an informative resource identifying more than 125 Tri-County volunteer-based organizations which have expressed a need for help from MUSC students. Sheridan tries to match these organizations with students based on their background and requests. For example, a specific organization may ask for a medical student to assist in a pilot study regarding community health.
Sister Mary Joseph Ritter serves as director of Our Lady of Mercy Community Outreach Services, Inc. It was one of the first agencies partnered with the MUSC Gives Back program in 1993. For years, medical students have been active in providing health screenings and medical assistance through the migrant worker program.
"There's an eagerness and genuine interest with the students to help economically poor people by willingly giving their time and energy," said Ritter. "The program allows the needy to also "give back" to students by sharing their culture, traditions and concern for others. This helps to underline their experience in providing future service to the under served."
Community Works Program director Randi Cohen provides a fresh perspective to her experience with Sheridan and the MUSC Gives Back program. Her organization, which joined with the program in fall 1997, serves more than 160 mentally challenged adults in Charleston and Dorchester counties. MUSC students created a lecture series which discuss the hazards of smoking, sexually transmitted diseases and drug and alcohol abuse with clients.
"The students do a great job in reassuring community awareness," Cohen said. She hopes the program will be supported by word-of-mouth references from former students. "It takes someone special to come out and participate with others and realize they're okay. It busts all myths regarding the mentally ill by proving that they are a population in need of services as much as other populations."
The reward from this program has been two-fold. Organizations have been able to repay service for service when it comes to volunteering. Cohen and the Community Works Program provide volunteer support to MUSC-sponsored events like the Cooper River Bridge Run and Race for the Cure.
Sheriden is currently busy organizing the MUSC Gives Back Community Volunteer Award for student organizations scheduled April 14. The purpose of this award is to recognize MUSC student organizations or groups from each of the six colleges and one university-wide student organization or groups of students, who have made exceptional voluntary contributions within the Tri-County regional community. Applicants will be judged soley on merit of their community involvement and accomplishments under the criteria of need, action, outcome and time. The awards will be judged by a selection committee, consisting of their own peers from each of the colleges.
Sheridan envisions the program to expand in many directions. She hopes to create a working database of information which will compile and categorize volunteer efforts by communicating their progress through a computer database. Also, the organization seeks to organize detailed records of each agency's needs, service opportunities and qualified participants.
In the meantime, Sheridan has created a temporary method to identify and record volunteer-related activities. Students will be rewarded for their participation by receiving a free MUSC Gives Back drink koozie for submitting their completed volunteer activities form by April 1. Volunteers working between 25-99 hours will receive an MUSC Gives Back T-shirt; 100-249 hours, a Gives Back baseball cap; and 250 hours or more, a special gift.
"We hope the work students do can help affirm their goals in the health care field," said Sheridan. "The practice is good at developing essential skills they can't get in the classroom."
For more information on the MUSC Gives Back Program, contact Sheridan at 792-4094.