Patients get connected with GetWellNetwork




by Holly Auer




Of The Post and Courier Staff


Jennifer Flowers is an 8-year-old with an ambitious plan: to get to the last level of the video game "Gold Miner" before ending her stay at MUSC Children's Hospital.

Whenever she feels like giving the game a go—to pass the time, or forget about not feeling well—she fires it up on a TV screen in her hospital room using a wireless keyboard and remote.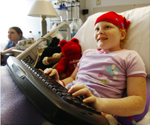 Photo by Brad Nettles/ Post and Courier Staff


Eight-year-old Jennifer Flowers uses a wireless keyboard ro play a video game in her room June 12 at MUSC Children's Hospital as her older sister, Morgan, watches.

Eleven-year-old Trenton Rupert picks out new-release movies in his room—"The Legend of Zorro" is his favorite so far—with a quick click of a button on the remote. That, he says, is a whole lot better than when he used to have to wait to borrow videos from the hospital's child life department.

Both young patients are tapping into the GetWellNetwork, an interactive software program that runs through the hospital's cable TV network and allows them to surf the Web, use e-mail, watch videos for both fun and education, and give feedback to their caregivers.

Online for just under two months, kids and teenagers at the hospital have used the technology to communicate with teachers, check out MySpace pages and catch the latest movies. Within the next few months, a different version of the program will roll out at MUSC's main hospital, offering similar services to grown-up patients and their families.

David Bennett, MUSC's Web development services director, estimates about 20,000 U.S. hospital beds, less than 1 percent, offer patients this level of connectivity. About 15 hospital systems across the nation run the GetWellNetwork, and MUSC is South Carolina's first hospital to offer a program of its kind.

The hospital's technology staff said the multimillion-dollar investment is all about enhancing the patient's experience —a goal that often gets lost in the tangle of test results, IV lines and drug orders that fill each patient's day.

"Traditionally, that's second place," Bennett said. "Usually, it's all about the care team around you, not about what your experience is."

Although the technology might be fun to use, it's expected that the educational aspects of the system, from drug information to tutorials on smoking cessation and diabetes care, will ultimately enhance patient outcomes. Plus, Bennett said, studies show that by offering fun diversions, such as games and movies, patients tend to feel better and need less pain medication.

By "prescribing" patients educational videos just as they would a drug, doctors aim to empower patients. The network offers more than 150 films, on topics from diabetes to asthma to bone-marrow transplants.

Though it's no substitute for face-to-face education, "if we can educate you ahead of time, and teach you a little bit about your state, the nurse can come in and talk to a much more informed patient," Bennett said.

The system also gives patients and their families a chance to do a bit of advance planning. They can, for instance, order prescriptions online and pick them up at the hospital pharmacy on the way home, or go online to choose medical equipment such as walkers or shower chairs and have them delivered before getting home.

Hospital administrators are particularly excited about the patient feedback part of the program, which they hope will boost standards of care and streamline the way the hospital functions. If lunch arrives too late, for instance, patients can beam an instant message to the hospital's dietary department to get things straightened out.

With a nursing shortage gripping hospital wards everywhere, time spent on those issues means less time spent taking care of patients.

"That's not what we want nurses doing," Bennett said. "We want them doing what they're good at."

The GetWellNetwork accounts for that, too. Find a nurse that does an extra-special job? Share your feelings on the screen and she'll know about it in no time.
Editor's note: The above is an article that ran June 13 in The Post and Courier and is printed with permission.



Friday, June 16, 2006
Catalyst Online is published weekly, updated as needed and improved from time to time by the MUSC Office of Public Relations for the faculty, employees and students of the Medical University of South Carolina. Catalyst Online editor, Kim Draughn, can be reached at 792-4107 or by email, catalyst@musc.edu. Editorial copy can be submitted to Catalyst Online and to The Catalyst in print by fax, 792-6723, or by email to catalyst@musc.edu. To place an ad in The Catalyst hardcopy, call Island papers at 849-1778, ext. 201.