S.C. doctors get a sneak peek at ART


More than 600 health care professionals from around South Carolina converged on Charleston as they visited and participated in MUSC's Practitioner Open House Jan. 6 in anticipation of the opening of MUSC's Ashley River Tower (ART).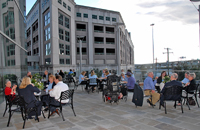 Guests enjoy the casual ambiance of ART's patio/deck area on the second floor and adjacent to the atrium.



The event was an opportunity for MUSC clinicians to meet and interact with their local and statewide colleagues from Columbia, Beaufort, Florence and beyond. Groups toured the facility's new Chest Pain Center, digestive disease specialty areas, OR and endoscopy suites, Cath/EP labs, and patient areas.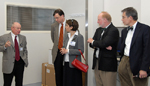 MUSC's Dr. Fred Crawford, chief of cardiothoracic surgery, tours physician-guests around ART's fourth floor operating rooms.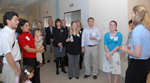 ART public information coordinator Ginny Gamble leads visitors through ART's fourth floor that features the ORs, ICUs and patient rooms.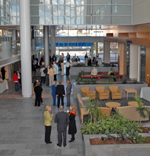 MUSC Medical Center Executive director Stuart Smith, from left, joins Hal Currey and Dr. Howard Evert as they admire ART's spacious conservatory area.



Look for information on the ART Employee Open House in February.



For more information on ART, visit http://www.muschealth.com/ashleyrivertower.





Friday, Jan. 11, 2008
Catalyst Online is published weekly, updated as needed and improved from time to time by the MUSC Office of Public Relations for the faculty, employees and students of the Medical University of South Carolina. Catalyst Online editor, Kim Draughn, can be reached at 792-4107 or by email, catalyst@musc.edu. Editorial copy can be submitted to Catalyst Online and to The Catalyst in print by fax, 792-6723, or by email to catalyst@musc.edu. To place an ad in The Catalyst hardcopy, call Island Publications at 849-1778, ext. 201.