Extraordinary phone skills used by IOP admin




by Mary Helen Yarborough




Public Relations


Her gentle, understanding nature has guided Veronica Brown through situations in which customer service is not only important, but at times has been a matter of life or death.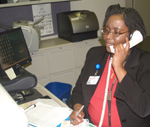 IOP's Veronica Brown listens intently as part of her job is fielding calls from potential patients, doctors and mental health providers.



An administrative specialist in the Institute of Psychiatry (IOP), Brown fields a constant flow of calls from doctors, psychiatrists, mental health centers, and, at times, desperate and depressed individuals.

Working 3 to 11 p.m., hers may be the first voice people hear when they call MUSC for an appointment or a referral to be admitted to the IOP. She listens carefully and monitors each call. That information is forwarded to a referral coordinator. Brown also pages doctors and nurses when a patient arrives. "This is so the intake and assessment procedure run more smoothly so the patient doesn't have to wait around long," Brown said.

On the slowest of nights, maybe two people will be admitted. "The most we ever had was 29 admissions in one day. That was a couple years ago," she said. "We had 21 admissions the day after Sept. 11 [2001]. And that was my first day."

Brown was recruited because of her skills interacting with the public, which she previously used working for the Charleston County Library. "I worked with the public and I used to read to the children, infants to 10 years old," she said. "I really loved that."

The single mother of two sons has worked since she was 14, and she has normally worked two jobs. She has operated a fabric store, a restaurant, and several booths at the Coastal Carolina Flea Market.

Born and raised in Brooklyn, N.Y., Brown moved to her parents' hometown in Charleston where she studied business at the College of Charleston and Trident Tech.
After she was hired to work for IOP, her orientation was on Sept. 11. The next day, Brown's innate skills were put to the test.

"My first day on the job, I got a call from someone who threatened to commit suicide," she recalled. "I had never been trained in handling anything like this before, but I just listened and spoke calmly with this man trying to calm him down. …I stayed on the phone, and he threatened to blow his head off. I was trying to talk him out of it, but at the same time, I was panicking inside."

During the estimated half hour on the phone, Brown tried to determine where the man was located. He said he was in a parking lot on MUSC's campus, but nothing more.

"I told him, 'Sir, you don't want to do that. You're at MUSC. You're welcome to come see us. We can help you. You took the right step by calling us. Your next step is to go to the ER," Brown said, adding that she wanted someone qualified to talk to him. "He said that if I got off the phone, he'd blow off his head."

Meanwhile, Brown wrote a note to one of the coordinators to alert Public Safety to comb the parking lots. "Public Safety was looking all over the place, but never found anyone," she said. "Finally, the man got frustrated with me and hung up. We never heard anything on the radio, so I assumed he was all right," Brown said. "I know he was depressed and wanted somebody to talk to."

Later, a more seasoned Brown got another crisis call.

"A couple was having a fight," she said. "A guy called and said that he needed help, because he was going to attack his girlfriend. He said she was driving him crazy. I asked if he had a weapon, and he said, 'no.' I asked if he could get to the ER, and he said, 'no,' because he didn't have transportation. And then I asked if I could call the police, and he said, 'yes;' and I called 9-1-1."

By this time, Brown had gained his trust and he provided her information needed by the police to identify where he was and what he was wearing. "I explained to 9-1-1 that this man needed help, that he didn't have a weapon, but he was about to attack his girlfriend and really wanted help to prevent him from doing that," she said. "I transferred him to the 9-1-1 operator."

Moments later, Brown got a phone call. It was the frantic young man. "He said, 'Do you mind staying on the phone with me until the police arrive?' I felt so good that I could help somebody. That was probably the highlight of my experience here."

While these events do not occur often, many times, individuals will call after hours needing help and don't understand why they can't see someone right then.

"If they are in trouble, I will work with them the best I can. I will ask them if they could get to the nearest emergency room, or I will give them a hotline number they can call for help," she said.

The number Brown gives people needing help after hours is the county's so-called 2-1-1 Help Line, 744-4357, which operates 24 hours a day.





Friday, Jan. 11, 2008
Catalyst Online is published weekly, updated as needed and improved from time to time by the MUSC Office of Public Relations for the faculty, employees and students of the Medical University of South Carolina. Catalyst Online editor, Kim Draughn, can be reached at 792-4107 or by email, catalyst@musc.edu. Editorial copy can be submitted to Catalyst Online and to The Catalyst in print by fax, 792-6723, or by email to catalyst@musc.edu. To place an ad in The Catalyst hardcopy, call Island Publications at 849-1778, ext. 201.