Children's Hospital Atrium named in honor of Tom, Robin Edwards


The birth of her healthy grandchildren led a Myrtle Beach resident to support research of childhood diseases at MUSC's Children's Hospital and Darby Children's Research Institute (DCRI).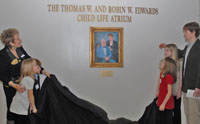 Robin Edwards, along with grandchildren Allen Edwards, Temperance Russell, Foster Russell, Miranda Russell and Grainger Lee Russell, unveil the painting of Thomas and Robin Edwards Jan. 11.



Robin Edwards made a $3 million gift to MUSC providing a huge boost to researchers working to develop new treatments and cures for childhood diseases.

Edwards said she had three reasons for making her gift. Those reasons did not include her, and husband Tom's, positive patient experiences at MUSC. Nor was it because of the couple's long-standing friendship with MUSC President Emeritus James B. Edwards and wife, Ann.

"It was the triplets," she said without hesitation.

Ten years ago, her daughter developed a complicated pregnancy while carrying her triplets. "Nobody here at home would even touch triplets at the time, so we took her to MUSC," Edwards recalled. "Of course, we were very worried, but those three children arrived in perfect condition and their mother came through it just fine, as well. Grandmama was a mess, but everyone else was great. It was one of the happiest days of my life."

Motivated mainly by that positive experience, the Edwards' began discussing ways to help the Children's Hospital and help create similar positive situations for other families. Unfortun-ately, her husband passed away before their vision could be realized together, and she never forgot the firm sense of commitment they both felt upon the birth of their healthy grandchildren.

"We talked about it a good bit before he died," she said. "We felt that when you help doctors and others in health care, you're helping people from all walks of life. We saw eye-to-eye on that. It was a very easy decision for us."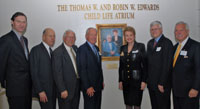 Celebrating in the Edwards' gift are from left Dr. Ray Greenberg; Phillip L. Edwards, brother to Tom Edwards; Dr. James B. Edwards; Dr. Charles Darby, executive director of the center for childhood advocacy; Robin Edwards; Dr. L. Lyndon Key; and Tommy Baker, chairman of the Children's Hospital Fund.



Edwards' gift will be used to create a new endowed chair in pediatric nephrology at DCRI. The chair will enable the university to attract and support a world-renowned pediatric nephrologist to explore new treatments and, ultimately, a cure for chronic kidney disease. Kidney disease currently affects an estimated 460,000 South Carolinians.

Her gift also will create a separate research endowment to help fledgling research projects get off the ground.

"Of course, many of our investigations are supported by National Institutes of Health (NIH) grants," said Pediatrics Chairman L. Lyndon Key, M.D. "However, before a study can be approved for NIH funding, we have to conduct preliminary research to prove that the study's scientific principles are sound and that it has the potential to achieve meaningful breakthroughs. This new research endowment will provide us with the seed money needed to perform these preliminary studies, obtain NIH grants, and launch full-scale investigations."

As endowed funds, both the chair and the research fund will exist in perpetuity, creating a permanent means of pursuing new innovations in the field of children's health, said MUSC President Ray Greenberg, M.D., Ph.D.

"An investment in research can open an infinite number of doors in advancing what we understand about health and disease," said Greenberg. "In that light, it is difficult to comprehend the dramatic and far-reaching impact that this gift will have on children's health in South Carolina and beyond. We are incredibly grateful for Mrs. Edwards' confidence and generosity."

The sentiment was echoed by Edwards' friend, former MUSC President Jim Edwards, DMD.

"Tom was one of the finest examples of humanity I've ever known, and Robin has always been very passionate about children's health," said Dr. Edwards. "The three of us had talked about something like this for many years, but I don't think anyone, myself included, expected anything on this scale. I'm extremely grateful for their friendship and their generosity, and I know Tom would be so proud of Robin."

In recognition of Mrs. Edwards' gift, MUSC Children's Hospital named its Atrium in honor of her and her husband.

Filled with toys, books and games, the Atrium is a colorful, light-filled solarium where patients and their families can relax and play during hospitalization. The Atrium is seen by patients as a retreat from the sometimes stressful environment associated with patient care.


Friday, Jan. 18, 2008
Catalyst Online is published weekly, updated as needed and improved from time to time by the MUSC Office of Public Relations for the faculty, employees and students of the Medical University of South Carolina. Catalyst Online editor, Kim Draughn, can be reached at 792-4107 or by email, catalyst@musc.edu. Editorial copy can be submitted to Catalyst Online and to The Catalyst in print by fax, 792-6723, or by email to catalyst@musc.edu. To place an ad in The Catalyst hardcopy, call Island Publications at 849-1778, ext. 201.