Meet...Randal
Name:

Randal Davis.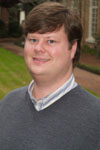 Department: Office of Research Development (Clinical Translational Science Award).
How long at MUSC:

Almost 2 years.
What is the most rewarding aspect of your job:

Being at the forefront of translational science.
What did you want to be when you were little:

Batman.
What was your first job:

Runner for a law firm.
If you could change careers, what would you be doing:

This is the career change.
Item you must have in your refrigerator:

Coke Zero and ketchup.
Bad habit:

Taco Bell.
Pet peeve:

Crooked pictures on the wall.
Something people don't know about you:

I used to book Broadway shows.
Favorite saying:

"... like herding cats."
What was your life's biggest moment:

There have been many. When I was finance director for the Mayor's Office of Cultural Affairs, we received the Elizabeth O'Neill Verner Award (which is the governor's award for arts). And another was being elected to public office …on the constituent school board.
If today were your last day on earth, how would you spend it:

I'd rather not know it was. I'd have ulcers worrying about it.
Friday, Jan. 18, 2008
Catalyst Online is published weekly, updated as needed and improved from time to time by the MUSC Office of Public Relations for the faculty, employees and students of the Medical University of South Carolina. Catalyst Online editor, Kim Draughn, can be reached at 792-4107 or by email, catalyst@musc.edu. Editorial copy can be submitted to Catalyst Online and to The Catalyst in print by fax, 792-6723, or by email to catalyst@musc.edu. To place an ad in The Catalyst hardcopy, call Island Publications at 849-1778, ext. 201.