Nurse to serve as missionary in Malawi




by Adam Parker




Of the Post & Courier


It's a long way between Mount Pleasant and Malawi. Rosetta Swinton is preparing for the journey.

It will be a big change and a big commitment for Swinton, but she is strengthened by her conviction that God is showing her the way.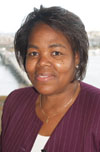 Rosetta Swinton



A registered nurse at MUSC's department of medicine and state health director of the AME Church's 7th District, Swinton, 56, has spearheaded health ministries and education programs for many years. She goes to southeast Africa in March. In Malawi, she will serve two years as a nurse and teacher at the newly established Kalibu Academy, a private Christian school based in the southern city of Blantyre.

She will leave behind two adult sons, a granddaughter and a fruitful career. She will delve into the troubles of a foreign land and do her small part in making things better.

She is moved by the Holy Spirit. She is moved by the needs of a faraway people. She is moved by the inspired leadership of the school's founders.

Rosetta Swinton feels blessed.

In a sense, the journey began 12 years ago. Frustrated about a lack of health care resources and education at her local Huger church, Swinton started a ministry there.

"I said to God, something is wrong with this picture," she said.

People were suffering needlessly. Diabetes, stroke and heart conditions were stealing lives. Access to medical care was limited. Ignorance exacerbated the problems.

The local initiative she started led to a districtwide AME Church program. And that led to a statewide plan. The Right Rev. Preston Warren Williams II, presiding bishop of AME Church's 7th District, told Swinton he wanted to see her ministry up and running in every church.



In dialogue


She heard the Holy Spirit speak: "I am sending you to the multitudes," the voice said. But she didn't understand. "I gave you two, and you took care of them. I gave you 350 and you took care of them. I gave you 15,000 and you took care of them. I gave you 276,000 and you took care of them."

She knew she was on a mission, but where that mission was leading her she couldn't yet grasp.

Then in August, during a "healing and deliverance" training session she was leading, something happened that would change everything.

"Close your eyes," she told the class, "and invite God into the room with you." As always, she followed her own instructions, participating in the exercise. What she saw was a brilliant white light and the body of God standing before her. With his right hand, he pulled from his torso a great big heart and placed it gently into a heart-shaped opening in her own chest. This was the big heart she would need for her trip to Malawi, though she could not yet know it.

A little later, she found herself at an intercession seminar at Emanuel Baptist Church in West Ashley. But why? she asked herself. I'm a faithful missionary, a health care educator, a devoted mother and grandmother. I'm no intercessor.

And the Holy Spirit spoke again: "Yes, you are. You have always been."

With these words, Swinton began to weep. "I was totally undone."

The pastor who organized the session took Swinton, tears in her eyes, to meet the guest speaker, Michael Howard.

"What do you do?" he wanted to know.

"I'm a nurse," she replied.

"Well, my school needs a nurse."

Two weeks later, Swinton attended a women's retreat in North Carolina. She had almost forgotten about Howard's comment, uncertain about what he meant.
But at the retreat she encountered Howard's sister, Roz Heyns, who spoke of Africa and its troubles, the mission work she and her brother were engaged in, the school in Malawi they had established.

And Swinton remembered. She remembered the great big heart given to her by God. She remembered the intercession seminar. She remembered the multitudes. Undone again, she heard the words of God ring clear: "You need my great big heart to go to the place I'm sending you, to minister to the people."



Malawi


Howard and Heyns were born in Zimbabwe during the years of civil war. Eventually, their Christian mission work got them into some trouble, and they fled in the late 1980s. A refugee, Heyns came to the United States to run Shekinah Ministries, the St. Louis-based nonprofit organization they had set up.

But their ties to Africa were never severed. Again and again they traveled there—to Sudan, Congo, Malawi—teaching the Bible, praying for peace, assisting refugees and opening a school.

However, their Malawi school project was delayed 10 years when Bakili Muluzi, a Muslim, became president. This part of Africa is center stage in the battle between Islam and Christianity for the hearts and minds of the people, and for access to political power. This battle can be brutal indeed. When Islam wins, civic law goes the way of the Quran, Heyns said.

Verse 5:38 reads: "Cut off the hands of thieves, whether they are male or female, as punishment for what they have done." And so Islamic authorities in Sudan and elsewhere cut off peoples' hands and plunge the stumps into lye to stop the bleeding.

In 2004, the non-Muslim Bingu Wamutharika took office, and the situation eased for Heyns and her brother. In January 2007, their school opened with 47 students. On Monday, the new term begins with almost 500 students. In another year, Heyns expects the school population to reach 1,000, with nearly 800 boarding on campus, she said. The purpose of the Kalibu Academy is to educate the next generation of leaders, she said. All funding has come from individual supporters and church organizations.

The school desperately needs a nurse and a new health clinic.

"Rosetta is a wonderful asset," Heyns said.



A loss, a gain


Dr. Marilyn Laken, director of special initiatives at MUSC, has worked closely with Swinton. The collaborative project between the hospital and the AME Church has set a standard, Laken said, and Swinton's involvement will be sorely missed.

"She is an integral part," Laken said. "She knows everyone and everyone knows her. She is the point person."

Such partnerships are a crucial component in the effort to improve health care delivery, Laken said.

"People are more likely to trust a faith community leader with (their) problems than they are the health professions," she said.

Churches are sure to play critical roles in delivering emergency services in cases of hurricanes, bioterrorism or epidemic, she said. "Church organizations are in a good position to reach people, especially people in rural areas."

Swinton has set the stage for the next health director for the AME Church's 7th District. The programs are in place, she said. To continue to flourish, they need only the determined leadership of a dedicated missionary.

Now, Swinton turns to her fundraising efforts. She hopes to raise $14,000 to fund her trip and the new clinic that must be built in Malawi. She started a nonprofit called the Caring Community Development Coalition to help her achieve that goal.

The mission now is clear. Rosetta Swinton, born in the Phillips Community east of the Cooper, is about to embark on the greatest adventure of her life.

And her eyes are watching God.
Editor's note: The article ran Jan. 13 in the Post and Courier and is reprinted with permission.


Dollars needed to sponsor project, African mission
by Mary Helen Yarborough




Public Relations


Leaving a comfortable life and secure job at MUSC for an African village with few modern amenities would be crazy for most people. For Rosetta Swinton, R.N., doing so is a leap of faith and a response to a calling from the ultimate boss.

With less than two months before she departs for Africa, Swinton is undergoing a series of inoculations, including rabies vaccinations that cost $735. She is trying to raise $14,000 to help support her mission, the Rose of Sharon Project. The project is a special initiative by the Caring Community Development Coalition, a nonprofit organization Swinton established in 2005.

The Rose of Sharon Project, named for a biblical flower, is Swinton's first African mission, which will be in Blantyre, Malawi, a city of 700,000 people. She also will help a village and an existing mission complete the building of its new high school, and plans to establish a 12-bed health clinic, which is estimated to cost about $40,000 plus $10,000-a-year for supplies and staffing. She will also provide preventative health care education.

The village, like many African villages, suffers from an infant mortality rate of about 95 per 1,000 births. The median age is 16.5 years, and most people do not live beyond 40 years.

"There is one school in particular that has about 1,000 high school students that needs a nurse and health teacher to provide preventive health training and help them have a fighting chance to live and be productive past 40 years of age," Swinton said.

To help, Swinton will begin with 12 teenagers and train them to become peer educators, inspiring others to develop productive skills for a better life and educate them on how to be healthy and raise healthy families.

"The people here don't want to hear 'infant mortality.' The people in this village want to develop skills and understand ways to improve their lives," Swinton said. "I will listen to the needs that they identify, because they will tell me what they need and what they experience; and we can partner to establish a way to improve their lives working together."

Among those improvements would be teaching the young people how to develop their skills so they can earn a living. Other education would focus on nutrition and HIV prevention, she said.

Swinton will live in a mission house or a cottage. She will earn no income and she must pay all of her expenses. She estimates needing at least $14,000-a-year to sustain her and help the village build the clinic.

To sponsor Swinton and help support the Rose of Sharon Project, call 367-0858; e-mail caringcdc@yahoo.com. Checks should be made payable to Caring Community Development Coalition Inc., and mailed to 1175 Mathis Ferry Road, M2, Mount Pleasant, SC 29464.


Friday, Jan. 18, 2008
Catalyst Online is published weekly, updated as needed and improved from time to time by the MUSC Office of Public Relations for the faculty, employees and students of the Medical University of South Carolina. Catalyst Online editor, Kim Draughn, can be reached at 792-4107 or by email, catalyst@musc.edu. Editorial copy can be submitted to Catalyst Online and to The Catalyst in print by fax, 792-6723, or by email to catalyst@musc.edu. To place an ad in The Catalyst hardcopy, call Island Publications at 849-1778, ext. 201.