Carolina Family Care's journey to Excellence




by Melissa Altman, R.N.




Network director, CFC


Several years ago when MUHA introduced MUSC Excellence, the staff was excited to learn that many of the management concepts embraced by Fortune 500 companies were going to be promoted within the organization.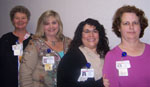 From left are Dianne Meagher,utilization coordinator; Keri Hughes, insurance billing representative; Christina Quimby, insurance billing representative; and Linda St. Marie, Central Billing Office manager.



Now that UMA and the College of Medicine have joined the Excellence effort, Carolina Family Care (CFC) has been actively involved in the process. Given CFC's exclusive outpatient orientation and close ties to UMA, a great number of synergies have been observed, including opportunities for both groups to work and grow together.

CFC eagerly began to incorporate the concepts of MUSC Excellence into its already established Performance Improvement Initiatives program.

In this program, each employee has a voice and can contribute to the thoughtful consideration of ideas for change. The system was modified by establishing a team for each of the five Pillars of Excellence and includes team leaders who are familiar with these concepts. These leaders understand that improvement is a process rather than an event and focus on the problems identified by our Excellence team that can be addressed systematically with measurable goals.

Although CFC is not involved with the Press-Ganey patient surveys, this information will be useful when we join the survey process later in 2008.


People Team

(Leader: Linda St. Marie, Central Billing Office manager)—The group is committed to finding ways to improve employee retention and recruitment performance. The first Press-Ganey Employee Satisfaction Survey related how some employees would like to understand more about their job responsibilities and mission within the institution and its affiliates. CFC also discovered that the organization's turnover rate was around 22 percent—almost double from about five years ago. Their goal is to reduce the turnover rate by about 50 percent within a year by resurrecting CFC's New Employee Orientation program. The UMA HR support team is committed to ensuring that CFC employees have a clear understanding of the organization's benefit structure.
Service Team

(Leader: Deniece Sanders, 30 Bee St. site manager)—The team will focus on developing service standards intended to anticipate their patients' needs and develop systems to actively support it. For example, CFC recently implemented a test-result system called Secure Reach, which is accessible to patients 24/7. Patients receive a confidential and unique access number on a small card resembling a credit card. Patients may call the toll-free number on the card and obtain their lab results in a reliable way at their convenience.
Quality Team

(Leader: Hope Brown, patient access manager)—Brown joined CFC in 2005 from UMA Compliance. According to Press-Ganey Employee Satisfaction Survey results, Brown received the highest supervisor rating for CFC. She is committed to collaborating with her team to merging both quality and service. Excellence managers are tracking and reviewing data from our Central Call Center that share some of the most common patient telephone requests and other improvements.
Finance Team

(Leader: Barbara Racioppa, East Cooper CFC site manager)—Racioppa has been with CFC for about 12 years, starting as a medical office assistant. The team will focus on sustainability and eliminating past due balances. CFC will change its information management system in July from Athena net to IDX.
Growth Team

(Leader: Nina Ohlandt, laboratory director)—This team focuses on providing service to a market that is overlooked by most labs. A team of committed leaders are mentoring their staff and members to consider change and lead with expectations of excellence. CFC has far to go in this journey. The possibilities are endless. Nothing is more rewarding than helping others—a patient or employee —whose life can be influenced by this organization.

CFC is excited about theses challenges as the group continues in this journey of Excellence. But as much as the training and processes are important, nothing would happen had it not been for the people who support the system. With that kind of effort, no problem seems insurmountable. CFC is a place where differences can be made for anyone daily. This is CFC's purpose and privilege.


Friday, Jan. 25, 2008
Catalyst Online is published weekly, updated as needed and improved from time to time by the MUSC Office of Public Relations for the faculty, employees and students of the Medical University of South Carolina. Catalyst Online editor, Kim Draughn, can be reached at 792-4107 or by email, catalyst@musc.edu. Editorial copy can be submitted to Catalyst Online and to The Catalyst in print by fax, 792-6723, or by email to catalyst@musc.edu. To place an ad in The Catalyst hardcopy, call Island Publications at 849-1778, ext. 201.