Students, faculty, march in honor of MLK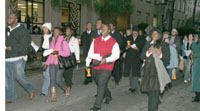 About 50 MUSC students, faculty, staff and community supporters

marched in honor of Dr. Martin Luther King Jr. Jan. 17. The event was sponsored by the Office of Student Diversity and the Multicultural Student Advisory Board.



In honor of Martin Luther King Day, students from area high schools and MUSC wrote essays. For the second consecutive year, COM student Cerrone Cohen, placed first in the competition. Fort Dorchester High School sophomore Bridget Barnett won the high school category.The essays were judged by the Multicultural Student Advisory Board.



Girls' talents often underrated




by Bridget Barnett




Fort Dorchester High School


I currently hold the position of the starting point guard for my AAAA high school varsity girl's basketball team.

At this time, you are probably picturing a 5'9'', muscular upperclassman. To many people's surprise, that picture is far from accurate. I am a 115-pound, 5'6'', 15-year-old blonde girl who most people describe as quiet. Because of my personality and appearance, most people underestimate the extent of my basketball abilities, especially the members of the opposite gender and race. The seemingly simple, yet character-molding experience I have chosen to share, shows how every person has the right to a fair judgment without interfering stereotypes.

Down the street from my house is a basketball court where boys play pickup street ball. Many talented boys come to play in this intense game. Most of the guys at the court immediately look down upon me because of my appearance. Every guy playing was tall and muscular while I looked like a small, fragile cheerleader. People in life may never know the extent of a person's abilities without giving them a chance. Every person has the right to participate in events without being discriminated against. Walking up to the court scattered with intimidating guys quickly lowered my spirits. After missing my first few shots in the game, I quickly began to make shots, which impressed and surprised all watching. I played there day after day; now, months later, I receive automatic respect and I feel like I can take on anyone, anywhere.

Just like in all things, obstacles must be conquered to get the prize. In order to competitively play basketball with boys, a girl must show guys how other aspects determine who a person is rather than their appearance. In everyday life, people constantly receive unfair judgment from others. For example, women in authority positions never have the same respect and power as men. Change, a scary thought for most people, is constantly avoided. Therefore, with the fear of change driving society, people will always be unfairly judged. It is easy to believe people when they say you cannot change society's views; however, a person will never create change if they do not believe in their individual power.

In addition to the obstacle of unfair judgment, stereotypes hindered my ability to reach my goal of showing my ability. Unfortunately, some men and women judge others using stereotypes. People who physically appear to be inferior to others, especially girls, are automatically stereotyped as poor basketball players. All throughout the world, men and women are put down due to commonly-used stereotypes. Many of the guys automatically stereotyped me as soon as I walked toward the court. After the second or third trip, I showed the extent of my basketball abilities, and one of the guys looked at me and said, "You can't judge a book by its cover." Using courage allowed me to change the views of the boys but also to break commonly-believed stereotypes. Although the boys originally considered me to be a bad player, my experience of standing up for what I believe in broke their misguided stereotypes. They and I learned that people are not very different after all, no matter their gender, race, or upbringing.

Through conquering obstacles and breaking stereotypes, my outlook on life and its challenges changed significantly. I have learned that every person has the right to equality. People may consider playing basketball to be a simple experience; however, the simple things in life are the ones that change our lives and personalities forever. Some people may not realize the impact of sports, but the lessons it teaches run deep within a person's soul and the soul of a culture.


---



Untitled




by Cerrone Cohen




College of Medicine


As we go about our daily pursuits, we all notice something, something that seems out of place. It often merits a frown, a moment of aggravation, or maybe even sadness. It bothers us, if only temporarily, whenever we see it. Day after day in passing, we wish it were corrected. As we continue in life, we only have to look around to find it, because wherever there is humankind there is need. The daily inadequacies and insufficiencies of our surroundings are unmistakable. Failing health care, failing schools, failing neighborhoods, and failing families. Altogether it seems like an ambitious, yet impossible, undertaking, at best. However, throughout our careers we each may find one thing in particular that creates a nagging desire for change; a desire that stays with us. Improving our circumstances need only to start with that one thing. That one injustice, whatever it may be, that if we allow it to, begins to stir up in us a sort of righteous displeasure with the state of our own communities. My one thing, the need I see that drives me toward change, may not be yours, but we all have something.

However, oftentimes, that which is not right outlasts our passing discontent and remains until the very inequalities that engulf our communities have become acceptable and routine. All too often the movement of our lips is the only visible action towards that which we say matters most. The idea of change brings resounding applause and the stomping of feet, but soon after the same hands rest idle in our pockets with our feet comfortably on the floor. Dr. King himself once said, "In the end, we will remember not the words of our enemies, but the silence of our friends."

Yet, if we each allow ourselves to become preoccupied with the vitality of others, the desire for human rights will no longer be a passing wish but, instead, a personal passion. The beginning of action is dissatisfaction. When we allow ourselves to become more unsettled by that one thing than by our own uneasiness at the efforts required to amend it, we will stumble upon the same spirit that drove Dr. King. It is the beginnings of a vision, not merely for ourselves, but for the way things could be. As a medical student, the health care needs of the community trouble me. I find it greatly disturbing when people merely cannot afford to be healthy, so much so, that I routinely volunteer my time at a student run free clinic for those without insurance. Yet, while I am there, a peculiar thing happens. The more I surround myself with the need of those around me, the more it nourishes my discontent and inspires me further towards change. I'm not done with my passion yet, and I hope you're not with yours.

The memory of Dr. King calls for us each to make a career of humanity. Our frustration with human rights must fuel our passion for change until all of the human is right. Complacency is a comfortable place, but I believe Dr. King would wish for us each to cultivate our dissatisfaction into deed. Our desires need not be fearfully simple, selfish or contrived. The pattern he set forth ask that we be content with our Creator but never with man's misshaping of that which He has created. If we wish to succeed, we must move forward faithfully, wisely, and earnestly. That movement starts with each of us with a passion to do, not watch. When we each find that one item, that one thing that inspires us to move and act upon it, we will be well on our way to the most noble vocation: what Dr. King called making a greater person of ourselves, a greater nation of our country and a finer world to live in.



Friday, Jan. 25, 2008
Catalyst Online is published weekly, updated as needed and improved from time to time by the MUSC Office of Public Relations for the faculty, employees and students of the Medical University of South Carolina. Catalyst Online editor, Kim Draughn, can be reached at 792-4107 or by email, catalyst@musc.edu. Editorial copy can be submitted to Catalyst Online and to The Catalyst in print by fax, 792-6723, or by email to catalyst@musc.edu. To place an ad in The Catalyst hardcopy, call Island Publications at 849-1778, ext. 201.