Employees reminded to lock up items
by Cindy Abole




Public Relations


Recent larcenies at 135 Cannon St. and Ashley River Tower challenge MUSC employees, staff and students exercise diligence in securing personal property at all times and pay attention to their daily work environment.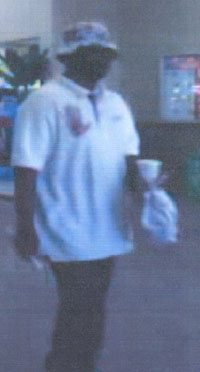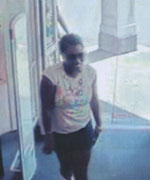 Persons of interest in the recent larceny at 135 Cannon St. include a black male and female. Call 792-4196.



On Oct. 1 and Oct. 3, an unidentified male gained access to an office area at 135 Cannon St. and stole credit cards and cash from employees on the fourth floor. The suspect was described as black, mid-30s, 5 feet 8 inches to 6 feet tall, 180-200 pounds, wearing work clothes and a worn camou-flaged bucket hat. The suspect is believed to be working with a female accomplice. She is described as black, 5 feet 3 inches to 5 feet 6 inches tall, and 120-140 pounds.

These crimes of opportunity can occur at anytime in the work-place, especially at a large employer the size of MUSC. The key is to avoid leaving purses and valued personal property unattended and unsecured.

"Thieves steal with a purpose and they always have a plan," said Lt. Fred Wanner of the MUSC Department of Public Safety's Crime Prevention-Training Unit. "We ask that all faculty, staff and students be aware of their surroundings and stay observant to activity particularly within their work areas and to call 792-4196 regarding suspicious individuals or report a crime.

Crime Prevention is just one of several programs and services supported by Public Safety, and considered a shared responsibility with Public Safety and the MUSC community. Theft (larceny) is among the highest percentage of criminal incidents reported on campus. The most effective method for preventing theft is eliminating opportunity. Employees and students should lock and secure all valuables—jewelry, cash and personal items in a safe place. Be sure to lock and secure doors, bicycles and automobiles. Report lost or stolen items to Public Safety immediately.

Public Safety's mission is to provide the safest environment for patients, visitors, students, faculty and staff while supporting MUSC's missions for education, research and clinical service.

Since 1999, Public Safety has earned national accreditation by the Commission on Accreditation of Law Enforcement Agencies (CALEA) Inc. Accreditation emphasizes the organization's commitment to a high level of public safety standards and professional excellence that contributes to improving service delivery, strengthening crime prevention and control capabilities, support of management procedures and professional practices. The police force of 55 sworn officers and six state security officers are appointed and commissioned as state constables and are empowered to enforce South Carolina laws with statewide jurisdiction and arrest powers.

The department collaborates with county, state and municipal law enforcement agencies in investigations and regularly shares intelligence and information.

To report a crime, call Public Safety at 792-4196 (emergency) or 792-2261 (administrative) and an officer will be dispatched to gather information. Be prepared to share information including your name, telephone number, incident/suspicious activity, location of the incident and other relevant information. Individuals may also report crimes anonymously and confidentially by accessing the Silent Watch Program at http://www.musc.edu/publicsafety/silentw.shtml.

Public Safety's Crime Prevention staff is available to talk to employees at department meetings and can conduct a crime prevention survey of area workplaces. For information, contact Wanner, 792-1070 or 792-2261.

Public Safety's Crime Prevention Office reminds everyone to:

Secure your belongings when you are away from your office.
Lock up purses, wallets, laptop computers and other electronic devices.
Record serial numbers of any electronic devices you have. Keep the list in a safe, secure place.
Record your credit card numbers.
Be alert for any unusual people in your work environment. This is especially important if you work in an area that is not generally visited by the public. Check individuals for their MUSC badges. All MUSC employees, students and staff are required to wear their badge at all times.
If you see a suspicious person or observe suspicious activity, report it right away to MUSC Public Safety at 792-4196.
When reporting a suspicious person, it is important to tell the dispatcher:

Location of the suspected individual.
What the suspect is doing.
What the suspect looks like
What the suspect is wearing.
Whether the suspect is still in the area.
Friday, Oct. 10, 2008
Catalyst Online is published weekly, updated as needed and improved from time to time by the MUSC Office of Public Relations for the faculty, employees and students of the Medical University of South Carolina. Catalyst Online editor, Kim Draughn, can be reached at 792-4107 or by email, catalyst@musc.edu. Editorial copy can be submitted to Catalyst Online and to The Catalyst in print by fax, 792-6723, or by email to catalyst@musc.edu. To place an ad in The Catalyst hardcopy, call Island Publications at 849-1778, ext. 201.