Rotation in Middle East proves successful

by Jonathan Ewart




Public Relations


Nour, a 2-year-old patient at the Children's Cancer Center of Lebanon (CCCL), searched the hallways of the hospital looking for Youssef Zeidan.

"Wein habibi, wein habibi," she asked. Where's my love, where's my love?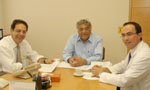 Youssef Zeidan, right, confers with CCCL director Miguel Abboud, left, and AUBMC dean of College of Medicine Nadim Cortas, in Lebanon.

These sentiments are much different than the one she expressed a month earlier during her first meeting with Zeidan, a visiting fourth-year M.D./Ph.D. medical student from MUSC.

To her mother's embarrassment, Nour admonished Zeidan with expletives cursing his father during her initial examination. "Pretty impressive for a 2-year-old," Zeidan said.

"Nevertheless, whenever her appointments came, she was a joy for the whole center, with a large group of fans consisting of students, nurses and doctors. As time passed, we became good friends," he explained.

Zeidan, a native of Tyr, Lebanon, spent his first two years of medical school at the American University of Beirut Medical Center (AUBMC). He then moved to the United States to complete his medical degree and begin work on his doctorate through the Medical Scientist Training Program (MSTP) in the College of Graduate Studies.

Once a year he returns to Lebanon to visit with family and friends. As part of this year's trip, he participated in a monthlong rotation with CCCL.

CCCL was established in 2002 as the cooperative effort of St. Jude Children's Research Hospital, the American University of Beirut Medical Center and the CCCL Foundation, which is responsible for fundraising.

The center has modern facilities with inpatient and outpatient units especially designed for children. It offers comprehensive care, with radiation therapy, chemotherapy, bone marrow transplant, a limb-salvage program, and busy hematology and sickle cell programs.

While there, Zeidan worked closely with Miguel Abboud, M.D., medical director of CCCL; and Nadim Cortas, M.D., dean of the College of Medicine at AUBMC. Before his position at the cancer center, Abboud was a MUSC faculty member in the Department of Pediatrics for more than 10 years.

"This was my first experience to see how medicine is practiced outside of the U.S.," said Zeidan. "I enjoyed the Middle-Eastern twist for medical practice, particularly the social, humanitarian and holistic aspects of the patient-doctor relationship.

"I was impressed with the amount of communication that took place with other centers," said Zeidan. "When there were tough cases that did not fit with regular protocol, we held international video conferences with St. Jude-Memphis and cancer centers in Morocco, Jordan and Saudi Arabia."

The cancer center constantly works to overcome many challenges and barriers. Although most patients are Lebanese, many travel long distances to seek treatment at CCCL, because it is the region's premier pediatric cancer center.
"It often took many days and a lot of paperwork for them to travel from Syria, Kuwait and Iraq," Zeidan recalled.

Because of the socioeconomic hardships facing the region, medical care often is too expensive for many people to afford. CCCL, however, has fundraising programs in place to cover the cost of treatment for most children whose families cannot afford to pay.

Operating on a finite budget always has its limitations, but to Zeidan's surprise, "Lack of funding was not an issue in turning sick children down," he said. "Amazingly, the center accommodated everyone."

"On very rare occasions, four times in the last six years, when patients with complicated diagnoses needed care not available at CCCL, they were sent to St. Jude-Memphis for treatment," Abboud said in an e-mail from Lebanon. "The cost of transportation and treatment for some of these cases were sponsored by St. Jude Children's Research Hospital."

MUSC is reaching out to the region in a different way. In 2003, spearheaded by Cortas and Perry Halushka, M.D., Ph.D., dean of the College of Graduate Studies, a formal exchange agreement was signed between the two medical centers opening MUSC's Medical Scientist Training Program to qualified AUBMC students who have the first two years of medical school under their belt.

"The major goal was to ultimately train people to get dual degrees to become academic physician-scientists with the intent that they would go back to AUBMC to be future faculty members," said Halushka, who also is the MSTP director.

"We take one or two AUBMC students a year, and these are some of their best students," said Halushka. "They really want to learn to how to do research and become faculty members, so this is an ideal program for them."

The first student graduated from the exchange program two years ago with two more graduating next year, one of whom is Zeidan. He is applying throughout the Southeast to residency training positions in radiation oncology.

"If I had a chance to do another rotation at CCCL, I would not think twice about it," said Zeidan.



Friday, Oct. 10, 2008
Catalyst Online is published weekly, updated as needed and improved from time to time by the MUSC Office of Public Relations for the faculty, employees and students of the Medical University of South Carolina. Catalyst Online editor, Kim Draughn, can be reached at 792-4107 or by email, catalyst@musc.edu. Editorial copy can be submitted to Catalyst Online and to The Catalyst in print by fax, 792-6723, or by email to catalyst@musc.edu. To place an ad in The Catalyst hardcopy, call Island Publications at 849-1778, ext. 201.