by Wally Pregnall
College of Health Professions
When more than 8,000 alumni from a variety of degree programs want to honor its graduates, deciding what kind of event and whom to invite can be a bit challenging for most institutions. Not for the College of Health Professions (CHP).

CHP, which seeks to build a sense of unity and identity among its diverse alumni, sponsored a weekend full of varied activities reflecting the college's rich history, and invited everyone to the Sept. 12 -14 CHP Alumni Reunion weekend.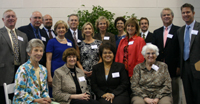 College of Health Professions Alumni Hall of Fame inductees.

The reunion was part of a broader effort to reach out to all alumni to honor their accomplishments and engage them in the college's newly-defined mission to achieve national distinction in health professions education, research and service.

Hundreds of alumni, faculty, staff and students had an opportunity to interact and participate in an awards ceremony, open house, continuing education workshops, a fun run, golf tournament and a barbeque.

The weekend started Friday afternoon with the Alumni Welcome & Awards Ceremony, which combined several ceremonies that previously had been held during separate occasions throughout the year. The ceremony allowed alumni and other constituents a chance to share in honors, including the Presidential Merit Award, the Distinguished Alumnus Award, the induction of CHP alumni into the newly formed Alumni Hall of Fame; the presentation of student scholarships, and faculty and staff awards.

CHP Dean Mark Sothmann, Ph.D., welcomed alumni with his presentation, "Celebrating Our Past and Charting Our Future." MUSC President Raymond Greenberg, M.D., Ph.D., and Provost John Raymond, M.D., helped present CHP graduate Eleanor Durgee with a degree in medical technology with this year's Presidential Merit Award for her exemplary service and support to the university.

Currently employed by the MUSC Center for Clinical Evaluation and Teaching, Durgee has served the university in numerous volunteer as well as professional capacities.

The Distinguished Alumnus Award was presented to Ninfa Saunders, R.N., who completed her doctorate in healthcare administration at CHP in 2006. Saunders is executive vice-president for Health Services at Virtua Health in New Jersey where she manages all health care operations throughout Virtua's four hospitals, two rehab centers, senior services, home care, ambulatory and outpatient services.

In the new CHP Alumni Hall of Fame 21 previous Alumnus of the Year recipients, many of whom were in attendance, were inducted.

In addition to honoring alumni, the ceremony also provided a forum for the presentation of student scholarships with 32 scholarships awarded during the event, which allowed donors a chance to meet their scholarships' recipients.

On Saturday morning, many alumni participated in a fun run/walk of the Ravenel Bridge, a Health and Administration Policy golf tournament held at Dunes West, or participation in program specific continuing education workshops.

For Sothmann and the CHP Development Office, the weekend of activities provided a chance to build new relationships and strengthen existing ones with many of the graduates whose accomplishments have established the foundation upon which the college seeks to build.

Friday, Oct. 24, 2008