Women's Club awards 10 scholarships
by Mary Helen Yarborough




Public Relations


Ten students representing each of MUSC's six colleges received scholarships from the Medical University Women's Club (MUWC) during an annual event held Sept. 17 at the Sullivan's Island home of MUSC President Ray Greenberg, M.D., Ph.D., and wife, Leah.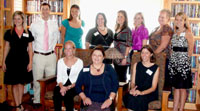 Chair of the scholarship committee and former MUWC president Laura Patrick, center seated, presented more than $11,000 in scholarships to this year's 10 students.



The scholars were selected from 56 applications and were awarded based on need and individual merits.

"Many of these students all have incredible GPA's, many of which are 3.9 or a 4.0," said Laura Patrick, former MUWC president and chair of the scholarship committee. "And a number of them are presidential scholars."

The committee this year comprised MUWC president Katy Kuder, Volunteer and Guest Services manager; Lynda Selby, Jane Locke, Sarah Nguyen, M.D., and Patrick.

"The committee spent six hours reviewing the applications and all were very deserving," Patrick said. "We have all MUSC's colleges represented and our decisions were focused foremost on need of the applicant, then on scholarship, service and letters of recommendation."

In announcing the scholarship recipients, Patrick provided background on each. They are:

Lauren Brown, College of Health Professions (CHP). Brown is a second-year physical therapy student who also works as a tennis instructor; works four hours per week with the MUSC Heart Health Program, MDA's Stride to Ride, Special Olympics, and Relay for Life.
Ashley Watamura, a third-year CHP physical therapy student. After having worked closely with children, Watamura would like to open an outpatient pediatric office which will include speech, as well as occupational and physical therapy. She has volunteered for many organizations and been the director of the 8th annual ALS Hope Walk/Run.
Monica Barden, South Carolina College of Pharmacy (SCCP) third-year pharmacy student. Barden is one of the 4.0 GPA students who also is the current class president and SGA treasurer. She volunteers at the Harvest Free Medical Clinic and CARES clinic.
Elizabeth Weed, third-year SCCP student pursuing a dual Pharm. D/MBA degree. She volunteers as the director of pharmacy for the student-run CARES Clinic in Mount Pleasant. Weed is a presidential scholar.
Hannah Lane, a second-year doctoral student from the College of Graduate Studies, Department of Pharmacology. Her main focus of study is on preventive or chemoprevention of colon cancer and is researching extracts from locally-grown muscadine grapes and green tea. She volunteers with the Charleston Miracle League and the Hope Lodge.
Anna Louise Sanford, a third-year College of Dental Medicine (CDM) student, also volunteers at the free dental clinic at Our Lady of Mercy Wellness House. She has traveled to Ecuador to assist dentists and help translate. "She says she understands that she cannot help all the aching teeth in the world but will give it her best and plans to incorporate service for those in need throughout her career," Patrick said.
Kate Lyttle, a fourth-year CDM student, has earned many awards and given of her time to help others. Notably, she has spent every Thursday night for the past two years providing service at the free dental clinic in Mount Pleasant. She also plays the viola in the Southcoast Community Orchestra.
Ritter Sansoni, a second-year College of Medicine (COM) student with a 4.0 GPA, is also is the top of his class. Sansoni has volunteered at Winwood Boys Home, CARES clinic, Habitat for Humanity, and Special Olympics soccer.
Ashleigh Owen, a fourth-year COM student who volunteers at the CARES clinic and with many community fundraising organizations. She plans to pursue a residency in internal medicine, and a fellowship in cardiovascular medicine; then practice at the Ralph H. Johnson VA Medical Center.
Cathy Mulloy, who graduated in May with a Bachelor of Science in Nursing, is currently working on her master's degree in the College of Nursing to become an adult nurse practitioner and nursing educator.
Mulloy also is the Trude Spicer Memorial Scholarship winner. Trude was a founding member of the MUWC and president of the organization from 1970-1971. This award has been given in her memory each year since 2002.

"Though my career began later in life, I believe that I am a better nurse now than I would have been if I began nursing 30 years ago," Mulloy said. "...The nursing shortage now will increase in the coming years as current nurses retire and as baby boomers age. I intend to be part of the solution, both by my practice as a nurse and as an educator."



Friday, Oct. 3, 2008
Catalyst Online is published weekly, updated as needed and improved from time to time by the MUSC Office of Public Relations for the faculty, employees and students of the Medical University of South Carolina. Catalyst Online editor, Kim Draughn, can be reached at 792-4107 or by email, catalyst@musc.edu. Editorial copy can be submitted to Catalyst Online and to The Catalyst in print by fax, 792-6723, or by email to catalyst@musc.edu. To place an ad in The Catalyst hardcopy, call Island Publications at 849-1778, ext. 201.