by Mary Helen Yarborough




Public Relations


Drained by the struggle of fighting cancer and the treatments that keep the disease at bay, Martha Crickenberger is too weak to return to work. The former schoolteacher, still, is buoyed by a positive outlook and the intravenous therapy she receives at the MUSC Medicine Infusion Center. The regular treatments she receives without having to struggle with parking, waiting and being shuffled from one doctor to another, has helped her gain enough strength to play tennis on her team in Summerville.

Carolyn Greene shares a lot in common with Crickenberger, with whom she's become accustom over the past few years. Greene, like Crickenberger, has survived an aggressive form of breast cancer that has metastasized throughout her body. To look at her—the bright, easy smile and twinkling eyes—reveals little pain. But the schoolteacher, who drives down from Georgetown, grows weary when the therapeutic fluid starts running through her veins.

The two women sit in sleek, ergonomic recliners attached to IVs feeding them the latest cancer-killing drug. In the small, quiet clinic overlooking the oaks and palms surrounding the center in the Medical Arts Building in Mount Pleasant, they compare their experiences and explain why coming to the Infusion Center has made life much easier to bare.

"It's like being a part of a family here," said Greene. "I actually look forward to coming here where everything and everybody is in one place. I don't have to sit around and wait and I don't have to go from one place to another to get treatment."

The staff in the Infusion Center consists of two registered nurses, a pharmacist, and a financial counselor to help with insurance or billing issues.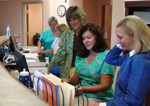 Bobbie Moyer, right, finance coordinator, talks to Bonita Gotbaum, clinical nurse coordinator, and Lisa Saunders, nurse manager, at the Infusion Center. In the background are Kelly Brewer, clinical nurse coordinator, and Kelly Kercher, clinical pharmacist.



Greene said the staff tends to everything from addressing a new concern that arises to administering lifesaving infusion therapy on the spot. Meanwhile in an adjoining clinic, oncologists are available to step over to assist or check on patients.

The Infusion Center, previously operated by the Hollings Cancer Center, had temporarily closed in April and reopened in August under the Department of Medicine.

While its primary focus had been cancer treatments, the center provides intravenous medications for a variety of patients needing infusion therapy, such as patients with osteoporosis who cannot tolerate oral medications. These patients now can receive the medications intravenously.

The center also draws on patient needs from Rheumatology, Nephrology, Endocrinology, Urology, and other specialty care departments. Because of other medical offices in the building, the center has access to other services, such as lab, which can be rendered while the patient is onsite.

"Here, we offer most everything that's offered at the medical center, but on a smaller scale," said Kelly Brewer, R.N., patient coordinator at the center. "We also are able to offer our services to other affiliates of MUSC in the community, such as Carolina Family Care."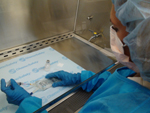 Pharmacist Kelly Kercher prepares an IV prescription in the onsite pharmacy.



Providing such medical services in specialized, well-equipped clinics reflects a commitment to patients requiring ongoing care, and a likely future during which more and expanded services and centers can be expected throughout the Lowcountry, according to MUSC officials. "We are aggressively developing clinical sites off the peninsula to improve quality care," said John Feussner, M.D., Department of Medicine chairman. "We're going to where the patients are as opposed to always demanding the patients come to us. …And I think that's wise, and we plan to do more of it."

Admittedly, seeing patients in outlying areas is an inconvenience to the doctors who might have to spend time driving to the off-site centers and return to clinics on campus throughout the day. "But the doctors think it's more important that they are inconvenienced than the patient being inconvenienced."

Especially for cancer patients receiving chemotherapy, long waits and drives can be intolerable. "They're weak and they feel bad, so going a long distance doesn't help them," Feussner said.

The Mount Pleasant center can treat up to six patients at a time, and infusion treatment can take only 15 minutes or as long as six hours, depending on the patient's condition and treatment plan.
Because of the onsite lab, results can be obtained in a timely manner. Doctors can call or fax orders directly to the Infusion Center, and the staff will contact the patient and schedule accordingly and based on the patient's needs, said Lisa Saunders, R.N. The onsite pharmacist reviews all orders, and she also is an added resource to assist any of the doctors or patients with important medication information.

Along with the level of care and services available, patients enjoy the patient familiarity, low stress environment and the amount of time saved by using the centers.

"What makes this appealing is that it is personable and convenient," said Kelly Kercher, a registered pharmacist.

Some patients drive from Beaufort and Myrtle Beach, and many others from across town. "There's no waiting. We have an efficient process, and the patients say it's intimate," Brewer added. "They say we're like a family to them. When they come in, we know them and we have the time to show them we care."

For information, call 876-2200.

To access a video about the Infusion Center, go to http://www.musc.edu/pr/infusion.mov (for Quick Time); or http://www.musc.edu/pr/infusion.wmv.




Nov. 14, 2008