by Jonathan Ewart




Public Relations


The Perry V. Halushka MUSC Student Research Day (SRD) on Nov. 7 featured 213 competitors in oral and poster presentations. Competitors ranged from undergraduate students to postdoctoral residents and fellows, and everyone in between. Although most presenters were associated with MUSC, students came from across the state and country to compete.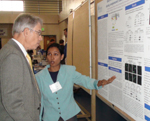 MUSC Postdoc, Geetha Suryakumar, College of Medicine, explains her poster to Dr. Perry Halushka, dean of the College of Graduate Studies.





University of North Carolina-Chapel Hill professor and Nobel laureate Oliver Smithies, Ph.D., gave advice to the students as this year's keynote speaker.

"The most important thing in a person's career life is finding something that you enjoy doing," said Smithies. "If you're doing experiments that you don't really enjoy, you're not going to do well. Find something you like and then you'll find work isn't work, it's play."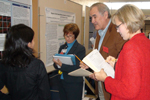 Judges Drs. Teresa Kelechi, from left, Tim Fitzharris and Betsy Hill discuss a poster presentation with Hiromi Terawaki, who won 2nd place in the Clin/Prof/Masters II poster category. For the complete list of winners, visit
http://srd.musc.edu.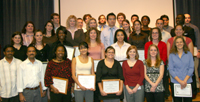 Perry V. Halushka MUSC Student Research Day 2008 winners



"Student Research Day is an annual research day that provides participants with the experience of presenting in front of peers and judges who give them feedback," said SRD chairman Steve Kubalak, Ph.D., associate professor of cell biology and anatomy. "The format includes oral and poster presentations and tests the participants' knowledge of their research areas, preparing them for national and international scientific forums."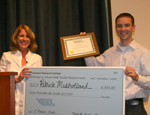 Postdoctoral Fellow Patrick J. Mulholland, College of Medicine, receives the 1st place Ralph H. Johnson VA Medical Center Award from Kelly Cochran, executive director of the Charleston Research Institute.









Student Research Day 1st place winners


Undergraduate I Poster: Joshua A. Smith
Clin/Prof/Masters I Poster: Ashley Primus
Clin/Prof/Masters II Poster: Megann K. Helton-Reiter
Clin/Prof/Masters III Poster: Jennifer R. Matos
PhD I Poster: Alfred C. Griffin
PhD II Poster: DeAnna A. Baker
PhD III Poster (Kinard Gadsden Award): Kathleen A. Potter
Postdoc/Res/Fellow I Poster: Ryan T. Kendall
Postdoc/Res/Fellow II Poster: Jennifer Schepp-Berglind
Undergraduate II Oral: Jennifer Barnum
Clin/Prof/Masters IV Oral: Adonteng Kwakye
Clin/Prof/Masters V Oral: Duncan Norton
PhD IV Oral: Joseph Cheng
PhD V Oral (Eric James Award): Bethany J. Wolf
PhD VIII Oral (Willard and Betty Peterson Award): Michael P. O'Quinn
Postdoc/Res/Fellow III Oral: Santhosh Mani
Postdoc/Res/Fellow IV Oral: Patrick J. Mulholland
Interprofessional Collaboration Research:Eric Layton
Sigma Xi Charleston Chapter Research Award Poster: Jeremy Blanchard
Sigma Xi Charleston Chapter Research Award Oral: Bethany J. Wolf
MUSC Library Bioinformatics: Bichun Ouyang, Alex Tsoi and Bethany J. Wolf
Ralph H. Johnson VA Medical Center Award: DeAnna A. Baker (Poster); Patrick Mulholland (Oral)
Health Disparities: Colin Ligon



Nov. 21, 2008