by Mary Helen Yarborough
Public Relations
Early next year, pharmacists and pharmacy technicians will be able to obtain continuing education (CE) credits from the comfort of their own homes, in front of their own computer whenever it's convenient for them.

The South Carolina College of Pharmacy (SCCP) will launch a web-based CE service in early 2009, according to SCCP CE director Michael Dunphy.

"This web-based system currently is being utilized by several major medical centers and the United States Air Force," Dunphy said. "We are the first university-based CE program to utilize the system."

The web-based CE program is being made possible with the acquisition of a software program called Rx Pharm. It will enable online registration and tests with immediate results, thereby reducing the paperwork, said Dana Rosson, administrative assistant. It also will allow SCCP CE program managers to accept online registration and payment and verify participation.

"It will provide enduring material programming, which will accommodate home-study," Dunphy said. "It will utilize faculty from both campuses in Charleston and Columbia."

The program also will help SCCP's distance learning to extend beyond the state's borders, and is expected to reach thousands of pharmacists and pharmacy technicians nationwide and internationally, Dunphy said.

"Pharmacists and pharmacy technicians from around the state and nation will be able to go online and take home-study courses from their pharmacy or home," Dunphy said. "The participant will be able to hear the presentation and see the speaker's slides."

A CE course catalog of pharmaceutical-related subjects will be developed and made available for purchase next year, Dunphy said.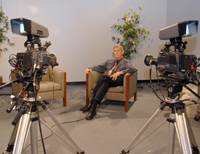 The show's host, producer and creator Dr. Ronald Nickel sits on the set that has been used to produce continuing education program for pharmacists and pharmacy technicians across South Carolina for the past 20 years.

Currently, an average of 350 pharmacists and pharmacy technicians in South Carolina participate in the two-hour distance-learning CE classes that are broadcast to 26 sites across the state via closed circuit TV. SCCP has worked with MUSC's Educational Technology Services and SCETV to deliver these live broadcasts four times a year via satellite. Because these broadcast programs enabled live exchanges between the show's host, producer and creator, Ronald Nickel, Ph.D., the classes met the state's live-hour course requirement.

The TV broadcast will be phased out, however, and replaced with the online streaming Webcast, which currently is being used to link Columbia and Charleston SCCP classrooms every day, said Jeff Osmer, information systems coordinator for SCCP at MUSC.

The program that began in 1988 has experienced rapid evolution recently with its first streaming Webcast in September class.

"This will accommodate more people needing the flexibility to take classes online," said Rosson. "This also will prompt more exchange between the students and professor, since the questions can be e-mailed, which is less threatening to a lot of people."

The web-based materials can be used anytime, easing the juggling act that these professionals undertake between home and work, Rosson added.

"These classes now are usually held from 7:30 to 9:30 at night so these pharmacists and pharmacy techs have to find a babysitter and adjust their personal and professional schedules to take these classes," Rosson said.

It's particularly tough on the pharmacy techs, who do not earn as much money as pharmacists, but who represent a growing population of CE-seekers.

Pharmacy technicians must complete 10 hours of continuing education with four of the 10 hours being live, Rosson said. Pharmacists need 15 contact hours a year to maintain their licenses, six of which must be live.

Because the average pharmacy is staffed with one pharmacist and an average of two to three pharmacy techs, the burden would fall on the pharmacist to operate the entire pharmacy without certified pharmacy techs, said SCCP spokesman Roby Hill.

"We have been getting more and more requests for classes from pharmacy techs, and we see a trend in having to expand our CE programs to meet their growing needs," Hill said.
Friday, Dec. 12, 2008