by Megan Fink
Public Relations
If a picture is worth a thousand words, then disease maps and other risk assessment visuals speak volumes to public health professionals. These pictures, developed by an MUSC biostatistics professor, could help explain why cancers and other deadly diseases turn up in certain places.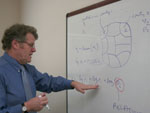 Dr. Andrew Lawson demonstrates disease mapping as a viable spatial analysis tool for risk assessment.

A critical component of public health resource allocation, disease-mapping is performed by Andrew Lawson, Ph.D., professor, Department of Biostatistics, Bioinformatics, and Epidemiology (DBBE). Lawson's disease-mapping provides the spatial analysis tools to identify and justify what resources should go to what areas based on their estimated risk. The data also are used to detect disease clusters, which could trigger further research or investigation to determine the source or path.

Public health officials receive calls and report almost daily from citizens and organizations about possible disease and other issues having an adverse health effects for a particular population. Lawson tracks frequent disease occurrences, and officials assess the risk and compare it to other areas in the district.

Lawson currently is working on a study that groups similar areas together in order to discover the map locations where disease outcomes are the same. Grouping of commonalities also is important for resource allocation, because public health districts may not show uniform disease outcomes and, therefore, should not receive uniform health resources.

"Here's the infection, now here's our map of the infection," said Lawson. "Where's it going to go? If you have good tools to predict the disease path, you can say with more confidence that an area is more likely going to be infected. So, let's do something about it."

Lawson also is embarking on a project analyzing human papillomavirus (HPV) and cervical cancer in relation to patients with head and neck cancer. Lawson and his team are looking at the spatial distribution of cervical cancer and head and neck cancer in South Carolina. He also just published a paper with Elizabeth Slate, Ph.D., DBBE, and Elizabeth Hill, Ph.D., DBBE, on the survival rates for prostate cancer in the state.

Disease surveillance became an interest of Lawson's after the terrorist attacks on Sept. 11, 2001, when homeland security and public health officials grew concerned over potential health-related terrorist attacks and called for enhanced monitoring of disease outcomes. Lawson developed methods for surveillance to see where diseases have changed in particular places.

A recent recruit from The Arnold School of Public Health at the University of South Carolina, Lawson also is a World Health Organization advisor in disease mapping and risk assessment. Working at MUSC puts Lawson in close proximity to clinical-related topics and offers a more integrated approach to biostatistics and epidemiology.

"MUSC is the flagship medical university in the state and has a very dedicated, long-standing presence in terms of biostatistics and epidemiology," said Lawson. "The department is stellar, and I work well with the faculty and staff here."

Lawson teaches courses worldwide on Bayesian-style disease mapping methods with the next session being held in December at MUSC. This course is so popular that it's already filled to capacity, so the next open session will be offered in the spring.

Friday, Dec. 12, 2008