by Mary Helen Yarborough
Public Relations
While it might not look like much on the outside, inside the MUSC Family Medicine Center on Calhoun Street is a sparkling, warm and efficient demonstration of what a medical clinic should be.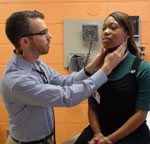 Dr. Marty Player, an attending physician and assistant professor, gives MUSC employee Gerlita Glover a health checkup at the Family Medicine Center on Calhoun Street.

The unobtrusive one-story brick building, which served as a nursing home prior to the mid-1970s, has become a comprehensive medical hub where patients of all types have equal access to nationally-acclaimed physicians and medical researchers.

Doctors in this center are attending physicians, or those who teach; and many of them have earned national honors for their research and work in diabetes and preventative care, according to William Hueston, M.D., chair of the Department of Family Medicine.

The nurses, assistants and administrative staff have teamed with doctors in the center's mission to provide the best care possible for their patients while supporting the goals of excellence in support of each other and the integrity of the center.

"The beauty of this building is the people and services inside," said Karen Driggers, R.N., Family Medicine clinical manager. "We see everyone from the elderly, OB (obstetrics) patients, children and little babies. ...We are a clinic that continues to grow. We provide comprehensive care for the entire family. We do good things here."

The center, operated under the Medical University Hospital Authority, has 22 exam rooms, two procedure rooms, and three triage rooms. Half of the sprawling center is dedicated to walk-in patients and the other half is for scheduled appointments. It also has convenient on-site parking for patients.

One of four community outreach clinics located through the Lowcountry, the Family Medicine center "downtown," is the flagship center that sees an average of 550 patients a week. In 2007, nearly 29,000 patients came through its doors, and the patient volume continues to grow.

Because of the growing patient count, the center has to increase efficiency, which means doing more with the same amount of staff, Driggers said.

Using time, personnel and space more efficiently are congruent to Drigger's vision.

So growth doesn't become a burden to patients, in January the center will begin promoting same-day appointments, which encourages patients to call for an appointment and possibly get seen on the same day. This would shift the patient flow from walk-in to scheduled visits. The center would continue to accommodate walk-in patients, but patients will be urged to take advantage of scheduling opportunities for future visits, Driggers said.

"We are striving for all new patients to be seen within seven to 14 days from their appointment request," Hueston said.

Instead of walking in, patients would call ahead, added Driggers.

"We might ask, 'How soon could you be here?' Or, on busier days when we can get backed up, we could give the patient an appointment time later in the day so they wouldn't have to sit in the waiting room for two to three hours," Driggers said. "Naturally, if someone says they have chest pains, we'd tell them to call 9-1-1; or if they come in with chest pains, we'd see them right away. We won't turn anybody away, but we also value our patients' time."

While she anticipates an adjustment period, Driggers said the superior management and team approach to providing quality care and treatment should offset any challenges.

The center still offers same day appointments for MUSC employees, much as it has through the Employee Advantage program.

"This enables us to give a specific appointment time for employees to make access for them easy and efficient so they can get right back to work," Driggers said.

MUSC employees and students can see doctors in the Family Medicine clinic within a short period and for a broad array of medical conditions, minor or serious.

Open Monday through Saturday, the center boasts providing optimal preventative medicine, treats patients with minor and serious illnesses, including diabetes and gastrointestinal diseases.

It has an on-site lab, and a pharmacy run by the MUSC Department of Pharmacy. Patients needing radiology or other advanced specialized services are referred to MUSC's main campus facilities.

Other Family Medicine clinics, which are operated under University Medical Associates, are East Cooper University Family Medicine in Mount Pleasant, Flowertown University Family Medicine in Summerville; and University Family Medicine located on the Trident Hospital campus in North Charleston.

For information on Family Medicine, visit http://www.muschealth.com/familymedicine/fmchome.htm; or to schedule an appointment, call 792-3451.


Friday, Dec. 19, 2008