by Cindy Abole
Public Relations
It was an afternoon of holiday fun for about 75 patients and their companions as Trident/MUSC Family Medicine Residency Program gathered to host its annual holiday luncheon Dec. 11 at the University Family Medicine office in the North Charleston.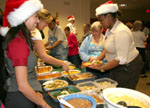 Trident/MUSC Family Medicine residents Drs. Laurie DeGrand, from left, and Jennifer Bhavsar serve food to a guest who is assisted by Dr. Katrina Herring, far right, during the Dec. 11 holiday luncheon at the Trident/MUSC Family Medicine office in North Charleston. More than 75 patients and family members attended.

Family Medicine distributed 150 invitations to this annual holiday tradition that was initiated in the 1980s by family medicine residents and staff to celebrate and thank the center's patients. The event also serves as a bridge-builder between patient and clinician, and between the center and the community.

"This is an enjoyable experience for everyone involved," said Peter J. Carek, M.D., professor and Trident/MUSC Family Medicine Residency Program director. "The event is as meaningful to our residents and staff as it is for our patients. We especially wanted to show our residents the value of being a role model to patients and families by giving back to them and the community. It contributes to their doctor-patient relationship and is a valuable part of their resident education."

Family Medicine staff greeted arrivals and residents served guests as they dined on roast turkey, baked ham, desserts and all the trimmings prepared and provided by Family Medicine Residency office members.

"It's nice to see our patients doing well and enjoying themselves," said Katherine "Kit" Seawright, M.D., a first-year Trident Family Medicine resident and MUSC alumnus. Seawright is among 30 physician-residents working at the facility.

With red poinsettias centered on each table, carolers from Marrington Elementary School entertained guests and staff with Christmas carols, while Santa Claus, made a special appear-ance.

Guests also were entered to win one of many door prizes. Family Medicine staff worked all year long to raise money to support the holiday event. Part of the fundraising included $2 donations by employees to participate in the right to wear blue jeans to work on Fridays. Money collected throughout the year was used to purchase door prizes, food and other supplies for the party.

This was the third year Margaret Johnson of Pineville has attended Family Medicine's holiday party. She wouldn't miss it, she expressed with a wide smile. Johnson has been a patient of family physician Maria Gibson, M.D., for more than 15 years and values their patient-physician relationship. "She's an excellent doctor," said Johnson. "She really takes her time with me and listens. Too me, that's important."

Patricia and Roger Pruitt of Summerville were newcomers to the get-together. Both had recently switched their care from MUSC Family Medicine Center to the University Family Medicine location and are happy with the convenience. "This is a nice thing that they provide," said Roger. "It shows us that they really care."

MUSC's Department of Family Medicine was established in 1970 as one of the first university-based departments in the country. The Trident/MUSC Family Medicine Residency Program was created as a partnership between a community hospital (Trident Health System) and an academic medical center (MUSC) through which faculty have emerged as leaders in various areas of family medicine education and practice.


Friday, Dec. 19, 2008