by Alex Jackson
Public Relations
In preparing for my future career, I worked as a summer intern with the MUSC Office of Public Relations. As a communication student at the College of Charleston, I was familiar with broadcast media through the college's radio station. However, I wanted to learn more about print journalism.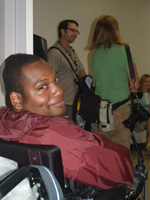 Public Relations intern Alex Jackson escorts the media and others to a press conference.

My first writing assignment for The Catalyst included interviewing the director of Occupational Safety and Health regarding hospital recognitions. I was nervous about my interviewing and writing skills, but the office staff was helpful in guiding me through the process. Even though I had taken some writing courses in school, it was different writing for a weekly university hospital publication.

I grew more comfortable with my writing technique and enjoyed receiving new assignments. I met with middle-school to college-aged students who were interested in careers in health care. I discovered that the hospital provides many career exploration programs for students and it's a great opportunity for students to get a glimpse of the working world.

My most memorable story that I wrote was about my mother, Sherron M. Jackson, M.D., a pediatrician in the MUSC Pediatric Sickle Cell Program. Nominated by her younger sister, my mom was recognized by Kraft Foods as part of the "100 Extraordinary Women Campaign." It was an honor to write about my mother, because she does so much for her family, friends and community.

My experiences this summer allowed me to better understand the profession I am pursuing and also make a contribution to the teaching hospital community. It was an invaluable opportunity, because it taught me more than just writing skills, but practical lessons that will be useful throughout my career in journalism.


Friday, Dec. 5, 2008