Beach chair position encouraged in ICU




by KellyAnne Pennington, R.N.




STICU


Getting an ICU patient into the "beach chair position" may one day become as important as turning patients every two hours and having their beds at a 30-degree angle.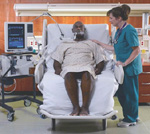 photo courtesy of Hill-Rom




A nurse places a patient in the "beach chair position."



New research suggests that early mobilization of patients helps decrease patients' ICU stays, ventilator days and ventilator-acquired pneumonia (VAP) rates. The beach chair position takes today's idea of early mobilization one step further. Why not take a sedated patient and get him sitting up in bed? To obtain this position, the patient's head of the bed needs to be elevated to 70 degrees and his foot of bed at a negative 75-degree angle as if the patient were sitting in a chair. This positioning helps maintain and strengthen posturing muscles.

The beach chair position also can be used to help prevent multiple complications in the sedated ICU patient. The heart compresses about 17 percent to 37 percent of the lungs, which inhibits the lungs from completely expanding. The beach chair position helps prevent the heart from compressing on the lungs.

VAP has been defined as "pneumonia that occurs within the first 48 hours of initiating mechanical ventilation," according to the American Thoracic Society. VAP occurs in up to 25 percent of ventilated patients and is the leading cause of death among hospital-acquired infections. It also has been known to extend vent days, ICU stays and increase patients' hospital bills by as much as $40,000. Elevating patients' head of the bed has been found to decrease the frequency of reflux and aspiration linked to VAP. The beach chair position helps to expand the lungs and mobilize secretions, thereby aiding in decreasing VAP.

The heart works 30 percent more efficiently when not in supine position (laying down) as oxygen consumption is decreased. Mobility of patients has also been found to help prevent venous stasis, thereby decreasing thrombophlebitis, deep vein thrombosis and pulmonary emboli. The kidneys are able to function more effectively and cell debris does not collect in the dependent area of the kidneys. The urine is then able to empty from the bladder. With the kidney and bladder functioning most effectively, the risk of kidney stones and urinary tract infections decreases.

Multiple changes occur within a few days to a few weeks in organ system physiology that are induced by a sudden decrease in activity. Patients have demonstrated weakness and neuromuscular abnormalities within seven days of ICU stays. This can be potentially worse in a sedated patient. Meanwhile, skeletal muscle strength may decline by 1 percent to 1.5 percent per day of strict bed rest. Skeletal muscle strength may decline by 5 percent to 6 percent per day with immobilization such as casts. Observations indicate that the ICU patient may lose 50 percent of total muscle mass in two weeks.

When a person is sitting up, the organ systems of the human body function more effectively and more efficiently. A typical person spends most of his day upright and only a fraction of the day lying down. When patients come to the hospital, we immediately reverse the equation. The beach chair position helps us to maintain this balance. It only takes minutes to obtain this position, yet the benefits are remarkable.

The STICU at MUSC is currently working to make this part of the unit's daily practice. Anticipated benefits include a decrease in the VAP rates, patients being removed from the ventilator more quickly and leaving the ICU sooner.


Friday, Feb. 15, 2008
Catalyst Online is published weekly, updated as needed and improved from time to time by the MUSC Office of Public Relations for the faculty, employees and students of the Medical University of South Carolina. Catalyst Online editor, Kim Draughn, can be reached at 792-4107 or by email, catalyst@musc.edu. Editorial copy can be submitted to Catalyst Online and to The Catalyst in print by fax, 792-6723, or by email to catalyst@musc.edu. To place an ad in The Catalyst hardcopy, call Island Publications at 849-1778, ext. 201.