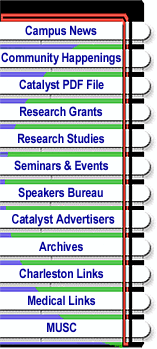 Continuing Medical Education courses announced by COM


The following conferences, sponsored by the College of Medicine's Continuing Medical Education Office, are currently scheduled through September. For information, call the Office of Continuing Education at 876-1925.

The listing is updated frequently and can be viewed in a pdf file at http://www2.edserv.musc.edu/cme/programs/upcoming.lasso.

MUSC Temporal Bone Dissection Course
Feb. 15-16, MUSC

Charleston Course at the Sanctuary-Cardiovascular Imaging and Cardiac CT Case Review
Feb. 24 - 27, Sanctuary Hotel, Kiawah Island Resort

The Sanctuary of Endovascular Therapy (SCAVIR)
Feb. 28 - March 1, Sanctuary Hotel, Kiawah Island Resort

3rd Annual Symposium on Management of Chronic Kidney Disease
March 1, Charleston Marriott Hotel

2008 Sports Medicine Spring Symposium
March 6-8, Charleston Marriott Hotel

Updates in General Internal Medicine for Primary Care
March 7-9, Doubletree Hotel
18th Charleston Pulmonary and Critical Care Symposium
March 14-16, Charleston Marriott Hotel

7th Pediatric Neuroscience Update
March 28 - 29, Kiawah Island Resort

OB/GYN Spring Symposium
March 31 - April 2, Doubletree Hotel

Postgraduate Course in Surgery
April 17 - 19, Doubletree Hotel

The New Drug Update
May 8-10, Doubletree Hotel

Advanced Endoscopy Update
May 23 - 25, Kiawah Island Resort

32nd Update—Cardiology for the Primary Care Provider
May 28 - 31, Doubletree Hotel

Charleston Magnolia Conference
May 29-31, Charleston

Intensive Review of Family Medicine
June 9-14, Kiawah Island Resort

Using TCD, MRI/MRA and Transfusion to Prevent Stroke in Sickle Cell Disease
July 10 - 12, Kiawah Island Resort

Intensive Review of Emergency Medicine
Sept. 24 - 27, Doubletree Hotel


Friday, Feb. 15, 2008
Catalyst Online is published weekly, updated as needed and improved from time to time by the MUSC Office of Public Relations for the faculty, employees and students of the Medical University of South Carolina. Catalyst Online editor, Kim Draughn, can be reached at 792-4107 or by email, catalyst@musc.edu. Editorial copy can be submitted to Catalyst Online and to The Catalyst in print by fax, 792-6723, or by email to catalyst@musc.edu. To place an ad in The Catalyst hardcopy, call Island Publications at 849-1778, ext. 201.