Dragon boat festival to benefit Hollings




by Mary Helen Yarborough




Public Relations


Sterling Hannah steps carefully around meticulously-stacked exercise balls that fill her office at Hollings Cancer Center (HCC). The colorful spheres are fitness tools for dragon boat team members and enthusiasts, many of whom are cancer survivors training to compete in the ancient Chinese sport throughout the country.

Gray steel doors that separate her office from a white, cold hallway open frequently to the warmth and encouragement of team members, friends and supporters. Hannah, cancer survivor services manager, has dedicated her life to creating healthy, hopeful and enjoyable activities for cancer survivors. She now is pulling together teams and benefactors for Charleston's first dragon boat festival to be held May 3 at Brittlebank Park.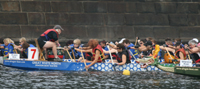 The Hollings Cancer Center Dragon Boat team competed in Philadelphia at the International Dragon Boat Festival last October. All of the team members are cancer survivors.



Expected to draw at least 600 competitors from around the country, most of the competitors will represent the Lowcountry in the event that will benefit HCC survivorship programs through sponsorships.

So far, 20 teams comprised of 20 paddlers and a "drummer," who helps paddlers maintain rhythm, have signed up. The goal this first year is to have more than 30 boats competing, Hannah said.

To enter, each team will pay $800 for nonprofit or community teams; or $850 for corporate teams. The cost works out to about $45 per person. All of the equipment, including boats, paddles and vests, are provided. Each team also is provided a "steersperson" to keep the boat on course during races.

Meanwhile, scientific research supports the benefits of physical activity after a diagnosis of cancer. Physical activity holds numerous benefits for the body and mind, especially for people coping with a serious condition. Since the dragon boat program began in 2003, enthusiasm for the activity has steadily increased, Hannah said.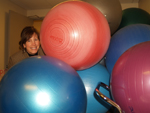 Sterling Hannah surrounds herself with exercise balls.



And while some teams encourage breast cancer survivors to participate, the HCC team is the first one in the nation that was open to all cancer survivors, men and women.

"We have a team with almost 60 people who all are cancer survivors," Hannah said. "We also have a community team called Charleston Surge that has a couple of cancer survivors who paddle with them. The sport is growing among all groups. …We hope this festival helps enhance awareness of survivorship programs."

Those programs include the Mobile Health Unit, which provides onsite mammograms and other cancer screening; Camp Bluebird, which is a weekend retreat in the fall for adult cancer survivors; yoga and Middle Eastern dance classes; and "garden parties" in the spring that serve as outreach and open communication sessions, particularly with black women in surrounding rural communities.

"We established our team, Dragon Boat Charleston, in 2003 as a unique and supportive alternative for cancer survivors, and now the rest of the city will know what an exciting and rewarding sport this is," said Andrew S. Kraft, M.D., HCC director.

Dragon boating also is an effective way to build teamwork within departments and companies, Hannah said.

"It makes you work together, have fun together, and all while sharing one goal of supporting the cancer center," Hannah said. "This would be a wonderful tool for departments working to achieve the Pillars of Excellence initiatives."

For additional information, contact Hannah at 792-3565; hannahs@musc.edu; or http://www.racedragonboats.com.


Friday, Feb. 15, 2008
Catalyst Online is published weekly, updated as needed and improved from time to time by the MUSC Office of Public Relations for the faculty, employees and students of the Medical University of South Carolina. Catalyst Online editor, Kim Draughn, can be reached at 792-4107 or by email, catalyst@musc.edu. Editorial copy can be submitted to Catalyst Online and to The Catalyst in print by fax, 792-6723, or by email to catalyst@musc.edu. To place an ad in The Catalyst hardcopy, call Island Publications at 849-1778, ext. 201.