HCC mobile digital screenings go to work




by Mary Helen Yarborough




Public Relations


Hollings Cancer Center (HCC) is taking cancer prevention to the people with its mobile health unit, and is celebrating its first year of operation in April.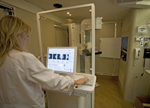 Technician Kedron Mullen looks at images from a digital mammography.



On Feb. 20, the van will be parked at the Basic Science Building loading dock where MUSC faculty, students and staff will be able to receive digital mammography services.

The spacious van is equipped to perform cancer screening services in breast, cervical, prostate, oral, skin and starting in the summer—colorectal cancer. Mobile health teams provide education and self-screening instruction for breast, oral and testicular cancer.

Operated by HCC Outreach Services, the van also is used to provide on-site screening through partnerships with local employers through the Worksite Wellness Project, said Debbie Bryant, Outreach Services director.

During the past year, the mobile health unit has been used to provide screenings for employees of the Charleston Water System, Select Health of South Carolina and the State Ports Authority.

"At Charleston Water System, we did 120 prostate screenings, and two of them required follow up," said Bryant, adding that Charleston Water System plans to have the unit return to provide screenings for their female employees.

Beginning in April, the mobile unit will travel monthly during the academic year to various Charleston County schools providing digital mammography screening. Bryant also said that she is talking to the City of Charleston about having the unit provide screenings for employees.

According to Bryant, the mobile unit needs to build the program gradually to avoid being overwhelmed with requests. And it must form partnerships with employers and other groups to help support the costs of providing services to the underserved. "Companies are very intrigued with this program and the van. There is no mass marketing to attract new partners yet, but we have had companies contact us and have put us in their budget for next year," Bryant said.

For more information on the mobile health unit, call 792-0878.



Friday, Feb. 15, 2008
Catalyst Online is published weekly, updated as needed and improved from time to time by the MUSC Office of Public Relations for the faculty, employees and students of the Medical University of South Carolina. Catalyst Online editor, Kim Draughn, can be reached at 792-4107 or by email, catalyst@musc.edu. Editorial copy can be submitted to Catalyst Online and to The Catalyst in print by fax, 792-6723, or by email to catalyst@musc.edu. To place an ad in The Catalyst hardcopy, call Island Publications at 849-1778, ext. 201.