Wofford program prepares future dentists





by Cindy Abole




Public Relations


Eight Wofford College students completed a successful four-day shadowing experience that introduced them to dental school at MUSC.

Students, all chemistry and biology juniors and seniors, took part in this annual program that offers under-graduates an opportunity to attend classes, mingle with students and talk with dental faculty, admissions staff and key people within the College of Dental Medicine.

Since 1995, dozens of chemistry and biology-major students have partici-pated in a collaborative experience that provides a bird's eye view of dental school.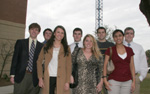 Wofford students Matt Nimmich, from left, Brandon Chasteen, Julia Moroz, Brandon Haubner, Ashley Price, Tyler Perry, Hilna Patel and Brent Johnson stand in front of the site of the new James B. Edwards College of Dental Medicine Clinical Education Center.




"It's always a pleasure to welcome this talented group of Wofford students to the dental school," said Tariq Javed, DMD, associate dean for academic and student affairs. "We're very proud of our multi-year collaboration with Dr. [Charlie] Bass and the Biology and Organic Chemistry department and the extraordinary students that participate in this program."

The annual program is part of a special partnership between the dental school and Wofford College's Department of Biology and Organic Chemistry and Bass, Ph.D. It was originally established in 1995 and provides a pipeline for students interested in careers in dental medicine.

Wofford biology major Ashley Price of Erharhdt volunteered last summer at a community health clinic in her hometown. The program provided specialized services in pediatric dentistry, which got her attention.

"It was a great experience," Price said. "I liked it so much that I signed up for Dr. Bass' program to learn more about dental school and its possibilities for me. The visit helped me understand what's expected in becoming a dentist."

Greenville native Brandon Chasteen heard about the MUSC dental visit from his peers.

A member of the department's pre-dental society, Chasteen volunteered with the organization's Halloween Carnival, local Give Kids a Smile Day event, community free health clinic and participated in student shadowing experiences.

While visiting MUSC, he and his peers met and talked with Wofford College alumni and other students—learning the value of networking among other dentists in the Greenville area. A junior biology student from Greenville, he hopes to apply the experiences from his visit to MUSC to prepare for a career in dentistry.


Friday, Feb. 15, 2008
Catalyst Online is published weekly, updated as needed and improved from time to time by the MUSC Office of Public Relations for the faculty, employees and students of the Medical University of South Carolina. Catalyst Online editor, Kim Draughn, can be reached at 792-4107 or by email, catalyst@musc.edu. Editorial copy can be submitted to Catalyst Online and to The Catalyst in print by fax, 792-6723, or by email to catalyst@musc.edu. To place an ad in The Catalyst hardcopy, call Island Publications at 849-1778, ext. 201.