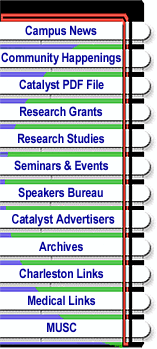 Program expands to support HCC mission




by Cindy Abole




Public Relations


Volunteers have often been referred to as the lifeblood of any organization. At Hollings Cancer Center (HCC), volunteers are a resource for patients, families and visitors because of their commitment to service, pride in helping others, and support for quality patient care. With more than an estimated 80,000- patient visits to HCC annually, volunteers are steadfast contributors to the center's daily mission.

Since HCC opened its doors in 1993, volunteers have played a vital role in the center's mission of defeating cancer in South Carolina. Following the opening of its seven-story tower facility and completion of HCC's expansion project in 2005, Hollings' volunteer program was re-established and underwent a rebirth of its mission and activities.


HCC volunteer Anna Bailey serves a fresh pastry and drink to a patient undergoing treatment in HCC's infusion suite. Bailey is making the morning rounds with the volunteer program's courtesy cart to provide refreshments to patients and families in HCC waiting and treatment areas.



"As plans for expanding the Hollings Cancer Center were being laid, a group of HCC leaders, former patients and staff, also was seeking ways to provide excellence in patient care. They wanted to improve the quality of life and overall patient and family experience from the moment they walked through HCC's door," said Carolyn Reed, M.D., deputy director of HCC Clinical Affairs. "We wanted to build a first-class volunteer program that would be meaningful and significant both to the volunteer and the cancer center."

Independent of the medical center and MUSC Children's Hospital volunteer programs, HCC volunteers are dedicated to supporting the cancer center's patients, their families and staff. Volunteers continue to serve in numerous capacities involving patient and family care, and provide support to administrative offices and clinical research staff. Volunteers are placed within areas that closely match the cancer center's needs along with each volunteer's interests, skills and abilities, according to HCC Volunteer Program coordinator Denise Wiese.

"Our goal has been focused on finding ways to support Hollings Cancer Center patients and their families by making them comfortable during each visit. We hope to accomplish this by tapping into our own volunteers' talents and other community resources," said Wiese, a former Americorps Volunteer in Service to America participant who came to HCC after working as program director for the Concerns of Police Survivors program in Missouri.

Wiese said HCC volunteers assist with waiting area hospitality, in the day treatment/infusion areas, and other areas to provide specific administrative and clerical support. They also help staff at the Looking Glass store and the newly-opened HCC Patient Resource Center.

"I can't say enough about the value of our volunteers," said Rhonda Breeland, R.N., HCC nurse manager. "Volunteers are part of a corps of individuals who interact and respond to the many needs of our patients and their families. Our Hollings volunteers help in many capacities from assisting with yoga classes and other activities attended by patient support groups. More than half of our volunteers also contribute their time to support roles within HCC administration, clinical trials and the infusion areas. Each person is a valuable part of our everyday mission."

College students seeking work experience in a health care setting also volunteer their time and experience with patients and families in various jobs. College volunteers serve as lobby greeters, patient escorts and in other patient relations roles.

Hannah Kozak is a pre-med student at the College of Charleston. Since October, she has been volunteering weekly at HCC and loves it. "I really like the time I spend with patients and staff whenever I'm here," said Kozak, an Annapolis, Md., native whose mother and aunt are cancer survivors. "Everyone has been great and supportive of me. I hope to continue my volunteering throughout 2008."

Another important aspect of the volunteer program is fundraising. Wiese said the volunteer program relies upon in-kind donations to provide small comforts and amenities for patients and families in clinic waiting areas and the infusion suite. For example, Blend restaurant regularly donates pastries and fruit smoothies to waiting patients and their families. Seacoast Church creates and donates homemade fleece blankets for infusion patients. Additionally, the volunteer program manages magazine and book donations for its clinics and other patient areas.

The program has compiled a wish list for needed donations that include snacks and drinks, blankets, electronics and gift cards. The complete list is available at http://hcc.musc.edu/giving/wishlist.htm.

Volunteers also work with the administration and collaborate with the HCC Citizens Advisory Council and Patient Caregiver Committee, which advise the administration about patient care needs and other issues.

"It's not difficult to see that the level of care provided at Hollings Cancer Center is among the best-kept secrets on campus," said Penny Hoey, a bone marrow transplant survivor and HCC advocate. Hoey serves as vice chair of the HCC Citizens Advisory Council and member of the caregiver committee. "The center is an outstanding facility and staffed with the most talented, caring individuals committed to improving the human experience at the center by providing compassionate customer service."

HCC volunteers include students, working professionals, retirees, former patients and their family and friends, or individuals who want to work in a health care environment specializing in cancer care.

Volunteers must be at least 16 years old and commit to working a two-to-three-hour work shift per week for a minimum of 100 hours a year. Looking Glass shop volunteers must be at least 25 years old, and Day Treatment/Infusion area volunteers must be at least 18 years old.

Applicants are interviewed by the Volunteer Services coordinator and must complete a health screening, background check, and orientation and review of MUSC policies and procedures. Meanwhile, Wiese keeps volunteers informed through her monthly newsletter, The Volunteer Connection, which is available online at http://hcc.musc.edu/giving/volunteernewsletters/volunteerconnections.htm.

For information on HCC Volunteer Program, visit http://hcc.musc.edu/giving/volunteer.htm.HCC


Patient Resource Center now open

On Jan. 14, HCC opened its new Patient Resource Center located at HCC's first-floor area. The center is adjacent to other centrally-located patient resources including the Looking Glass boutique, chapel/meditation room and planned café and Pearlstine Healing Garden.

A comfortable place for patients, their families and the community; the center can be used to conduct research on cancer and other health topics from information provided in books, brochures, audio-visual library, and a computer for Internet access. Center librarian Dee Owens and HCC volunteers also are available to assist patients and visitors obtain information.

The center is open weekdays from 9 a.m. to 3 p.m. For information, call 792-6036.


Friday, Feb. 1, 2008
Catalyst Online is published weekly, updated as needed and improved from time to time by the MUSC Office of Public Relations for the faculty, employees and students of the Medical University of South Carolina. Catalyst Online editor, Kim Draughn, can be reached at 792-4107 or by email, catalyst@musc.edu. Editorial copy can be submitted to Catalyst Online and to The Catalyst in print by fax, 792-6723, or by email to catalyst@musc.edu. To place an ad in The Catalyst hardcopy, call Island Publications at 849-1778, ext. 201.