Sustainability project uses ground heat to save energy


In December, the South Carolina College of Pharmacy's MUSC campus administration moved into the Anderson House, which became the first office space at MUSC to utilize an energy-saving heating, ventilation and air conditioning system called a closed loop geothermal heat pump.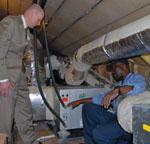 Fred Jones, with the Air Condition Shop in Engineering & Facilities, shows Dr. Joseph DiPiro, South Carolina College of Pharmacy (SCCP) executive dean and professor, the path that geothermal heat takes from the ground into the Anderson House.



This system acts as a heat exchanger to either heat or cool a building structure that operates on a simple premise—the ground a few feet below surface stays between 50-85 degrees Fahrenheit. The pump uses that available heat during winter and puts heat back into the ground in the summer. It differs from a conventional furnace or boiler by its ability to transfer heat instead of producing it.


Jones and Roby Hill, the college's director of communications, discuss the transfer and circulation of ground heat. The life span of the system is longer than conventional heating and cooling systems.

As energy costs rise and pollution concerns continue, geothermal systems may hold a solution to both.

"The benefits of this system were seen immediately," said Christine Cooley, of Engineering and Facilities. "There is no outside unit. A geothermal system can save anywhere from 30 percent to 70 percent annually on utilities."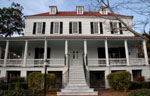 The Anderson House, now home to the College of Pharmacy administrative staff, is located at 274 Calhoun St. Built in 1802, the house was purchased by MUSC in 1985.



Geothermal systems are a renewable, non-polluting energy source and are recognized as one of the most efficient heating and cooling systems on the market.


Friday, Feb. 1, 2008
Catalyst Online is published weekly, updated as needed and improved from time to time by the MUSC Office of Public Relations for the faculty, employees and students of the Medical University of South Carolina. Catalyst Online editor, Kim Draughn, can be reached at 792-4107 or by email, catalyst@musc.edu. Editorial copy can be submitted to Catalyst Online and to The Catalyst in print by fax, 792-6723, or by email to catalyst@musc.edu. To place an ad in The Catalyst hardcopy, call Island Publications at 849-1778, ext. 201.