Bone marrow program begins 21st year of saving lives




by Mary Helen Yarborough




Public Relations


MUSC's first patient to receive a bone marrow transplant, which was used to treat aplastic anemia, still is alive and thriving in the Upstate, according to Robert Stuart, M.D., oncology and hematology professor, founder and director of the MUSC Blood and Marrow (BMT) program.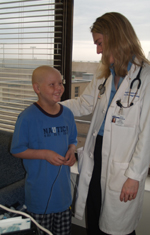 Michelle Hudspeth, M.D., with patient Ryan Post.



Since that first BMT in 1987, almost 800 procedures have been performed for people facing certain premature death, but many of them cheated death and now are leading normal lives thanks to the BMT medical team and technologies at MUSC.

The term bone marrow in BMT has since been replaced by blood and marrow because of the way procedures have improved resulting in less painful collection of blood cells rather than extraction from the marrow.

"Stem cells are like bone marrow seeds, and the marrow is like a factory that makes 1 trillion blood cells a day," Stuart said. "Most of the time, we trick the stem cells in the marrow to temporarily leave and circulate in the blood, "then we collect blood cells via a technique called leukopheresis," and transplant the healthy stem cells into a patient where they eventually replace all of the diseased cells in the marrow.

BMTs normally are used to treat certain blood disorders, leukemia, lymphomas and multiple myeloma in adults. In children, BMTs are also used to treat other cancers, such as neuroblastoma, sickle cell anemia, and rare congenital disorders. People with BMT have between a 30 percent and 80 percent chance of full recovery and survival.

MUSC's second largest transplant program, behind kidney transplantation, BMT has matured and excelled through techniques, technology and the recruitment of some of the most sought after clinicians in the country.

"We are currently performing about 70 a year, but our goal is to perform at least 100 transplants a year," Stuart said.

On the Children's Hospital side of the BMT program, the addition of Michelle Hudspeth, M.D., recruited in July from Johns Hopkins University, already has translated into a dramatic increase in the number of children who are receiving treatment here.

"In the half year that she's been here, there has been a 60 percent increase in referrals," Stuart said.

For Hudspeth, it was like returning home to an extraordinary opportunity. "This is the only center in South Carolina that offers pediatric BMT," said Hudspeth, a Greenville native who earned her medical degree from MUSC. "We also are taking patients from North Carolina and Georgia."

Recently, Hudspeth was visiting with young cancer patient Ryan Post, and his father Charlie, who accepted a job here after retiring from the Air Force.

"A deciding factor for us moving to Charleston was the program here at MUSC," said Charlie Post, who moved to Mount Pleasant from Hawaii to work for Evergreen.
Ryan's blood cancer condition relapsed in November, but he was able to have a BMT from his brother. And so far, his response to therapy looks good, Hudspeth said.
Meanwhile, Ryan and his father don't have to feel cooped up. "We love these big rooms and the great view. Ryan can enjoy playing with his play station and looking at the [Arthur Ravenel] bridge," his father said.

The newly-completed children's BMT wing in 7B of the Children's Hospital includes seven special over-sized rooms, twice the size as most children's hospital rooms, which overlook either the Cooper or Ashley rivers.

Children treated in the Pediatric BMT unit normally stay for at least 30 days to allow the immune system to recover from the radiation and chemotherapy, which "wipes out their own bone marrow so the new bone marrow can regenerate in the body," Hudspeth said. "Their immune system is still vulnerable, so they have to stay locally, and after that, near the hospital; and then they have to take immuno-suppressant drugs for about six months."

Children who are not local to the area can stay at the Ronald McDonald House for the first 100 days or longer after they are discharged from the BMT wing.

As children and adults seek help for blood cancer and other disorders treatable with BMT, Hudspeth urges more people to register as volunteer donors.

"I donated four years ago for a 52-year-old woman who is now alive and well and is seeing all of her kids graduate from high school," Hudspeth said.

Many myths exist about BMT. Among these myths is that people who donate blood marrow to family members automatically become registered to donate to others. This is not true, Stuart said. In fact, family-to-family donation is completely confidential.

Another myth is that the process of becoming a marrow donor is painful.

"We can get the DNA we need from a cheek swab," Stuart said.

Meanwhile, becoming a blood marrow donor may cost the donor about $75 to become registered, "because we have to know that you can be depended upon if you are called," Stuart said.

Because donors of minority groups, i.e., African- American and Asian members of the population, are desperately needed, registration is free.

The program is accredited through the Foundation for Accreditation of Cellular Therapy, and it is the only hospital in the state where a patient can get a BMT using from the National Marrow Donor Program, which maintains a database of more than 5 million volunteer donors.



Adult, children BMT programs unique in state


MUSC's Adult BMT program has included autologous, related donor, unrelated donor, cord blood, and non-myeloablative allogeneic transplants. MUSC offers the only unrelated blood and marrow transplant program in the state of South Carolina. Among clinical trials and advanced technologies employed at MUSC, several include the prevention and treatment of graft versus host disease.

Within the last year, the program has expanded to include:

One inpatient and two outpatient nurse practitioners to provide continuity of care
Three dedicated bone marrow transplant coordinators that follow the patient from referral through transplant and recovery
A dedicated BMT research nurse
A dedicated bone marrow transplant fellowship beginning in July
An additional physician faculty member beginning in July 2008
Weekly updates on each patient faxed to the referring physicians
The Children's Hospital BMT program began 10 years ago and is the only such center in the state. One of the most successful programs in the Southeast, patients are referred from across the state, North Carolina, Georgia and Florida. BMTs are done for both malignant and non-malignant diseases such as sickle cell anemia, immuno-deficiencies, and adreno-leukodystrophy. All types of BMTs are done, including bone marrow, cord blood, and reduced intensity transplants. Among its features are:

Seven over-sized positive pressure, HEPA-filtered patient rooms equipped with computers, and full views of the Cooper and Ashley rivers
Three outpatient nurse practitioners to provide continuity of care
Certified oncology nurses
Three BMT coordinators that follow the patient from referral through transplant and recovery
Social Worker and home health/discharge planner
Weekly patient updated e-mailed to referring physicians
Weekly multi-disciplinary intake meetings.
Friday, Feb. 22, 2008
Catalyst Online is published weekly, updated as needed and improved from time to time by the MUSC Office of Public Relations for the faculty, employees and students of the Medical University of South Carolina. Catalyst Online editor, Kim Draughn, can be reached at 792-4107 or by email, catalyst@musc.edu. Editorial copy can be submitted to Catalyst Online and to The Catalyst in print by fax, 792-6723, or by email to catalyst@musc.edu. To place an ad in The Catalyst hardcopy, call Island Publications at 849-1778, ext. 201.