Cell Biology IT coordinator remembered


Joshua Spruill, an employee with Cell Biology and Anatomy, died in his sleep Feb. 10. He was 36.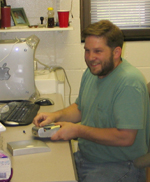 Joshua Spruill



Laura Simmons Spruill, wife of Joshua, is a fourth-year student in the College of Medicine. She will receive her medical degree in May.

A 1996 College of Charleston graduate, Spruill began working as a research volunteer at MUSC in 1992 in the lab of Bobby Thompson, Ph.D., Cell Biology and Anatomy. He worked as a research technologist in the same lab until 1998 when he became the information technology (IT) coordinator for the Department of Cell Biology and Anatomy working under Thomas Trusk, Ph.D. Spruill became a member of the faculty in 2001, and provided IT support to many MUSC departments and individuals at work and at home. He was a founding member and past president of the MUSC IT Coordinator Group.

In lieu of flowers, memorials may be made to The Laura, Samantha and Luke Spruill Fund, in memory of Joshua Spruill, c/o any Regions Bank, or by calling Maureen T. Runey at 852-7024. Burial for Spruill was held Feb. 15 in Holy Cross Cemetery, James Island.

Spruill was born on April 23, 1971, in Atlanta, Ga. He was a member of Ashley River Baptist Church. Surviving are his wife, Laura Simmons Spruill, of Charleston; his parents, LCDR (Ret.) Ken and Gloria Spruill, of Gainesville, Ga.; a daughter, Samantha Helen Spruill, and son, Luke Joshua Spruill, both of Charleston; and other family members.



Josh was like a son to me,

he was a sweet man who did so much to help build our department, especially the Molecular Morphology and Imaging facility (which we will officially dedicate to him) and to bring all of us, especially me, into the computer age. His loss touched me deeply.


--Roger Markwald, Ph.D., Professor and Chairman, Department of Cell Biology and Anatomy Director, Cardiovascular Developmental Biology Center





Josh's most striking characteristic was his generosity.

Usually, when you asked him for help it was because all of your work had just turned to chaos, and Josh had the gift of restoring that chaos to order. This reflected intelligence and a remarkable gift for solving complex problems, but the thing that always struck me was how much it reflected his generous nature.


--George Cooper IV, M.D., Distinguished University Professor of Medicine and Director, Gazes Cardiac Research Institute





The thing that always will stay with me about Josh was his "Let's get it done" attitude.

This was evident in everything he did. It was also very often that the thing he was trying to accomplish was to help another person. This was the task that Josh excelled in, and you could tell he got great joy through the support he gave others, but this paled in comparison to the joy he obtained from his family. Josh always did very little complaining, except about his diet, and was a wonderful soul who allowed the people he interacted with to excel. I take solace in knowing his absence cannot be filled by anyone. It is true that our main focus in this department was on resolving other's computer problems. However, there are many memories Josh left me with that involved him outside of the technical world. Helping me get my truck out of a hole in the Hagood lot, frequent trips to surplus to "resuscitate" old computers—these are only a few. I would also like to present the last words that Josh typed to me. They speak volumes of how he viewed the world and his presence in it. "It is Friday and a beautiful day."


--Adrian Nida, Informatics Manager/Research Associate, MUSC—GCRC





With his infectious smile and his enabling disposition, Josh was always able to stop what he was doing to lend a helping hand.

Often, Josh solved critical problems that left others confused. This was particularly evident as we brought MUSC's network infrastructure closer to a multiplatform reality. Here in Singapore, I continue to follow many of Josh's suggestions.


--Frank Starmer, Ph.D., Associate Dean, Learning Technologies, Duke-NUS Graduate Medical School, Singapore





Josh was an exceedingly supportive husband and father.

He and Laura were truly a team as they balanced school, work and family. When Laura completed her graduate studies, I remarked to Josh that he must be happy to have it behind them. Josh just grinned and said, "the best part is I get to call her Dr. Laura!"


--Paul McDermott, Ph.D., Professor of Medicine/Cardiology





The entire MUSC family is deeply saddened.

Josh Spruill was greatly admired by all who worked with him, and his promising career was cut tragically short. Our hearts go out to his family at this most difficult time.


--Ray Greenberg, M.D., Ph.D., MUSC President





Josh's service extended well beyond his department.

He set into place a spirit of teamwork and a commitment to MUSC that is second to none. He always made time to help co-workers with immediate needs, and I relied on his expertise in graphics design many times to meet deadlines. Morning coffee and lunch always contained many laughs to make the most impossible days better. Missing these days meant missing his simple approach to living, working and family. He had a keen ability to know when you were in need and committed himself to helping with those needs. He was always thoughtful enough to find appropriate gifts or words for special occasions. We should all aspire to live as Josh did, with nobility and grace and the unending commitment to friends and family.


--Mark Bulson, IT Manager, Biostatistics, Bioinformatics, and Epidemiology





Joshua Spruill epitomized the gracious, can-do spirit that is so critical to a successful creative environment.

He strengthened those around him with his commitment, his joy of life and by simply being engaged!


--Stephen M. Lanier, Ph.D. , Associate Provost for Research

Professor of Pharmacology





Josh was extremely well-respected by his colleagues and consistently went above and beyond in his dedication to MUSC.

But more than that, he was a kind friend.


--Mary Mauldin, Ed.D., Associate Professor Library Sciences and Director, Center for Academic Research





We have been deeply saddened by the loss of our friend and colleague, Josh Spruill.

Much of the success of our department in research and education can be attributed to the outstanding computer infrastructure that Josh built and so diligently maintained. This dedication to our department was surpassed by his lovable personality, quirky wit, drive to help others and love for his family.


--W. Scott Argraves, Ph.D., Professor, Department of Cell Biology and Anatomy





Most of us at MUSCmet Josh because we had some kind of computer crisis (or so we thought).

Within 10 minutes of Josh's arrival not only was our computer issue solved, we felt like we just made a lifelong friend. A great man. A true friend.


--Steven W Kubalak, Ph.D., Associate Professor, Cardiovascular Developmental Biology Center, Cell Biology and Anatomy, Children's Research Institute





Josh had organized a co-ed, mostly-departmental team in a regional softball league.

We had our first practice a few days before our first game—this was in the week prior to his death. So we had a practice in the evening, and maybe eight people, including me, showed up. And we played. And when we played, we played like a bunch of adults that haven't played sports in quite some time—we dropped pop-ups, we booted infield grounders, we threw wildly, we tripped and fell while chasing balls in the outfield… it wasn't all bad, but it was definitely kind of ragged. I came into work the next day, and about mid-morning Josh came into my office. He stared at me, and with this grin on his face and eyes twinkling he says, "That was great last night, wasn't it?" He wasn't trying to be facetious—he was delighting in the fun that he'd had at the practice. What to me was a semi-hapless softball practice was to him a great effort by his friends and a joyful experience. That's the thing that is the clincher for me, with Josh. He sense of fun was… well, fun. It was infectious. He affected me, and I think he affected a lot of other people with that spirit, brightening a lot of lives. That's what I think of first, when I think about Josh. Him poking his head into my office, a mischievous smile on his face and the gleam in his eye, and the sense of fun that he brought with him.
--Jeremy Barth, Assistant Professor, Cell Biology and Anatomy



Josh was the most frustrated optimist I have ever known.

However, it is only in his passing that I have come to realize why he considered himself an optimist,
while I would have labeled him a pessimist. Simply put, Josh believed in the goodness of all people, genuinely. Although he was let down, frequently, his constant examples of kindness, charity and piety provided the road map by which others could follow him to a better more caring and considerate world. Whether it was by staying up all night helping students/faculty prepare posters or slides for meetings the following day, or refusing to talk on a cell phone while driving because it endangered others, or mundane daily duties like helping me recover data I know I deleted, but forgot to back up, he did it all without personal regard or the expectation of a simple 'thank you'; even though he always said 'thank you'. Josh was so proud of being a faculty member of MUSC, even without the numerous degrees, and wanted the best for his family, which included every member of the MUSC community and the Charleston, and for that he will be missed beyond measure. I will follow his example of frustrated optimism by believing the best of people and society in the hope of achieving his level of certainty in his place in the hereafter.
--Jason C Mussell, Ph.D., Post-Doctoral Fellow, Department of Cell Biology and Anatomy



The Josh I knew

...was one of the greatest human beings I have ever met in my life. We (my wife Mirjam and our, then 1-year-old son Kevin) moved to the US from The Netherlands in 1994. We thought that is was going to be a year or two, but now, 14 years later, it seems unlikely that we will ever go back.

I do not know remember exactly when I met Josh for the first time, but I do remember that I liked him from the moment we met. I can truly say that his presence, certainly in the "early years" when we had to get settled, made our transition to the us easier.
Why was Josh so likeable? I guess we all have our own answers (and many of them) to that question.

I know that I won't be able to put everything that I really want to say on "paper". Even as I am sitting here, behind one of the many computers that he configured for me, thoughts and memories are racing through my mind that I don't really know how to channel. Thus, what I will do is to try to give my own answers, which, I believe, will likely reflect many of the sentiments that others have as well.

First of all, Josh was always there if and when you needed him.

That was, of course, true for his many years as our departmental IT Gopher. I am sure that I, and with me many others, must have driven him nuts on more than one occasion with our ignorance of computer "stuff". However, no matter the simplicity (or magnitude) of the problem, he was there to solve it, whether it was a "virally infected" computer, the rescue of corrupted files, or figuring out which mouse would work best to alleviate numbness in my right hand when working on the computer with a regular mouse.

Then, you also could count on him as a friend if you needed help and/or advice on a more private level. He helped us on several occasions moving things from one location to another. There are a few special events that have somehow left a permanent impression in my memory when thinking about Josh.

It was probably about 11 years ago (1996-1997) that, with Josh and Steve as the driving forces, a Departmental Softball Team was formed. For unexplainable reasons, Mirjam and I were asked to join the team. As we did not have any "equipment" and did not have a clue what to buy, Josh went with us to Walmart (on Folly Road) to explain all the differences (as far as that was possible in WM) in gloves - infield/outfield, baseball/softball - we finally purchased two that got his "seal of approval" and I have used mine ever since. The games we played that season were fun. I believe, I actually caught a ball or two. I have, however, even better memories of Josh in relation to our practices at the ball fields at Hagood. My oldest son Kevin was 3 years old at the time and was, once in a while, allowed in the outfield during batting practice. There he was often times closely guarded by Josh and together they would chase after the balls hit their way. In addition, Josh was also the first one trying to teach Kevin how to swing a bat.

"Josh, help!!" was not only used at work, he came to the "rescue" in other situations as well. About nine years ago, I decided it was time to buy a boat …… and so I did !! However, I had never a) trailered a boat, and b) perhaps even more important, never driven a boat. What to do……. ? I hardly needed to ask. On a sunny Saturday afternoon, Josh came over and together we made the Wando River unsafe territory for an hour or so. He gave me important pointers on how to drive the boat (I remember that he thought I was going a little too fast, given the lack of experience) and how to get it back on the trailer. A couple years later, he also provided helpful insights on how to cast a net and catch shrimp. In fact, several years ago Laura and Josh joined the Wessels clan for a "shrimping session" in Bulls Bay where, if memory serves me well, the harvest was a little disappointing.

Then there was short period during which Josh and I battled it out on the racquet ball and squash court. Those must have been funny to watch. I never played racquetball before, Josh had never seen a squash ball. This resulted in very weird running from my part on the racquetball court (not being used to the bounce) and the perhaps even funnier dives from Josh toward the squash ball (which hardly bounces at all).
And I could go on and on …. It was with Josh that I went out on a "real" golf course for the first time in my life. Knowing that I had never done that before, he brought an extra polo shirt as he expected me to show up in a collar-less T-shirt which is not considered "appropriate" attire. His practice swings around the "tee's" are engraved in my memory for eternity. He would "dig a few bunkers" with his practice swings before actually stepping up to the ball to hit it usually in the general direction of the flag.
Above all, Josh was Josh …. always there when you needed him, sometimes a little grumpy, always ready to chat and discuss important and less important facts of life.
If I turn my head around, I can just see him standing there in my door opening. One hand between the door and door jamb (warned him many times not to do that) and in his other hand a cup of coffee. Good memories
--Andy Wessels



Josh was one of the most positive person I have ever known.

He always had a good attitude in spite of dealing with another person's emergencies. One of my specific memories was when he informed me that Laura was pregnant with Sam. Josh was both excited and scared at the prospect of being responsible for raising a child. He asked my advice on how to be a good parent. My response was essentially that because he cared so much about being a good father, he undoubtedly would be a great father. I know he was a great father after hearing him talk about Sam and watching him interact with Sam over the last few years.
--Michael J. Kern, Ph.D., Associate Professor, Department of Cell Biology and Anatomy


Friday, Feb. 22, 2008
Catalyst Online is published weekly, updated as needed and improved from time to time by the MUSC Office of Public Relations for the faculty, employees and students of the Medical University of South Carolina. Catalyst Online editor, Kim Draughn, can be reached at 792-4107 or by email, catalyst@musc.edu. Editorial copy can be submitted to Catalyst Online and to The Catalyst in print by fax, 792-6723, or by email to catalyst@musc.edu. To place an ad in The Catalyst hardcopy, call Island Publications at 849-1778, ext. 201.