Meet...KellyAnne
Name:

KellyAnne Pennington, R.N.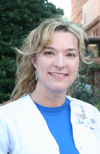 Department: STICU.
How long at MUSC:

Since July 2006.
Best thing about working at MUSC:

The teaching/learning environment and the challenge of finding new ways to take better care of our patients.
Last book read:

That would have to be a nursing text book… but I live for my Cosmo magazine.
Favorite room in your house:

Kitchen. I love to cook.
CD playing in your car:

Counting Crows.
First job:

Summer waitress job at Bennigan's before going to nursing school.
Least favorite chore:

Folding the wash.
Ingredient you must have in your refrigerator:

Diet Coke.
Person you admire the most:

Dave, my fiance', who knows me better than I know myself.
Mentor you admire most:

Cameron Mitchum, R.N., STICU clinical educator, who helped me see how far an idea can go.
Hobbies:

Exercise, gardening, cooking and travel.
Most rewarding thing about your job:

Seeing my critically-ill patients getting better.
Interesting fact about yourself:

I played field hockey, basketball and lacrosse in college.
Friday, Feb. 22, 2008
Catalyst Online is published weekly, updated as needed and improved from time to time by the MUSC Office of Public Relations for the faculty, employees and students of the Medical University of South Carolina. Catalyst Online editor, Kim Draughn, can be reached at 792-4107 or by email, catalyst@musc.edu. Editorial copy can be submitted to Catalyst Online and to The Catalyst in print by fax, 792-6723, or by email to catalyst@musc.edu. To place an ad in The Catalyst hardcopy, call Island Publications at 849-1778, ext. 201.