Nurses immerse themselves in informatics


A national conference on nursing informatics, held Feb. 8 - 10 in Charleston, was a first for the Southeast that attracted nurses from nine states.

The program, Weekend Immersion in Nursing Informatics (WINI), is a nursing computer informatics continuing education course that travels around the country to provide cost-effective, in-depth nursing informatics education.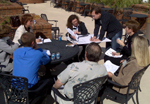 Registered nurse Dan Gracie, Children's Hospital, works on a case project along with other WINI participants. The national conference was held Feb. 8 - 10




in Charleston.



Of the 37 nurses attending the event, 12 nurses came from MUSC, according to Laurie Zone-Smith, Ph.D., R.N., manager of the Center for Professional Development and Clinical Education Resources, which served as lead sponsor of the event. Program sponsors, Get Well Network and McKesson & Motion Computing, provided meals and snacks.

Zone-Smith praised the MUSC Nursing Planning Committee members: Bonnie Foulois, R.N.; clinical educator Weatherly Brice, R.N.; Kim Harris-Eaton, R.N.; and Mary Fischer, R.N., for their work in planning the weekend session.

"This was one of the most organized and welcoming professional conferences I ever attended," said Zone-Smith. "The conference brought clinical informatics-minded nurses from nine other states to Charleston. We now have 12 nurses from MUSC who are prepared to take their exam to achieve their Nursing Informatics Board Certification this year. It was a smashing success."

Brice said MUSC nurses normally have to travel far away to get this kind of training. "The other choices would have been conferences in Pennsylvania, Ohio, Canada and Texas," Brice said. "So, this was really a coup that it was offered in the Southeast in response to our request."

WINI focuses on basic competencies in nursing informatics and provides guided discussion and education on topics, including systems life cycles, theories used in nursing informatics, and professional practice trends and issues.


Friday, Feb. 22, 2008
Catalyst Online is published weekly, updated as needed and improved from time to time by the MUSC Office of Public Relations for the faculty, employees and students of the Medical University of South Carolina. Catalyst Online editor, Kim Draughn, can be reached at 792-4107 or by email, catalyst@musc.edu. Editorial copy can be submitted to Catalyst Online and to The Catalyst in print by fax, 792-6723, or by email to catalyst@musc.edu. To place an ad in The Catalyst hardcopy, call Island Publications at 849-1778, ext. 201.