MUSC Excellecne at the university
F&A announces Employees of the Month


The University's Finance & Administration (F&A) division celebrated the January Employee of the Month, Feb. 20. Employees were selected by the Rewards & Recognition Committee (RRC) from a list of all F&A Applause Award nominations for January.

Each month, F&A honors employees from the Engineering & Facilities, Finance, and Operations departments who were nominated for Applause awards for their commitment to excellent service.



Employees of the Month


Steve Kincaid, Engineering & Facilities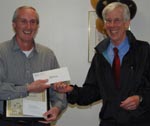 Steve Kincaid accepts his award as an employee of the month for January from John Wilson, director of facilities.



A summary of Kincaid's nomination reads: "Steve is the Building Engineer for Zone 6 and is responsible for maintaining more than 1 million square feet of customer occupied space. There are more than 50 challenging properties under Steve's supervision, including Harborview Office Tower (HOT) and Colcock Hall. Steve goes about his duties every day in a way which exemplifies MUSC Excellence. In each of the customer satisfaction surveys this year Steve has received consistently positive comments. Comments include 'He always responds when called;' 'follows through;' 'makes suggestions to avoid future problems;' 'one person I could count on;' and 'If Steve worked for me, I'd give him a raise!' etc.

Some of Kincaid's work involves tenant relocations across campus as well as into, out of, and within HOT. A recent move which brought praise from Continuing Medical Education was a departmental relocation from the second floor of the Institute of Psychiatry to the renovated 10th floor HOT. The scope of work included painting and carpeting, among other things. This job went quite well. A second job which brought tenant compliments was the renovation of 25 Ehrhardt St.

Nathaniel Fickett, Public Safety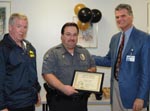 Stewart Mixon, F&A chief operations officer, congratulates Nathaniel Fickett.



A summary of the nomination reads: "For the past couple of weeks MUSC has allowed a woman, whose husband is a terminal patient at the hospital, to park her motor home on site enabling her to be close to her husband. They are from Canada, a long way from home. Part of our duties at Public Safety is to provide safety escorts for visitors when needed. In the process of providing escorts to this person, Officer Fickett took the extra time to get to know her and learned of her husband's condition. Seeing the family's situation, Officer Fickett immediately reached out to help. He learned that the woman had not been eating well, and had basically been living off of 'vending machine' items. On his own time and expense he bought groceries for her. During another conversation with her he learned her children were flying in from Canada for a few days to visit their father. Nathaniel again reached out and arranged to pick them up from the airport and bring them to the hospital. On yet another occasion, learning the holding tanks on the motor home needed to be emptied; Officer Fickett picked up the motor home, drove it to a pumping facility, pumped the tanks, and returned it."

Fickett has time and again gone above and beyond to make a difficult situation a little easier for people a long way from home. He is an asset to the Department of Public Safety and MUSC. His actions demonstrate what MUSC Excellence is all about.



Applause nominations


The Applause nominations for January were Dee Crawford, Human Resources Management; Leslie Hayes, Public Safety; and Sylvia Strickland, Human Resources Management.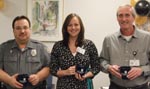 RRC did not select an Employee of the Month from the division of Finance for January. The nominations received did not meet the Applause criteria and consequently were not considered in the Employee of the Month selection process. Nominations received by RRC which do not meet the criteria are normally turned into PEER (Promoting Employee Excellence Recognition) Postcards and presented to the employee in lieu of an Applause Award.



PEER Postcard recipients for January


January PEER Postcard recipients were Barbara Bell, Parking Management; David Blick, Engineering & Facilities; Jan Brandenburg, Human Resources Management ; Kevin Drayton, Engineering & Facilities; Elaine Meadows, Engineering & Facilities; and Gale O'Neal, Human Resources Management.

PEER Postcard is an employee thank you card used to recognize other F&A co-workers observed practicing standards of behaviors consistent with MUSC Excellence in the areas of service, finance, people, quality and growth.

F&A sponsors an employee appreciation event, generally held on the third Wednesday of each month, to recognize Applause Award nominees and winners, as well as PEER Postcard milestones for service excellence.

The next Employee of the Month event will be March 19. Nominations for Applause awards are due by Feb. 29.


Friday, Feb. 29, 2008
Catalyst Online is published weekly, updated as needed and improved from time to time by the MUSC Office of Public Relations for the faculty, employees and students of the Medical University of South Carolina. Catalyst Online editor, Kim Draughn, can be reached at 792-4107 or by email, catalyst@musc.edu. Editorial copy can be submitted to Catalyst Online and to The Catalyst in print by fax, 792-6723, or by email to catalyst@musc.edu. To place an ad in The Catalyst hardcopy, call Island Publications at 849-1778, ext. 201.