Family Medicine staff rallies toward healthy living


Once a week the employees at Family Medicine trade in their scrubs and work clothes for workout gear, weights, and a mat. During that time Ann Rodden, DO, might be heard giving directions over background music as she instructs the aerobics class. After several staff members showed interest in having an exercise class, Rodden started it last June. Rodden recently joined the faculty at the Department of Family Medicine after completing the MUSC faculty development fellowship also during this past June.

"The Department of Family Medicine is a home for preventative care," said Rodden. "We need to be proactive and try to prevent medical conditions in our patients but also in each other. One way to do that is by maintaining a healthy weight. The classes I offer give people a chance to be active and get a little exercise every week."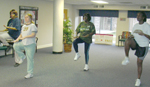 Family Medicine's Lisa Pinckney, from left, Cathy Potter, Stella Seels and Queen Haynes warm up before the aerobics class Feb. 12.



After the introduction of the aerobics classes, the next program to begin was Rodden's version of the Biggest Loser.

Sixteen faculty and staff members signed up for a 10-week program to lose weight. The four groups of four participants competed against each other to be the biggest losers. In 10 weeks, Family Medicine became more than 100 pounds lighter. In January, Biggest Loser 2 began with 14 participants. They hope to keep up the weight loss.

"The aerobics class allows us Family Medicine employees easy access to fitness," said Cathy Potter, a nurse at Family Medicine. "It's held in our building on the evening that best fits our hectic schedules. And the biggest loser campaign was filled with team camaraderie. The four different teams looked forward to the Friday unveiling of weights to see who out-lost whom at the scale. It was done in a good natured style."



Editor's note: Health 1st, MUSC's Employee Wellness Program, is seeking articles about other wellness related activities that MUSC individuals or groups have implemented. These articles serve as motivators for MUSC employees to strive for healthier habits and to remember their own health comes first. The articles will be published in The Catalyst and posted on the Health 1st Web site. Contact health1st@musc.edu or call 792-1245 if you would like to submit an article.




Friday, Feb. 29, 2008
Catalyst Online is published weekly, updated as needed and improved from time to time by the MUSC Office of Public Relations for the faculty, employees and students of the Medical University of South Carolina. Catalyst Online editor, Kim Draughn, can be reached at 792-4107 or by email, catalyst@musc.edu. Editorial copy can be submitted to Catalyst Online and to The Catalyst in print by fax, 792-6723, or by email to catalyst@musc.edu. To place an ad in The Catalyst hardcopy, call Island Publications at 849-1778, ext. 201.