MUSC Excellence at the medical center
Employees recognized for job well done
Service: Serving the public with compassion, respect and excellence
Press Ganey quarterly banner winners for patient satisfaction for fiscal year 2008 second Quarter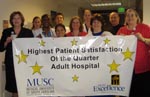 Congratulations to the Total Joint Replacement Unit for receiving one of the highest patient satisfaction scores—98 percent—for fiscal year 2008 second quarter (October through December 2007).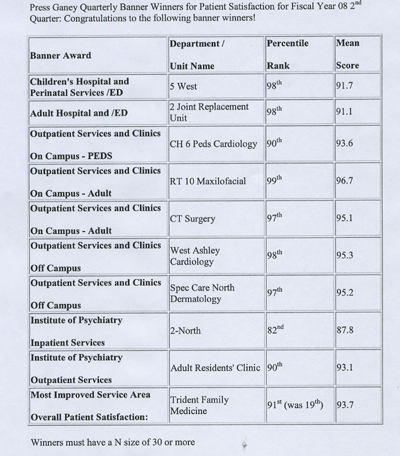 The following areas received the banner award: Children's Hospital and Perinatal Services/ED, 5W, with a 98 percentile rank and a mean score of 91.7; Adult Hospital and/ED, 2 Joint Replacement Unit with a 98 percentile rank and a mean score of 91.1; Outpatient Services and Clinics On Campus—Pediatrics, CH 6 Peds Cardiology with a 90 percentile rank and a mean score of 93.6; Outpatient Services and Clinics On Campus—Adult, RT 10 Maxillofacial with a 99 percentile rank and a mean score of 96.7; Outpatient Services and Clinics On Campus—Adult, CT Surgery with a 97 percentile rank and a mean score of 95.1; Outpatient Services and Clinics Off Campus, West Ashley Cardiology with a 98 percentile rank and a mean score of 95.3; Outpatient Services and Clinics Off Campus, Specialty Care North Dermatology with a 97 percentile rank and a mean score of 95.2; Institute of Psychiatry Inpatient Services, 2N with a 82 percentile rank and a mean score of 87.8; Institute of Psychiatry Outpatient Services, Adult Residents' Clinic, with a 90 percentile rank and a mean score of 93.1; Most Improved Service Area Overall Patient Satisfaction is Trident Family Medicine with a percentile rank of 91 (was 19) and a mean score of 93.7.



Ambulatory Care Service Excellence celebrations


Ambulatory Care leadership celebrated attaining the 79th percentile for overall patient satisfaction, with all Ambulatory Care employees, re-emphasizing their commitment to Ambulatory Care's 2008 goals. Because Ambulatory Care clinics start early and run late, it was extremely challenging to get nursing staff off of the clinic floors to join the employee gatherings. Leadership organized ten sessions to accommodate more than 600 employees.

The theme, "I am MUSC Excellence," was featured. Signage was produced with decorations, balloons, programs and goodie bags which included a new AIDET card for employee name badges, the special "I am MUSC Excellence" wristband, Caught-you-caring cards, Shining Star stickers and some candy treats.

Managers submitted names of front-line staff to be recognized at the events. Special certificates were presented along with "I Make a Difference" pins to each recipient. A PowerPoint presentation featuring action photos of staff set to music was developed for the event. Door prizes were distributed at each session.

All 600 employees from housekeeping staff to managers were invited. An estimated 400 employees attended. Staff praised fellow co-workers when the awards were distributed. Employees laughed and applauded as the special presentation was shown as well as pictures of Ambulatory Care award recipients throughout the year.

Dave Neff, Ambulatory Care administrator, reviewed some of the department's key accomplishments throughout the past year, which were numerous. Finally, employees recited a new "I am MUSC Excellence" pledge, which they read together, and received copies to hang in their clinics.



People: Fostering employee pride and loyalty




January DAISY winner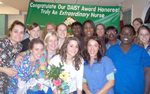 Katherine Fairey, center, celebrates with coworkers for being selected as the DAISY award winner for January.



Katherine Fairey, R.N. (7A Children's Hospital). "Katherine is an outstanding nurse. My 13-year-old daughter, Julianna, has been admitted four times since the beginning of October. We have had the privilege of having Katherine as a nurse. Her calm, compassionate presence is such a welcome relief. She provided outstanding clinical care, and in addition, she is truly compassionate. Julianna was able to share her concerns about being a 13-year-old who has lost everything in life she is familiar with. She loved being with Katherine. I was able to go home to sleep for the first time since she had been admitted because Katherine was going to be her night nurse. I knew she would be well cared for, but more importantly, so did Julianna. MUSC should be proud to have such a great nurse on its team." (Submitted by Julianna's mother)



January Employees of the Month



Fabiana Squarize, Physical Therapy, goes above and beyond every day at MUSC. "Recently, she had a patient on the Transitional Care Unit who needed financial assistance to purchase a wheelchair and walker. Fabiana went to North Charleston on her day off and had a wheelchair donated from the disabilities resource center. She brought it to the patient so that she would have one when she went home. This employee always takes time to do extra little things for her patients, even if it includes giving up her own time." (Nominated by Sara Kraft)
Lance Johnson
Lance Johnson is an information technician coordinator in Ambulatory Care. "Lance Johnson has done an amazing job relocating 30 scheduling and support staff. He is reliable, responsive and willing to help. He worked all day on a Saturday so the scheduling team would come in Monday morning to working computers. He is a miracle worker. While rounding on staff who had relocated, Lance heard from staff who praised him throughout the entire process. One employee mentioned that during the move, Lance was seen in one of the hospital's parking garage changing a visitor's tire. Lance is leaving MUSC to relocate to Virginia with his wife and her new job. He will be missed beyond belief. Thank you, Lance, for all you do every day to make Ambulatory Care successful." (Nominated by Shannon Ravenel)
Paige Merrill, Occupational Therapy. "Paige Merrill always goes above, but now has gone well beyond her duty this time. She helped raise more than $500 to provide adaptive equipment for an 8-year-old child who has been in the hospital since October 2007. Its purpose was to help the child continue the experience of fun with toys and play. The girl has a spinal cord injury and can only use sip and puff or twitch switches. The day we brought toys to the child was the first day many saw her smile. She was so excited to be able to operate a remote control car and actually interact with other people with a board game. Paige did a great job raising funds to make this happen. She saw beyond the child's injury and was able to provide her with some joy during her stay in the Children's Hospital." (Nominated by Courtney Jarrard)
Patient satisfaction recognition in the Adult ED


The ED Patient Satisfaction Team awarded three employees for their dedication to MUSC Excellence. Each time an employee's name is mentioned in the callbacks or as part of the Press Ganey survey, the name(s) will be placed into a quarterly drawing where three names are drawn. The winners from the fiscal year 2008 second quarter are Walter Limehouse, M.D., Yalani Vanzura, M.D., and Jodi Redders, R.N.



Town hall meetings continue through March 11


A reminder to employees that if you are unable to attend a town hall meeting this week, plan on participating in one of the upcoming sessions. Town hall meetings will continue through March 11.

The agenda includes an update on organizational goals, patient satisfaction success with Ambulatory Care and the Institute of Psychiatry, the employee selection and retention plan, performance review system action plan, backfill plans and an update on Ashley River Tower.


Friday, Feb. 29, 2008
Catalyst Online is published weekly, updated as needed and improved from time to time by the MUSC Office of Public Relations for the faculty, employees and students of the Medical University of South Carolina. Catalyst Online editor, Kim Draughn, can be reached at 792-4107 or by email, catalyst@musc.edu. Editorial copy can be submitted to Catalyst Online and to The Catalyst in print by fax, 792-6723, or by email to catalyst@musc.edu. To place an ad in The Catalyst hardcopy, call Island Publications at 849-1778, ext. 201.