Nonprofit service provides transportation




by Mary Helen Yarborough




Public Relations


The elderly immobilized by blindness or physical limitations may be able to call upon a volunteer service sponsored by MUSC that provides "dignified transportation" to doctors' offices, drug and grocery stores, or even to the airport.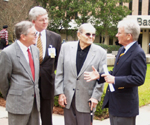 ITN's Paul Franklin (from left), and Dave Neff, MUSC Ambulatory Care administrator, chat with Dr. Henry Rittenberg before taking a ride with Mayor Joe Riley, who volunteered as a driver for the nonprofit service.



The Independent Transportation Network (ITN) in Charleston is supported by Trident United Way, the Association for the Blind, and area hospitals, and helps provide dependent individuals in the Tri-county area safe, inexpensive and reliable transportation. ITN-Charleston-Trident is an affiliate of the 10-year-old national nonprofit organization, ITN, based in Portland, Maine.

Requests for ITN services have exploded to 681 in January from 137 a year prior.

"Our first ride was provided on Nov. 15, 2006," said INT board chairman Paul Franklin, who also is a volunteer driver. "Requests for rides have grown consistently since then. By the end of the month, we expect to have up to 700 riders."

Trying to respond to the growing requests would outpace the organization's capacity to serve its members with the quality, sensitivity and personalized service it has committed itself to, Franklin said.

"So, effective Feb. 1, we established a moratorium on adding any new riders until we get enough volunteer drivers to accommodate them," Franklin said.

While many of the volunteer drivers are active but retired, ITN is working with MUSC and other large employers to recruit drivers.

"MUSC is a major sponsor of ITN, and we also benefit from its services because they transport many of our patients here," said Dave Neff, MUSC Ambulatory Care administrator who is working to boost support for ITN.

In fact, about half of ITN's riders seek transportation to MUSC facilities on campus and to satellite facilities in the region, said ITN CEO James Ledbetter.

ITN also is depending on the continued support from its membership coalition of private-sector and nonprofit groups, including gerontology service providers, gerontologists, and the Alzheimer's Association, as well as local and state governmental agencies, Franklin said.

As chairman of the Aging in Place Council (AIP), Franklin has committed 44 drivers, including himself and his wife, to ITN. AIP has a goal of providing 500 rides a month for ITN, and already is halfway to meeting that goal, Franklin said.

Ledbetter said ITN hopes to have at least 55 drivers recruited who could respond to requests.

"We are flexible with our drivers," Ledbetter said. "We realize that everyone has other responsibilities. Generally, we would call the volunteer between 24 to 48 hours ahead of a scheduled ride. The driver could opt out and we could find someone else who could provide a ride."

Drivers must be trained and go through a background screening to be able to volunteer, Ledbetter said. Drivers also are trained in how to work with frail, blind or otherwise incapacitated people who may need walkers, canes or similar aids to get around.

"We would not transport anyone with a heavy, motorized wheelchair," Ledbetter. "We would not expose our drivers to lifting anything that heavy."
Volunteers use their own cars and assist riders from their front door, into the car and to their destination. ITN provides insurance for drivers and their automobiles.

ITN riders, who must be at least 65 years old, pay an annual membership fee of $35. In addition, members maintain a monthly account of $50, against which trips are charged.

"No money changes hands between the rider and the driver," Ledbetter said. "The mileage and trips are logged and tracked in a database provided by the national ITN office."

Those who cannot afford the monthly fee may qualify for ITN's "Roads Scholar" program, which is a fund provided through private donations.

Because ITN only maintains three paid part-time drivers on staff as backup, many more volunteers are needed to meet the growing requests for rides.

To obtain more information, contact ITN at 225-2715; or visit http://www.ITNCharlestonTrident.org.


Friday, Feb. 29, 2008
Catalyst Online is published weekly, updated as needed and improved from time to time by the MUSC Office of Public Relations for the faculty, employees and students of the Medical University of South Carolina. Catalyst Online editor, Kim Draughn, can be reached at 792-4107 or by email, catalyst@musc.edu. Editorial copy can be submitted to Catalyst Online and to The Catalyst in print by fax, 792-6723, or by email to catalyst@musc.edu. To place an ad in The Catalyst hardcopy, call Island Publications at 849-1778, ext. 201.