TV network feeds national, MUSC health news




by Mary Helen Yarborough




Public Relations


Enlightening patients and families to health information, MUSC services and treatments drives a new hospital broadcast system that utilizes large-screen high-definition (HD) TV sets mounted in many waiting areas.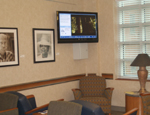 The second floor waiting areas of Hollings Cancer Center feature high-definition TVs that broadcast MUSC health tips and information.



By the end of February, more than 70 of these HD TV sets had been mounted on adult medical and surgical waiting room walls throughout Rutledge Tower. The network of TVs broadcasts health programs fed by AccentHealth (AH), a national health broadcasting system that features CNN and Discovery Health features. Programming enables one-minute spots that feature MUSC-specific health and treatment information, said Dave Bennett, director, Web Development Services and program manager of the project.

In the near future, the service will be provided in other campus ambulatory facilities including Ashley River Tower and to off-campus MUSC facilities, he added.

"Part of our goal in partnering with AH is to provide health education while entertaining and engaging our patients and visitors," Bennett said.

AH programming has been shown in other MUSC practices, such as Carolina Family Care, for years, but that programming format and infrastructure will be upgraded to match the new digital format found in Rutledge Tower, Bennett said.

Meanwhile, a similar internally developed system launched at Hollings Cancer Center features information that was produced specifically by and for MUSC, which features serene pastoral images and sound with periodic information feeds about MUSC services and advisories. This system is not a part of AH, but the MUSC information is managed jointly by HCC and Marketing's Web Resource Services.

The content presented in the AH system focuses on general medical and wellness information, such as diet tips, allergies, colds and the flu. "We might run a chiron (or crawl at the bottom of the screen) reminding people to get their flu shot," Bennett said. "We also would run information about services available at MUSC, and we could actually tailor that information based on the type of waiting room in which people are sitting."

For example, TVs in the Digestive Disease Center might feature information on MUSC treatment of irritable bowel syndrome, or information on clinical trials that are recruiting new patients.

"Our goal is to help better inform patients and visitors about MUSC's many services," Bennett said. "These messages would be both public service announcements because they provide health education, and infomercials, because they direct people to services offered at MUSC.

"Most exciting is the ability for us to begin cross promoting our services across the enterprise. For instance, many patients may not be aware that we have an outpatient pharmacy where they can have their prescriptions filled," he said. "This system should allow us to better cross market and inform consumers about these and other services."

Some of the information would come in the form of advertising for such products as diapers, pharmaceuticals or other services and products. AH keeps the ad revenue, but the company maintains the hospital's network of TVs, which cost more than $300,000, and manages national broadcast feeds. Under the agreement, AH will begin upgrading the equipment as needed at no additional cost to MUSC, Bennett said.

"In the near future, we expect to be able to air information in the form of infomercials related to our services and physicians similar to that seen on TV in our area," Bennett said. "Over the next few months, hospital marketing will begin to formulate a plan for airing such infomercials on the AccentHealth system. Their goal is to develop content featuring our services and physicians that is related to the service area in which the AH system in located.

"Marketing's primary goal is to ensure the development of high-quality content that is consistent with the MUSC image, and provides us with the highest opportunity for cross-promotional opportunities related to our clinical services," Bennett said. "Feedback on the content has been extremely positive and has been well-received by patients and staff. We are excited about extending this service to our large and growing ambulatory care patients and family members."

Not all areas, including pediatric services, are candidates for the AH. "For such areas, hospital marketing expects to work with key leadership to ensure child-friendly programming," Bennett said. "Until then, we will continue to work closely with leadership creating solutions for these locations"

Registration staff will be oriented to the basic operation of the system.

To view a sample of the AccentHealth content, go to http://www.accenthealth.com/features/ or
http://www.accenthealth.com/clip/.

For information on the new TV broadcast services, e-mail Bennett at benned@musc.edu or call 792-9996.


Friday, Feb. 29, 2008
Catalyst Online is published weekly, updated as needed and improved from time to time by the MUSC Office of Public Relations for the faculty, employees and students of the Medical University of South Carolina. Catalyst Online editor, Kim Draughn, can be reached at 792-4107 or by email, catalyst@musc.edu. Editorial copy can be submitted to Catalyst Online and to The Catalyst in print by fax, 792-6723, or by email to catalyst@musc.edu. To place an ad in The Catalyst hardcopy, call Island Publications at 849-1778, ext. 201.