HCC, VA partner on targeted radiation device




by Mary Helen Yarborough




Public Relations


Elected officials and top oncologists arrived at Hollings Cancer Center Jan. 31 to celebrate a device that more accurately and narrowly targets cancers of all types to improve the outcomes and lives of citizens and veterans in the Lowcountry.

The Ralph H. Johnson VA Medical Center and Hollings Cancer Center (HCC) partnered to bring TomoTherapy, a $3.5 million precision radiation therapy device, to Charleston where the VA Medical Center and MUSC health care providers will collaborate on treatment of patients from both facilities.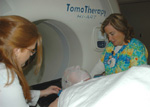 Radiation oncology therapists Autumn Boggs, left, and Sandy Hickman prepare a patient for a head and neck treatment using TomoTherapy.



Located in the HCC, the TomoTherapy Hi-Art Treatment System is one of just two available in South Carolina, and one of only 150 medical sites in the world with the technology. Since it was installed last fall, the device has enabled more patients to be treated with better outcomes.

"Since we started in November, we have treated 24 patients," said Loretta Lighthart, radiation therapist. "We are treating an average of 12 a day now, and we could be looking at treating as many as 16 to 18 patients in one day."

Working with Rep. Henry Brown (R-S.C.) to obtain federal funding for the technology, the VA Medical Center and HCC collaborated to bring TomoTherapy to patients because of its ability to target tumors of all sizes throughout the body with exceptional accuracy while minimizing damage to surrounding tissue.

On Nov. 21, Anthony Mazak, a Vietnam era veteran from St. Stephen, became the first veteran treated with TomoTherapy.

"It was pain-free and fast," said Mazak, now a chaplain of the Diocese of the Southeast of the Reform Episcopal Church in Summerville. "I had 35 visits between Nov. 1 and Jan. 21. It would take a total of 15 minutes for each visit. The actual treatment was like 'zap,' and took only about two minutes."

A year ago while in seminary, "I noticed a lump on my right shoulder that got bigger, to the point that it made my skin shine," he said. "I knew it wasn't right, especially when I felt the pain."

Doctors removed the mass and diagnosed Mazak with a carcinoma in his shoulder.

Throughout the treatment, Mazak said he never experienced the fatigue, nausea or depression that many undergoing cancer treatment experience. "I give credit to the staff here," Mazak said. "Dr. [Jill] Harper [HCC oncologist] was awesome. The holistic approach and treatment from everybody—the receptionist, the parking attendant, and the support system—is to what I attribute my success. I also follow the doctor's advice to a T, which always begins with prayer and is accompanied by rest."

A reliable advocate for veterans, Brown said that such a service would help honor the many current and former soldiers living in the Lowcountry by providing them with the best medical care available anywhere. In Charleston, he said, the collaboration between the VA and MUSC has made the city a model, replacing New Orleans, as the benchmark among cities with federal and state health facilities working together.

"It just makes sense to enhance health care services between the two institutions and combine resources to help our veterans and citizens with the best treatment available anywhere," Brown said. "The TomoTherapy system is the most recent in a series of treatment and research projects that have been funded by the VA and MUSC. I am proud to have been an early advocate of the collaborative efforts between these two outstanding health care institutions."

The device is considered to be "the most important breakthrough in radiation therapy in the past few years," said Joseph Jenrette, M.D., chair of MUSC's Department of Radiation Oncology. "It provides the most accurate treatment available for some cancers. … This is a win-win day for both of us at the VA and Hollings Cancer Center."

TomoTherapy, currently used for tumors of the head and neck, brain, lung/chest wall, pancreas, lymph nodes, spine, prostate, abdomen, and rectum, augments the cancer treatment protocols both facilities offer.

"It's like a CT scanner, but instead of just taking pictures, it treats the patient at the same time, using a thin beam that rotates 360-degrees around the body delivering precise treatment while avoiding surrounding tissue and organs. The use of CT imaging allows treatment teams to evaluate the tumor daily and refine the dosage as necessary," Jenrette said. "It offers us much greater flexibility. We can treat bone marrow and miss the bone. We can treat the bone and spine without having to move the patient."

New uses of the therapy could lead to new treatment protocols in which patients receive stronger doses for fewer days, Jenrette said. Typically, patients receiving radiation therapy, via TomoTherapy or conventional means, do so daily for five to 35 days.

Meanwhile, physicians from both facilities are collaborating to develop new protocols to enhance patients' quality of life, said Anand Sharma, M.D., vice chairman of Clinical Affairs, and associate professor of Radiation Oncology and Otolaryngology Head and Neck Surgery. "This device certainly improves the quality of life for the patient by cutting down the side effects of other therapies," Sharma said.

The new technology will be used to train residents and medical students in the most advanced treatments for patients in South Carolina and neighboring states. And while new uses are being developed for TomoTherapy, HCC continues to offer conventional radiation with the linear accelerator. Teams of experts that include physicians, physicists, and radiation therapists develop treatment protocols based on an individual patient's diagnosis.


Friday, Feb. 8, 2008
Catalyst Online is published weekly, updated as needed and improved from time to time by the MUSC Office of Public Relations for the faculty, employees and students of the Medical University of South Carolina. Catalyst Online editor, Kim Draughn, can be reached at 792-4107 or by email, catalyst@musc.edu. Editorial copy can be submitted to Catalyst Online and to The Catalyst in print by fax, 792-6723, or by email to catalyst@musc.edu. To place an ad in The Catalyst hardcopy, call Island Publications at 849-1778, ext. 201.