Health 1st applauded with wellness award




by Cindy Abole




Public Relations


MUSC's employee wellness program, Health 1st, was recognized as a winning example of employers' programs that support wellness and healthy lifestyles in South Carolina during 2007. The South Carolina Coalition for Obesity Prevention and Education (SCCOPE) Business and Industry Worksite Award named Health 1st among several bronze award winners in this annual recognition in December. This is the first such award for Health 1st.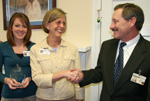 Health 1st director Annie Lovering accepts a congratulatory handshake from University Risk Management director Wayne Brannon as assistant Beka Hardin displays the bronze business and industry worksite award from the South Carolina Coalition for Obesity Prevention and Education.




"This is a special honor," said Annie Lovering, R.N., Health 1st director. "Health 1st is an umbrella program providing and promoting MUSC healthy lifestyle initiatives. Credit goes to the many MUSC individuals and depart-ments that encourage their employees to take part in healthy activities and to each employee who is making daily decisions to change their habits to healthy ones one step at a time."

Health 1st was established in 2006 as MUSC's employee wellness program to promote the health and well-being of employees within the campus community. The program focuses on nutrition, exercise and emotional health through active living and education. Health 1st offers weekly education sessions called Wellness Wednesdays, which are held in the MUSC Children's Hospital lobby. These programs feature discussions on healthy living and disease prevention, ongoing classes, workshops, walking programs, wellness team competitions, health screenings and assessments, plus a variety of other activities to assist employees achieve optimal health., and are usually offered to MUSC employees at no charge.

"I'm very proud of the Health 1st team and this accomplishment," said Wayne Brannan, University Risk Management director. "Statewide recognition of this caliber proves that we're moving in the right direction in support of our employees' health and wellness."

The award supports the coalition's plan, "Moving South Carolina Towards a Healthy Weight: Promising Healthy Lifestyles and Healthy Communities," launched in June 2005. The plan promotes effective nutrition and physical activity strategies to reduce obesity and chronic diseases threatening South Carolinians.

"We received many worthy applications of exemplary companies working to improve the health and wellness of their employees," Amy Splittgerber said in a letter to winning businesses and organizations. Splittgerber is partnership coordinator for S.C. Eat Smart, Move More Coalition, one of several SCCOPE partners. The coalition is part of a statewide initiative promoting good health and active living.

Other organizations recognized include Ben Arnold Beverage Co., Select Health of South Carolina, City of North Myrtle Beach, South Carolina Vocational Rehabilitation, and the City of Anderson.

For information on Health 1st, visit http://www.musc.edu/medcenter/health1st.



Friday, Feb. 8, 2008
Catalyst Online is published weekly, updated as needed and improved from time to time by the MUSC Office of Public Relations for the faculty, employees and students of the Medical University of South Carolina. Catalyst Online editor, Kim Draughn, can be reached at 792-4107 or by email, catalyst@musc.edu. Editorial copy can be submitted to Catalyst Online and to The Catalyst in print by fax, 792-6723, or by email to catalyst@musc.edu. To place an ad in The Catalyst hardcopy, call Island Publications at 849-1778, ext. 201.