Transplant programs top national rankings in 2007


MUSC was ranked by the University HealthSystem Consortium (UHC) as having one of the leading transplant programs in the country in terms of mortality, clinical outcomes and length of stay.

The rankings are published in the third quarter, July-September 2007, UHC clinical outcomes report analyzing product line mortality.

"To be nationally No. 1 in any health outcome category speaks for itself in terms of MUSC excellence, but transplantation is a very challenging and difficult field," said Jerry Reves, M.D., vice president for medical affairs and dean of the College of Medicine. "To have the best results in the U.S. is a tribute to our physicians, other clinicians and the many people who support this outstanding program."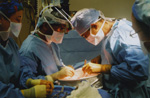 Medical director of the transplant program, Dr. Prabhakar Baliga, right, prepares a kidney for implantation.



Formed in 1984, UHC is an alliance of 97 academic medical centers and 153 of their affiliated hospitals, and represents approximately 90 percent of the nation's non-profit academic medical centers. The statistics featured in the clinical outcomes report serve as a benchmark for MUSC to compare outcomes against other university-based hospitals, and other top performing transplant centers.

"This outcome-based recognition of the MUSC transplant program is a wonderful validation of the type of quality care that is being provided to patients at this institution," said David J. Cole, M.D., chairman of the Department of Surgery.

Out of 77 national institutions, MUSC's kidney and pancreas transplant program has a No. 1 ranking in terms of mortality scores and shortest length of stay for the year dating October 2006 through September 2007. MUSC also has been identified as one of the leading renal and liver transplant programs, and is ranked first out of 54 national institutions as having the shortest length of stay for the July - September 2007 quarter.

"These results are an example of the transplant program's strategies for growth, which include aggressive clinical style, aggressive management of performance outcomes, dedicated teams, patient-centered care and financial intelligence. We use the UHC data as a very high level comparison against other university-based hospitals," said Kim Phillips, R.N., transplant program administrator. "We are also proud to have one of the shortest lengths of stay in the country through the use of a discharge hotel, highly skilled clinical providers and an extremely efficient post-transplant care coordination process."

Medical director of the transplant program, Prabhakar Baliga, M.D., said, "The current UHC ranking of quality reflects the skill, hard work and practice of 'going the extra mile' by our group of world class transplant physician specialists and support staff, who share a vision to provide compassionate patient care of the highest quality. The ranking authenticates the close collaboration between the inter-disciplinary teams efforts, including surgery, medicine, anesthesiology and pathology, working together in the true spirit of MUSC excellence. Furthermore, as reported by the Scientific Transplant Registry, MUSC has one of the shortest waiting times for organs in the country. Why would any patient with organ failure travel elsewhere for a transplant?"



Friday, Feb. 8, 2008
Catalyst Online is published weekly, updated as needed and improved from time to time by the MUSC Office of Public Relations for the faculty, employees and students of the Medical University of South Carolina. Catalyst Online editor, Kim Draughn, can be reached at 792-4107 or by email, catalyst@musc.edu. Editorial copy can be submitted to Catalyst Online and to The Catalyst in print by fax, 792-6723, or by email to catalyst@musc.edu. To place an ad in The Catalyst hardcopy, call Island Publications at 849-1778, ext. 201.