MUSC Excellence at the medical center
Health 1st encouraging wellness teams





Service—Serving the public with compassion, respect and excellence




Standardized survey instrument


The intent of the Hospital Consumer Assessment of Healthcare Providers and Systems (HCAHPS) initiative is to provide a standardized survey instrument and data collection methodology for measuring patients' perspectives on the quality of their hospital care.

While many hospitals collect information on patient satisfaction, until the HCAHPS initiative there has been no national standard for collecting or publicly reporting information that would allow valid comparisons to be made across hospitals.

This information will be made available to the public in late March online at http://www.hospitalcompare.hhs.gov.

There are 27 questions:
--Four screening questions
---Five demographic questions
--18 questions within seven composites
--Nurse communication
--Doctor communication
--Responsiveness of hospital staff
--Cleanliness and quiet of hospital environment
--Pain management
--Communication about medicines
--Discharge information



How do we look?


As of the end of February the fiscal year-to-date data is as follows.

Seventy-eight percent answered the question "Would you recommend?" definitely yes as compared to a state average of 66 percent and a national average of 67 percent.
Seventy-one percent gave the hospital a rating of nine or 10 (10 being the highest) as compared to a state and national average of 63 percent.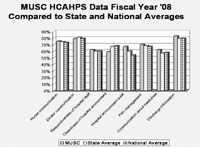 People—Fostering employee pride and loyalty




MUHA Benefit of the Month for March—Health 1st wellness teams


Health 1st, MUSC's Employee Wellness Program, is designed to enhance health awareness and well-being among MUSC's community. The Health 1st Wellness Team competition began in May 2007 and will continue until April. The object of the team competition is to gain points for steps taken toward a healthy lifestyle.

To celebrate the year long competition, Health 1st is holding the Active April Challenge. The challenge is to have enough employees accumulate enough steps so the April grand total will lead participants around the world three times.

Employees need to start or join a team in March to be ready for the Active April Challenge the following month.

For information about the challenge and about starting or joining a team, go to http://www.musc.edu/medcenter/health1st, contact health1st@musc.edu or call 792-9959 or 792-1245.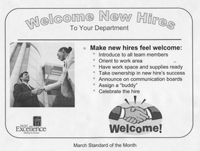 Friday, March 14, 2008
Catalyst Online is published weekly, updated as needed and improved from time to time by the MUSC Office of Public Relations for the faculty, employees and students of the Medical University of South Carolina. Catalyst Online editor, Kim Draughn, can be reached at 792-4107 or by email, catalyst@musc.edu. Editorial copy can be submitted to Catalyst Online and to The Catalyst in print by fax, 792-6723, or by email to catalyst@musc.edu. To place an ad in The Catalyst hardcopy, call Island Publications at 849-1778, ext. 201.