Neurosciences co-chair recognized as award finalist




by Cindy Abole




Public Relations


Sunil J. Patel, M.D., professor and clinical co-chair within the Department of Neurosciences, was named among other national physician-finalists for the 2008 Association of American Medical Colleges (AAMC) Humanism in Medicine Award. Patel, who is a 1985 graduate of MUSC's College of Medicine, has worked at MUSC since 1993.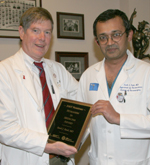 Dr. Jerry Reves, left, presents Dr. Sunil J. Patel with the Association of American Medical Colleges Humanism in Medicine Award Feb. 15.



On Feb. 15, Patel was formally presented with the AAMC award by College of Medicine Dean Jerry Reves, M.D., and Jeff Wong, M.D., senior associate dean for medical education.

"If there's a quality we value more among our faculty-physicians is humanism in medicine," said Reves. "Dr. Patel's superior performance is recognized by his colleagues on-and-off campus and especially with students."

Patel is among 50 national finalists and a host of other MUSC physicians nominated previously for this award.

Patel was instrumental in helping to establish the institution's Department of Neurosciences, combining MUSC's departments of neurology, neurosurgery and basic research physiology/neuroscience, to help promote human health in disease and injuries affecting the nervous system. Within three years, MUSC's neurosciences department has grown to become the fifth largest department in the nation based on National Institutes of Health funding and is the only department that promotes collaborative work of researchers and clinicians working side by side.

After completing medical school at MUSC, Patel continued with his residency training at MUSC in neurological surgery. Later, he went on to complete specialized fellowship training in microneurosurgery, microvascular neurosurgery and skull base surgery at other leading institutions. In 1993 he joined MUSC's Department of Neurological Surgery as an assistant professor and also contributed as a research associate at Hollings Cancer Center. In 1994, he helped establish the Brain Tumor Clinic and is an active researcher.

Each year the AAMC, supported by the Pfizer Medical Humanities Initiative, honors individuals working in medical education for their excellence and outstanding qualities of care and compassion in their roles as teachers, mentors and advisors to medical students.

Students serving in the medical school's AAMC Organization of Student Representatives and COM Student Council collaborate to nominate deserving faculty. Criteria for the award focused on individuals achieving excellence in five categories: positive mentoring skills, community service, compassion, sensitivity and collaboration.

Fourth-year medical student and AAMC student representative Clarice Seifert was among several students praising Patel for his mentoring skills and compassionate qualities supporting patients and students.

"Dr. Patel's enthusiasm for teaching is an invaluable asset to the education of countless students at MUSC," said Seifert. "In addition to his mentoring skills and educational instruction, Dr. Patel also leads by example in showing compassion for his patients. He is an extremely knowledgeable and busy physician, but never appears arrogant or aloof. He teaches students that it is not enough to simply diagnose and treat patients, but the student must also teach each patient about their own body regarding disease, diagnosis and treatment. He has been known to make personal phone calls to patients and their families, and always does anything necessary to make sure that his patients are comfortable and well cared for."

Fellow medical student Lewis Cooper echoed Seifert's support and nomination of Patel.

"Dr. Patel stands out because of his enthusiasm with teaching students and his compassionate patient care," Cooper said. "He is a gifted teacher who gets students excited about the material and learning."


Friday, March 14, 2008
Catalyst Online is published weekly, updated as needed and improved from time to time by the MUSC Office of Public Relations for the faculty, employees and students of the Medical University of South Carolina. Catalyst Online editor, Kim Draughn, can be reached at 792-4107 or by email, catalyst@musc.edu. Editorial copy can be submitted to Catalyst Online and to The Catalyst in print by fax, 792-6723, or by email to catalyst@musc.edu. To place an ad in The Catalyst hardcopy, call Island Publications at 849-1778, ext. 201.