Social workers soothe different kind of pain
by Mary Helen Yarborough
Public Relations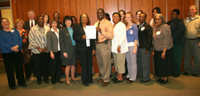 Social workers Cherlyn Monroe and Kenya Logan hold the proclamation designating March as Social Work Month. The proclamation was signed by MUSC President Dr. Ray Greenberg March 6.




Located throughout the hospital and clinics, tireless professionals help heal wounds inflicted by fear, confusion and lack of resources.

The unemployed single parent whose child has just been diagnosed with leukemia faces financial challenges. A man's elderly mother must find a skilled care facility to meet her round-the-clock needs. And the abused and neglected child caught between law enforcement and hope for a better life.

At every hard turn, a social worker responds to those who often have nowhere else to go or no one else to turn to. Their task and instinct to rescue children and adults from the complex web of illness is constant and generally unheralded.

"Our social workers are very important members of our patient-care team and play a vital role in the care and treatment of our patients," said Dave Neff, Ambulatory Care director. "They counsel patients and family members on matters that include addressing difficult family issues and affairs, assisting patients by linking them with community service agencies in their hometowns and communities, and helping patients and families arrange for financial assistance. They do a great job in caring for our patients."

MUSC's social worker program, which dates to the 1970s, spans the realm of patient care and services. The services are provided at no cost to the patient. "We come with the linens," said Cherlyn Monroe, a social worker in adult inpatient care. "We're fortunate enough at MUSC that not only are we a part of a treatment team with the nurses, case managers, doctors, etc., but MUSC also is very resourceful."

MUSC's patient services includes a financial counselor and a utilization and review specialist who works with insurance companies. MUSC's first outpatient social worker was Elena Bell. She now covers the Hollings Cancer Center along with Peggy Willis.

"As a social worker, I locate resources, perform assessments, and I make sure the whole picture of care and treatment holds together and is amenable to the patient and family," said Bell. "We think outside the box to get what is needed. Is it money or equipment? We'll connect patients and families with resources, such as finding a wheelchair, funds to pay for medications, a program to pay for prescription drugs, or a church to provide transportation. We find out what's going on and create ways of solving whatever problems that exist."

Bell, who may see as many as 15 patients in a day, is part of a nine-member adult/pediatric outpatient team that functions under Ambulatory Care.

Inpatient social workers, who work for MUSC's Center for Clinical Effectiveness, include those assigned to different floors at the main hospital, or to different wards and services in the Children's Hospital. Social workers also work in Ashley River Tower tending to the needs of heart, vascular and digestive disease patients, both inpatient and ambulatory, when necessary. Transplant Services has its own social workers, and the Institute of Psychiatry has a team of social workers that also tends to be more therapeutic in nature.

Very often, a social worker will help a patient cope with fear and the unknown, or the assumed. "Diagnosis of cancer is devastating. It's like being struck by lightning," Bell said. "Most people still equate that with dying. Fortunately, that is not always the case anymore. But once diagnosed, whether it's chronic, terminal or even short term, life changes. …The treatment is expensive and many people lose their jobs and insurance. So there are a lot of things we do that are both emotional and practical."

As an inpatient social worker, Sherrell Thomas-Nelson faces a broad spectrum of patients. "I can get anything from oncology to pulmonary," she said. "We serve whoever's in the unit. …We could be working with a patient who will be going to outpatient, and we coordinate with the outpatient social workers and fill them in on our care and the things we did and knew about."

Every day the inpatient social workers pull a census of patients. "Not every patient requires our services," Thomas-Nelson said.

Like all inpatient social workers, Thomas-Nelson and her officemate, Monroe, are part of an interdisciplinary team. That team also consists of nurses, a nurse case manager, a palliative care nurse, utilization review, patient care associates, physical therapist, occupational therapist, respiratory therapist and physicians.

At the Children's Hospital, the team includes a child life specialist, and at the Institute of Psychiatry, the team includes a psychiatric liaison nurse.

The team discusses treatment and needs, including those for referral patients who can come from other facilities, staff, patients or family members. The social worker follows patient care and conducts discharge planning with the patient and family. Discharge planning with clients often includes linking them with community support services and resources, Thomas-Nelson said.

"The inpatient social workers are thoughtful and creative," said Mary-Eliese Merrill, director of Clinical Effectiveness. "In the adult hospital the same caring compassion exists. Families are provided creative services often when none seem to exist. Community churches become involved, community action agencies and, when necessary, they will get together and formulate a plan to make things work."

Social workers also take turns rotating in the Emergency Department, and sometimes they encounter a victim of abuse or violent crime. But when that victim is an adult woman whose husband has beaten her, Thomas-Nelson said, the patient has the right to ignore recommendations. "Usually, the case has already been referred to SLED [State Law Enforcement Division] or the police, so all we can do is offer a safe haven," she said. "She has to call the shelter herself because of confidentiality. The decision is hers."



Child care


If an abuse victim is a child, the social worker has a duty to find and refer a child to a safe haven. And because children also can be homeless, the social worker at the Children's Hospital has to find appropriate shelter for the child. "You just can't treat a child and turn him back to live on the streets, so we get involved in assisting with finding appropriate shelter," said Joyce Rivers-Miller, a pediatric social worker. "If a child is a victim of abuse or neglect, the social worker works closely with the interdisciplinary team to care for the child, which typically includes the social worker, the physician, nurses, and case manager. Together, we identify the problem and arrive at a consensus on how the situation should be addressed."

If law enforcement or Department of Social Services becomes involved, MUSC brings in its on-staff forensic pediatrician, Anne Abel, M.D., who works with law enforcement.

In general, social work services in pediatrics differ from adult services because children's care also involves parents and guardians.

"A lot of what we do is education," Rivers-Miller said. "We have to educate about the diagnosis and treatment. We sometimes have a difficult time convincing parents about the importance of immunization and certain treatment when they think it's their right to self-determination."

As patient advocates, the pediatric social worker accesses resources for the family in support of the children.

"And a lot of times we have to educate parents about parenting skills," Rivers-Miller said. "We look at the whole family, because that factors into the child's recovery."

Many times, Rivers-Miller said that a call from teachers because their student is in the hospital may indicate problems at home, such as whether the child is properly clothed, bathed or fed. "It runs the gamut," Rivers-Miller said. "If there are behavioral problems, we assess it and determine what's going on. The goal is to determine whether the patient is getting the best care, and sometimes we have to take care of the family in order to take care of the patient."

So for the pediatric inpatient social workers, services are much more support and resolution-oriented. It often involves a number of stakeholders to assure the child is properly cared for, recovers and is less likely to return to the hospital for the same or other problems. "Every family has different issues, with its own strengths and weaknesses," Rivers-Miller said. "We find the strengths and try to build on those."

Social workers often work beyond their busy, paid hours to tap into resources and support in the community.

"The social workers in the Children's Hospital are involved with providing services necessary to make the families as comfortable as possible, and for those families in need, applying for all services that they are entitled too," said Merrill. "In addition, they provide comfort for the families of terminally ill patients, utilize various resources to meet the requests of these children, and attend services following the death of the child. They participate in fundraising events and are constantly coming up with creative ways to deal with the endless needs that arise."


Friday, March 14, 2008
Catalyst Online is published weekly, updated as needed and improved from time to time by the MUSC Office of Public Relations for the faculty, employees and students of the Medical University of South Carolina. Catalyst Online editor, Kim Draughn, can be reached at 792-4107 or by email, catalyst@musc.edu. Editorial copy can be submitted to Catalyst Online and to The Catalyst in print by fax, 792-6723, or by email to catalyst@musc.edu. To place an ad in The Catalyst hardcopy, call Island Publications at 849-1778, ext. 201.