Child life specialists involve play in coping





by Child Life Department staff


The Child Life Department at MUSC Children's Hospital is designed to address the unique psychosocial needs of children, adolescents and their families during medical events. A primary goal is to minimize the stress associated with health care while facilitating opportunities for positive coping.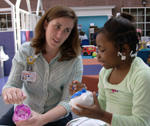 Kali Kinloch, 9, paints a ceramic piggy bank with Lindsay Gallapher, a child life specialist in the Children's Hospital Atrium and Radiology.



During the month of March, child life specialists around the world have the opportunity to promote awareness of the child life profession and describe their role within the hospital setting. Child Life Month is a chance to help educate fellow hospital staff, families and patients concerning the role and mission of the Child Life Department.

The department has taken this opportunity to answer some frequently asked questions concerning our professional role, tips for staff working with children and also some ideas for parents concerning medical encounters with their children.



Child life specialists have a fun job because you get to play all day with children. What else does your job entail besides playing?


The goal of child life specialists is to promote effective coping for children through play, preparation for procedures, education, and self-expressive activities. The team is also able to provide education to other medical professionals about how children cope, developmental expectations for individual children, and advocate for family centered care.

The play that specialists are involved in can have many purposes. Staff regularly use play and activities as therapy. This use of play can help children and teenagers express themselves, as they sometimes do not have adequate outlets for their thoughts, feelings and anxieties. It is a great and natural way for patients to manage their stress. Sometimes staff use medical play to help children explore different elements of hospitalization. During medical play, patients are able to use special dolls and real medical equipment in a safe way to learn about their diagnoses and procedures; this also promotes control of their hospital experience. Play is also essential for children and teenagers in reaching developmental milestones.

For more information on the role of a child life specialist, visit http://www.childlife.org.



My daughter is looking into colleges and is interested in a career in child life. What qualifications or degree do you need to become a child life specialist?


To become a child life specialist, your daughter must seek a bachelor's degree or higher in child development, early childhood education, child life, special education, or a closely related field that emphasizes human growth and development.

Many colleges have child life tracks that include the intense study of development, children's responses to stress and hospitalization, family centered care, and play therapy. Those seeking to become a child life specialist must complete an internship program under the direction of a certified child life specialist and participate in a rigorous application process.

Upon completion of an internship, prospective child life specialists must complete the National Child Life Professional Certification Exam and maintain certification yearly through professional development hours or recertification. Many specialists, including those here are MUSC, have a master's degree.

For more information on colleges offering child life programs or additional requirements, consult the Child Life Council Web site at http://www.childlife.org.



My 9-year-old son has to have surgery in a month. When is the best time to tell him? He was at the appointment with us when the doctor told us but I am not sure he even heard. How do we best prepare him? Should we even tell him?


When it comes to preparing children for surgery, honesty goes a long way. Children need to know what to expect and have opportunities to be involved in planning for their hospital experience. Also, advance notice allows children time to process their feelings, to ask questions and to express concerns. Your son likely heard at least some of what the doctor said but may not have understood or is scared to ask about it, hoping it will just not happen!

For school-age children, a week-to-two weeks notice is important. Many hospitals, like MUSC, offer a preoperative tour for children and their families prior to surgery. This is a chance to see and experience the area before being a patient.

You can find more information about preparing children of all ages for hospital visits and surgery on http://www.musckids.com.



My 4-year-old child has always done well going to the doctor until recently. We had to go to see his pediatrician the other day for an earache and he cried the whole time we where there. When we were out of state on vacation last year, he fell and had to have stitches. I don't remember it being that traumatic of an experience for him except that they had to lay on him to put the IV in. Could this really have affected him to this degree?


Absolutely! Children build on their past medical experiences (negative or positive). How they cope can determine how they may act during future health care experiences. This is why we find it so important to help children and families have positive experiences here in the hospital. Your child being held down helped contribute to his fear of the medical staff. A better scenario would have been to have you hold your son in a "comfort hold" while starting his IV.

A comfort hold is important for the following reasons: Upright positions promote a sense of control and security; and the parent is the one comforting the child and not restraining the child (a parent should never be required to restrain their child for a medical procedure).



What are some tips for us (staff who work with children) to help children when they have to have an IV or any other type of injection?



Use pain management medications available in your area, such as Emla or Synera.
Have IV materials set up and out of sight, preferably before the child is brought in.
Use positions that are comforting to a child rather than restraining, such as a comfort hold or sitting in a lap of a trusted caregiver.
Build rapport with child and family by asking non-medical questions about outside interests and activities.
Explain what the child can expect during the procedure using child- friendly language.
Give the child and caregiver a job to increase their sense of control. i.e., telling a child that their job is to hold their arm still, can reduce their anxiety and give them something to focus on.
Give child and caregiver the option to look at the injection/IV start or to look away.
Let the child know it is OK to cry.
Help children cope by offering something else for them to focus on during IV start/injection such as, bubbles, books, singing, or music.
Give praise when finished, focusing specifically on what the child did well during the procedure.
The Child Life Department at MUSC Children's Hospital has 10 full-time employees that staff all inpatient units of the hospital, the main operating room, Ambulatory Surgery, Emergency Department, diagnostic areas and several outpatient clinics.

For information, visit http://www.musckids.com/about/dept_prog/child_life.htm or call 792-8805.


Friday, March 21, 2008
Catalyst Online is published weekly, updated as needed and improved from time to time by the MUSC Office of Public Relations for the faculty, employees and students of the Medical University of South Carolina. Catalyst Online editor, Kim Draughn, can be reached at 792-4107 or by email, catalyst@musc.edu. Editorial copy can be submitted to Catalyst Online and to The Catalyst in print by fax, 792-6723, or by email to catalyst@musc.edu. To place an ad in The Catalyst hardcopy, call Island Publications at 849-1778, ext. 201.