Marine biologist, researcher remembered


Paul Gross, Ph.D., died March 11. Gross was director of The Genomics Core Facility from 2004 to present and associate professor with the Department of Biochemistry and Molecular Biology from 2007 to present.

The funeral service was held at J. Henry Stuhr Inc. March 17.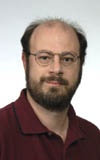 Dr. Paul Gross


Gross was born March 19, 1961 in Wurtzburg, Germany, the son of Woolf P. Gross and Lucia Mahlstedt Gross. He received his bachelor's degree in biology and philosophy in 1983 and his Ph.D. in Zoology with Distinction in 1995 both from George Washington University, Washington, D.C. His dissertation title was Intrinsic control of larval morphogenesis and molting in the Caridean shrimp, Alpheus heterochaelis Say. His fields of study were Invertebrate Zoology/ Developmental Biology/Endocrinology and Postdoctoral (Invertebrate Immunology), George Washington University from 1997-1999. He was an Eagle Scout, Order of the Arrow. He is survived by his parents of Arlington, Va.; his wife, Mi Young Mia Yoo Gross of Charleston; a brother, William W. Gross of Falls Church, Va.; an uncle, Martin Gross of Concord, New Hampshire.

Memorials may be made to Hospice of Charleston Inc., c/o Hospice House Fund, 3870 Leeds Avenue, Ste. 101, North Charleston, S.C. 29405.

A memorial service honoring Gross will be held at noon, March 21 at St. Luke's Chapel.



Paul loved being a scientist,

and relished the opportunity to work at MUSC and the Hollings Marine Laboratory. He was a cherished collaborator and a kind and attentive mentor.


John Raymond, M.D., Vice President for Academic Affairs and Provost





Paul was widely known and respected both across the U.S. and internationally,

as a good human being, as a teacher, for his leading research contributions, and for his diverse service to the academic community.


Greg Warr, Ph.D., Professor, Biochemistry and Molecular Biology





Paul was an exceptional teacher and mentor.

He asked a lot of his students and gave a lot of himself in return. We will miss his stimulating conversations in the halls and his thoughtful contributions to discussions in our department faculty meetings. His determination and perseverance were amazing. We send our sympathies and best wishes to Mia Gross and her family.


Eleanor Spicer, Ph.D., Biochemistry and Molecular Biology





Being at Biochemistry and Molecular Biology for only a couple years, I never really got to know Paul Gross.

However I just wanted to mention, the two times I saw him were up in the front business office. He displayed a smiling, quiet, dignified manner despite his dire health status. I saw him that second time just a couple of weeks ago, and noted his attitude of kindness to others. Such is a credit to this man's character, clearly demonstrated while here at MUSC. He will be missed.


Beverly Taylor, Biochemistry and Molecular Biology





The Department of Biochemistry and Molecular Biology lost a dear colleague and critical member of our faculty in Dr. Paul Gross.

Paul, to each of us, exemplified the consummate academic professor. He was excited by his profession; committed to his research and highly committed to his students who he considered as his own family. Paul always insisted on the highest standards of academia and humanity in his career and interactions with colleagues and students. He was a joy to have around and always a source of optimism and energy. We will miss him dearly; and we will strive to uphold his high level of excellence in our work. To his wife, Mia, family and friends, our thoughts also are with you in this deep loss.


Yusuf Hannun, M.D., Chairman, Biochemistry and Molecular Biology





Dr. Paul Gross taught biochemistry to dental students for many years.

He was kind and tireless in and outside the class. His teaching impacted greatly to all students and colleagues alike. He will be missed as an irreplaceable teacher and friend.


Lee Chao, Ph.D., Professor, Biochemistry and Molecular Biology





I am a PhD student of Paul Gross.

It is very difficult to convey how much we
will all miss him. Though I knew him only a short time, he was a good mentor,
an excellent teacher, and someone who the students could always talk to. I
know we will cherish our memories of Paul; and, perhaps his last lesson to us
is that each day is a gift, and we must live it to the fullest.


Jessica Shockey





Friday, March 21, 2008
Catalyst Online is published weekly, updated as needed and improved from time to time by the MUSC Office of Public Relations for the faculty, employees and students of the Medical University of South Carolina. Catalyst Online editor, Kim Draughn, can be reached at 792-4107 or by email, catalyst@musc.edu. Editorial copy can be submitted to Catalyst Online and to The Catalyst in print by fax, 792-6723, or by email to catalyst@musc.edu. To place an ad in The Catalyst hardcopy, call Island Publications at 849-1778, ext. 201.