Meet...Veronica
Name:

Veronica Berry.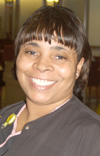 Department:

Hollings Cancer Center.
How long have you been at MUSC:

9 years.
Where were you born:

Philadelphia, Pa.
Why did you move to Charleston:

My husband retired here from the Navy.
What was your first job:

Babysitting.
What is the most rewarding aspect of your job:
Working with patients and seeing them smile even when some of their days are filled with pain.
If you could change careers, what would you be doing:

Finding homes for abused and neglected children.
Do you have any pets:

Yes. Doc, an American Bulldog.
Something you collect:

African figurines.

Item you must have in your refrigerator:

Pepsi.
Favorite book:

The Coldest Winter Ever by Sister Souljah.
Pet peeve:

Talking loud on a cell phone in public.
Your favorite way to unwind after a long day:
Listening to music while taking a hot bath.
Something people don't know about you:
I like to target shoot.
If you could relive any day in your life, what would it be:
Sitting with my grandmother on her front porch when I was a little girl.
Friday, March 21, 2008
Catalyst Online is published weekly, updated as needed and improved from time to time by the MUSC Office of Public Relations for the faculty, employees and students of the Medical University of South Carolina. Catalyst Online editor, Kim Draughn, can be reached at 792-4107 or by email, catalyst@musc.edu. Editorial copy can be submitted to Catalyst Online and to The Catalyst in print by fax, 792-6723, or by email to catalyst@musc.edu. To place an ad in The Catalyst hardcopy, call Island Publications at 849-1778, ext. 201.