Women reach out to community, families




The following articles are the third and fourth in a series dedicated to National Women's History Month and this year's theme, "Women's Art and Vision."





by Heather Woolwine




Public Relations


Cynthia Cupit Swenson, Ph.D., associate professor and associate director of the Family Services Research Center, earned her master's degree in psychology from Northeast Louisiana University, and her doctorate from Florida State University in clinical psychology and school psychology.

During graduate school, she worked in a state facility for delinquents who committed felony offenses, an experience that would shape her career involving children experiencing serious clinical problems.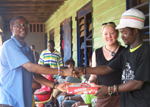 Dr. Cindy Swenson and Samuel Yeboah, co-director




of Ghana Project, take clothing, rice and games to




the street children's academy in Accra.



Swenson was first introduced to multisystemic therapy (MST), the basis of her research, by Scott Henggeler, Ph.D., at MUSC. This conceptual model takes evidence-based treatments and applies them to the entire family of a youth. In this sense, family is not defined by biology. An example might be learning a child has been arrested for drugs, and no one was monitoring his behavior, he was hanging out with using peers, and had low school performance.

"I'd always had an interest in delinquency. Working at the Dozier School for Boys taught me that if you didn't have access to the family when trying to treat [someone], it cripples the process. It's very difficult to change such extreme behavior without family involvement and support," Swenson said. "You pull together the youth, their family, their teachers and others to work on a solution together."

Some people might be familiar with this type of therapy—it has been researched for more than 30 years and is used in numerous civil and government settings at home as well as abroad. The body of research suggests overall that better outcomes occur with behavior therapies when families are also involved, due to the use of practical, real-world applications to solve problems.

"There are multiple things that influence 'straightening up,' and when I thought about it, I felt the same about child physical abuse and neglect. There are multiple factors that relate to whether parents will abuse or neglect their children. It made sense to adapt MST for this population," Swenson said. For the better part of 10 years, she has been working toward breaking cycles of violence and despair that overtake some families, and sometimes, entire communities.



Taking shape


The beginning of Swenson's career entailed working as a school psy-chologist, a therapist, a psychological examiner for special projects, and as the coordinator of an intern program at the Charleston/Dorchester County Mental Health Center for children, adolescents and families.

She completed her internship and a post doctoral fellowship in clinical child and pediatric psychology at MUSC. When a faculty position opened in the National Crime Victims Research Center at MUSC, the board-certified clinical psychologist began to work with Lowcountry residents in immediate crises involving child abuse and neglect.

"That's where I really began to grasp an understanding of the strong relationship between family violence and youth violence and delinquency," Swenson said. She later moved to the MUSC Family Services Research Center to begin work on adapting the MST model for child abuse and neglect. These days Swenson heads up the child abuse and neglect research at the center, with the mission of helping abused and neglected children and their families.

Ten years ago, Swenson and her colleagues were presented with a unique opportunity by South Carolina when it funded a three-year research project aimed at changing the collective behavior of an entire crime-riddled neighborhood in North Charleston. It was Swenson's dream project. In this inner-city neighborhood, residents and community leaders were cautiously optimistic, if only because they knew their need for help, and were anxious about once again not reaching a more sustainable solution to their problems.

"As we began to develop community-based interventions, the community leaders made it clear they did not want money—they wanted activities and education to help their young people," she said. "The idea was to take the strengths of the people there and build on them to empower them." At the end of the project, the neighborhood experienced an 85 percent reduction in police calls for service, suggestive of a decrease in crime.



Sharing a vision


One of the activities launched during the neighborhood trial continues to serve as a tremendous source of inspiration and healing for the community. The Djole Dance Company is a West African dance and drum company specializing in AIDS/HIV dance dramas. After buying drums from Ghana, Swenson began a dialogue with the leaders of a Ghanaian nonprofit entity, the Nkabom Artist and Craftspeople Association. Those conversations led to two years of fundraising and a trip to West Africa for 40 members of the neighborhood, including 21 children.

"As a teenager my first flight was to Africa, so it was special to be a part of someone else having that same experience. The children of Djole performed AIDS/HIV dance dramas while we were there, and the country's national TV station filmed it," Swenson said, adding that they were all changed by the visit. One poignant memory involved a trip to a slave castle; West Africans who were enslaved and held in the castle were later sent directly to the port in Charleston in the late 20th century.

"As we walked around the village in Ghana, a woman ran up to a small group of us. Looking at one of the older women from the neighborhood, the woman asked her, 'Are you from America?' Our friend said she was and the woman told her, 'You have come home.' It was amazing," Swenson said. Maybe the only thing that amazed her more was when on a picnic in a village, the children from North Charleston refused to eat their lunch when they realized the number of children immediately around them who had not eaten in days. "All these little eyes peering from the leaves. Our children from Djole told me they would rather starve than have those children continue to go without food," Swenson said.

The visit to Africa nurtured a new friendship between the two communities, and one that has spawned one formerly ailing community to lend a hand to another in the form of Project Okurase. Swenson has been working in recent months with the village Odikro (chief) and community leaders to commence construction of a center for orphans and other vulnerable children in the area, many left on their own because of the AIDS crisis.

"Education is the best defense, and these children are particularly vulnerable to drugs, sexual abuse, trafficking and prostitution, abuse, neglect, and hunger," she said. "The center we build will also be a site for research and education for MUSC, in addition to providing a place for the members of the neighborhood to come back to. Through Project Okurase we are working to develop a model that meets the needs of these children that can then be transported to other villages. It's ultimately not about what you know or what you do, it's about what you learn and how you listen so you can empower people through those lessons. People in Africa know what they need; they just don't have the resources to carry out their vision without partnerships."

It's this vision for change that Swenson wants to share with a proposal for an MUSC center for global research and education. By providing a home base for those who desire to perform international outreach activities, she believes even more will become a part of the important work with the underserved populations of the world. In addition to a great cause, Swenson feels the center would also catapult the university to new heights within the international research arena because of the talent located on campus. "I'd like to see MUSC move forward as a prominent, culturally sensitive, global resource. We'll learn more about helping people locally as we help people in other places, and it's an opportunity for our students to learn things they never would have considered," she said.

Most academicians who authored more than 50 publications would consider themselves wells of information, yet Swenson says the most important knowledge she has acquired has been not to assume she has all the answers. "You have to keep an open mind and truly listen; you'll learn solutions that you never knew existed," she said.

Swenson left for West Africa March 17 in order to celebrate the March 26 ground-breaking of the center at the heart of Project Okurase.

Swenson is a member of the American Psychological Association; has served on the board and as a vice president for the American Professional Society on the Abuse of Children; is a member of the International Society on the Prevention of Child Abuse and Neglect; was president and board member of the South Carolina Professional Society on the Abuse of Children; and is a member of the International Association for the Treatment of Sexual Offenders. She has received several large grants, including funding from the National Institutes of Health. Swenson consistently earns praise from students and colleagues alike throughout MUSC, and has won the faculty teaching excellence award, the Earl B. Higgins Achievement in Diversity award, and the South Carolina Governor's "Hero for Children" award. She continues to volunteer with the Djole Dance Company and various other organizations.


Toastmaster shares talents to lift others

by Megan Fink




Public Relations


After a distinguished career as a professor in the Department of Obstetrics and Gynecology, Subbi Mathur, Ph.D., has transitioned into one of her most rewarding roles yet: toastmaster. As a leader in the Charleston chapter of Toastmasters International, including clubs at MUSC, Mathur guides novice presenters toward effective communi-cation while building their confidence as public speakers.



Dr. Subbi Mathur



"Helping others recognize their potential is something I had always wanted to do," stated Mathur. "I shall be happy when we realize that we can be instrumental in someone advancing in life and not be lost and isolated in a corner."

An avid toastmaster since 2005, Mathur is addicted to the forum that allows participants to present scientific research and other topics of interest among their peers and get useful feedback. "It's a family affair," said Mathur. Members can speak freely in an environment that is supportive and informal. She's also joined by her husband, Rajesh Mathur, Ph.D. The couple devotes their time as retired MUSC faculty members to Toastmasters International-affiliated club meetings held at the Wellness Center (MUSC Toastmasters and International Scientific Presenters), College of Health Professions (Health Speakers Toast-masters) and the Ralph H. Johnson Veterans Affairs Medical Center Hospital (Bee Successors Toastmasters).

In addition to helping students, junior faculty and community members fine tune their communication and leadership skills, Mathur enjoys presenting her own speech projects within the worldwide organization. She has successfully completed advanced coursework to earn the highest honor in the organization, the Distinguished Toastmaster Award (DTM). She also has finished the requirements to get her second DTM.

District 58, which encompasses all South Carolina toastmasters, ranked No. 1 among clubs in the United States and fifth in the world in 2006.

While at MUSC, Mathur contributed to more than 100 research publications and two scientific books. She is a veteran recipient of National Institutes of Health grants and a member of multiple study sections reviewing research grant applications. As the author of two children's books, "Balloon, Balloon, Where are you?" and "The Bubble Catcher," Mathur continues to pursue her passion for writing. Mathur credits her grandchildren for her inspiration in capturing "the childlike enthusiasm of wanting to catch the beauty of a bubble."

"You can't isolate your talents, for then others can't benefit," Mathur said. She added, "Creativity is like the spark of a fire. The fire then carries you with it."

Her advice for other working women: "Double up on talents, knowledge and business acumen. Be competitive against yourself, and don't fear a challenge."

Mathur is currently looking for MUSC students, junior faculty and staff interested in improving their presentation abilities for the Health Speakers Toastmasters meetings, which are held in A102 College of Health Professions every Wednesday from 12:05 to 12:55 p.m. The toastmasters program is inexpensive, and the location may be more convenient for people located in the College of Health Professions, Basic Science Building and Rutledge Tower.

For information on toastmasters clubs at MUSC, contact Mathur, professor emeritus and Division A governor, at mathurs@musc.edu or 556-5966.


Friday, March 21, 2008
Catalyst Online is published weekly, updated as needed and improved from time to time by the MUSC Office of Public Relations for the faculty, employees and students of the Medical University of South Carolina. Catalyst Online editor, Kim Draughn, can be reached at 792-4107 or by email, catalyst@musc.edu. Editorial copy can be submitted to Catalyst Online and to The Catalyst in print by fax, 792-6723, or by email to catalyst@musc.edu. To place an ad in The Catalyst hardcopy, call Island Publications at 849-1778, ext. 201.