Weight Management coming to dinner





by Sully Witte




Of the Moultrie News


Daunting words are echoing across the households of America: "What's for dinner?"

The busy, fast-paced culture we live in doesn't always provide time to reply with a home-cooked answer. However, the Taste of Home Cooking School is about to come to your rescue.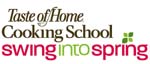 The show, sponsored by the Moultrie News and Wando Community Education, rolls into town May 1 as the host of this nationally known cooking demonstration. Theevent emcee will be Vanessa Hill, development director for the Institute of Psychiatry.

"It is an honor for me to be involved with this wonderful event," said Hill.

Taste of Home Cooking School understands that gathering everyone around the table can be a challenge in itself. Add making something that is tasty, yet simple enough to fit in your schedule can be a nearly impossible task.

The Moultrie News, Wando Community Education, along with Gallo Family Vineyards, McCormick, Taste of Home Entertaining, and Viva Towels present the Taste of Home Cooking School "Swing Into Spring" show.

This show is blooming with great new recipe ideas — along with tips and tricks to make your kitchen time painless.

Preceding the two-hour event is an opportunity for guests to peruse up to 30 vendor tables ranging from wine specialty shops to health and beauty companies. Stop in from 5-7 p.m.

"The Taste of Home Cooking School and vendors like MUSC's Weight Management fit very well together," Hill said.

At Weight Management's booth attendees can have their weight andBMI (body mass index) calculated and handouts will be available with information on interpreting BMI and its medical implications. In addition, life-like models of fat and muscle will show how much more room fat takes up in the body.

"Our booth will provide attendees with basic information about their weight status and the implications of excess weight on health," said Joshua D. Brown, Ph.D., director of clinical services, Weight Management Center, Department of Psychiatry and Behavioral Sciences. "We also want to give folks an interactive way to learn about the calorie content of some of our favorite foods, as well as how much activity is required to keep those foods from reappearing on hips, thighs, legs, stomach, cheeks (both sets)...you name it. Come out. It'll be informative and fun!"

Participants can pick up information about MUSC's Weight Management Center programs and can be signed up for a free orientation session.

"Weight Management is happy to be participating in this kind of event because healthy and delicious can be on the same plate," said Patrick O'Neil, Ph.D., MUSC Weight Management Center.



The show


The experts at Taste of Home will offer tips to keeping dinnertime convenient. Here's a peek:

Keep your pantry and fridge stocked with must-have items.
Staples such as sugar, brown sugar and all-purpose flour are always good to have on hand.
Keep quick meal fixes like olive oil, dry pasta, jarred pasta sauces and canned vegetables in your pantry. q It's also a good idea to stock up on ingredients that can be easily frozen and thawed later.
Purchase ground meats in bulk, then form into patties or crumble and cook in a large pot and freeze to use later. It can quickly be defrosted in the microwave. q You can do the same with cookie dough or cake layers.
Hill will introduce culinary specialist Michelle Roberts."I'll be sharing helpful tips at the show," said Michelle Roberts, Taste of Home Cooking School Culinary Specialist. "It's part of my job to let the audience know that great home-cooked meals don't have to be a lot of work."

The Taste of Home Cooking School is an entertaining and educational stage presentation with Roberts preparing 11 different recipes.

The cooking school guarantees a show packed full of the best spring recipes.They'll demonstrate how to make family-pleasing favorites like Buffalo Chicken Lettuce Wraps, Taco Meatball Ring, Italian Herb Frittata, Avocado Eggs Benedict, Lemon Nut Twists, Meringue Nests and Flower Power Lemon Cupcakes.

On stage with these culinary experts will be Wando High School's very own culinary specialists. The Wando culinary students will help Roberts on the stage prepare the dishes.

Be the envy of everyone at your office potluck or treat your friends to a delightful spring brunch. This program has a menu that is sure to inspire.

Check out the show at the Wando High School Performing Arts Center. Tickets cost $10 each and can be purchased at the Moultrie News office at 1558 Ben Sawyer Boulevard or by calling Jeremy Judd at 849-1778 ext. 202. To order by mail, send a self addressed, stamped envelope to P.O. Box 279, Sullivan's Island, SC, 29482.

Doors open at 5 p.m. For more information on the Taste of Home Cooking School "Swing into Spring" show, visit http://www.moultrienews.com and click on the Taste of Home box.

Tickets will be sold in advance and seating is limited to 250. There will be no ticket refunds. Not responsible for lost tickets.

Each ticket holder will receive a goodie bag filled with coupons, and gifts from local and national sponsors and a Taste of Home Cooking Show recipe book.

Piggly Wiggly is the food title sponsor and will be providing food for the event. Appliance Towne is the title stage sponsor, supplying the appliances needed to conduct the show. Another title sponsor is Coastal Cupboard.

There will be door prizes including 20 bags of groceries given away from Piggly Wiggly.The Wando High school PTSO will sell food for guests as they peruse the vendor booths.



Be a part of it


There are only 30 booths available for vendors to display their wares. Nine have already been reserved.

"Where else can you go and have a captured audience of up to 850 potential customers," said Moultrie News publisher Vickey Boyd. Vendors will have the opportunity to showcase their store or businesses whether it be a health related business, or jewelry and crafts.

There are a broad range of vendors that would benefit from this event, Boyd said.

This event has proven to be a rewarding experience for local retailers to reach a captive audience of cooking enthusiasts. Vendor booths will be open to participants from 5-7 p.m. before the show.

"This is a perfect opportunity for vendors to present their products one-on-one with consumers," Boyd said.

Vendors can use their booth to sell speciality items, or offer valuable incentives inviting participants to visit their actual stores.

Vendors, along with Weight Management, signed up so far include Piggly Wiggly, Taste of Home Entertaining, Pampered Chef-Yolanda Easton, Lowcountry Vacuum and Sew, Royall Hardware and Sweetgrass Hardware, Evergreen Concepts, Coastal Cupboard, Cool Sweats, Goin' Postal, Millie Lewis Models and Talent, ReBath, and Wando Community Education. These spots will sell quickly. Call for details.Sponsorship opportunities are also available. Sponsors may advertise in the special section, place items in the goodie bags, offer door prizes and more.

Call Jeremy Judd for details about sponsorship or securing a vendor booth, 849-1778 ext. 202.


Friday, March 21, 2008
Catalyst Online is published weekly, updated as needed and improved from time to time by the MUSC Office of Public Relations for the faculty, employees and students of the Medical University of South Carolina. Catalyst Online editor, Kim Draughn, can be reached at 792-4107 or by email, catalyst@musc.edu. Editorial copy can be submitted to Catalyst Online and to The Catalyst in print by fax, 792-6723, or by email to catalyst@musc.edu. To place an ad in The Catalyst hardcopy, call Island Publications at 849-1778, ext. 201.