Annual report wins print-excellence award


MUSC's Division of Education and Student Services' first annual report received the Printing Industry of the Carolinas, Inc. (PICA) Award for print-excellence presented by the organization during its annual meeting Jan. 23 in Greensboro, N.C.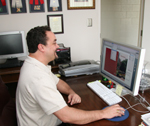 Thomas Hamm II prepares the annual report to be sent to the Web site. Visit

http://www.musc.edu/academics/dess_an_rpt_07/index.html.

Thomas Hamm II, visual communi-cations manager for the division and project design manager, accepted the award on Jan. 23. Hamm coordinated the design of a new, 49-page, full-color annual report with Orangeburg publisher, Sun Printing.

"I'm very pleased to receive this award on behalf of the division and everyone involved in contributing to our first annual report," said Hamm, who has been with MUSC for about a year and has more than 20 years of printing and design experience.

Valerie West, Ed.D., associate provost for Education and Student Life, also praised Hamm and their staff for his efforts.

"As a relatively newly configured unit, we wanted our first annual report to represent the division's commitment to excellence and service, and reflect the dedication of all of our staff and each of our units," said West, who manages the division. "I am especially gratified that it was designed by our own staff, most notably Mr. Thomas Hamm, as he represents the talent and quality of our people. We are so proud of Thomas and thrilled to receive this recognition for our report."

Since 1966, the PICA Awards have been considered the premier symbol of excellence for the graphics industry in North and South Carolina. The awards, considered the most prestigious symbol of printing excellence in the Carolinas, help demonstrate a company's commit-ment to excellence in graphics communications.

Sun Printing won three awards: Best of Category, two Special Judges awards and two Awards of Excellence. Other Columbia area printing companies also recognized in multiple categories include Wentworth Printing Corporation, Service Printing, Professional Printers and Colonial Printing.

Winners were announced Jan. 19 at the 41st Annual PICA Awards Banquet. Awards are presented to PICA members only.

PICA is a trade association representing the graphics communi-cations industry in the Carolinas. South Carolina ranks as the 27th largest state print market in the United States with $1.7 billion in printing sales, while North Carolina ranks 14th with $4.4 billion in sales. Headquartered in Charlotte, N.C., PICA has been serving the print industry for more than 75 years. For information, visit http://www.picanet.org.


Friday, March 7, 2008
Catalyst Online is published weekly, updated as needed and improved from time to time by the MUSC Office of Public Relations for the faculty, employees and students of the Medical University of South Carolina. Catalyst Online editor, Kim Draughn, can be reached at 792-4107 or by email, catalyst@musc.edu. Editorial copy can be submitted to Catalyst Online and to The Catalyst in print by fax, 792-6723, or by email to catalyst@musc.edu. To place an ad in The Catalyst hardcopy, call Island Publications at 849-1778, ext. 201.